The first signs of aging, according to experts, start to show at around age 25. While fine lines and wrinkles may not be prominent at this age, they can become more noticeable over time, especially if you have bad skin habits. The same is also true for other signs of aging such as dark spots, volume loss, and loss of elasticity. 
If you want to fight or slow signs of aging, maintaining a healthy skincare regimen can help. Pairing it with certain aesthetic treatments is recommended, especially if you have prominent or visible signs of aging. We at Cutis Medical Laser Clinics have a range of non-surgical aesthetic treatments that can help you look and feel your best.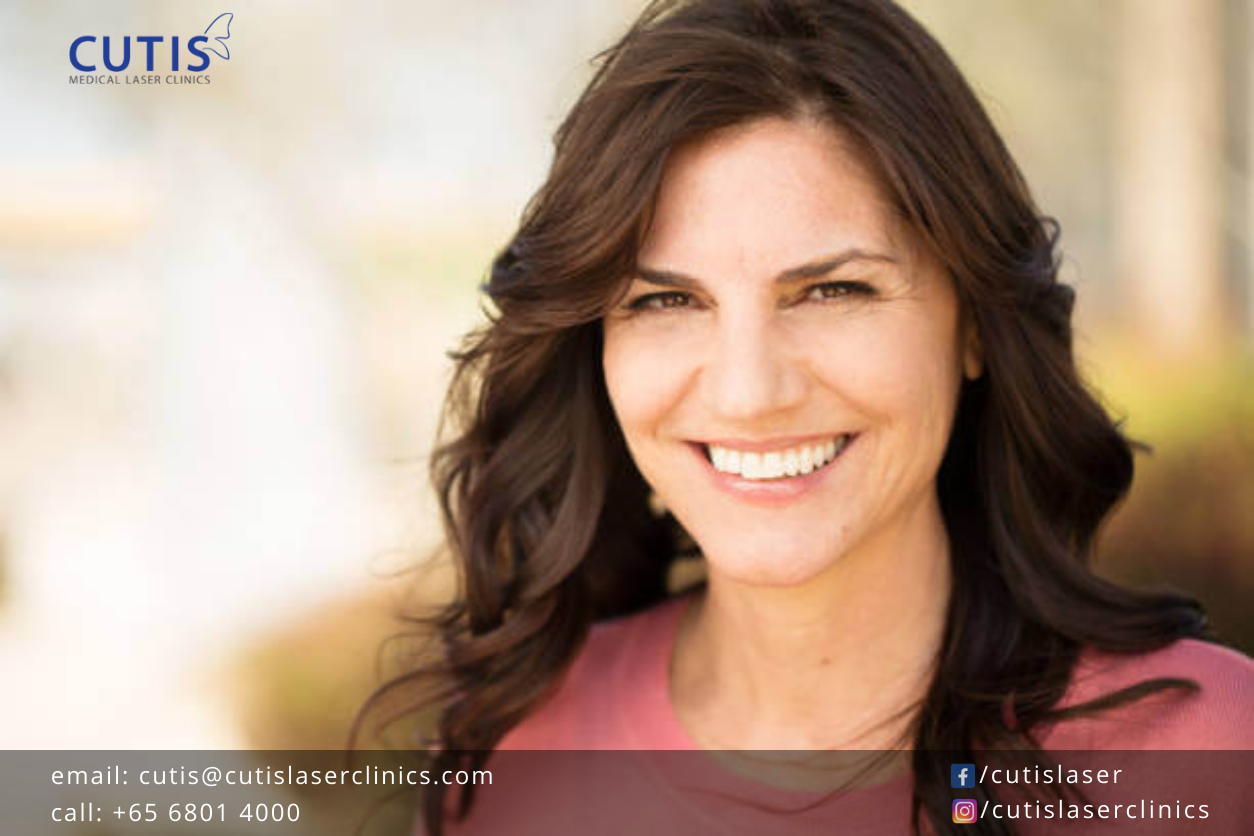 Here are the seven signs of aging and the procedures that can improve or address them.
1. Fine lines and wrinkles
These are among the first noticeable signs of skin aging. They appear as lines, folds, or creases and can deepen as time goes by. There are also two types of wrinkles: dynamic and static. The former is only visible when you make a facial expression while the latter stays on the skin even when your face is relaxed.
Depending on where and how deep they are, lines and wrinkles can make you look tired, confused, or angry even when you're not. Here are the areas where wrinkles tend to appear:
Corner of the eyes (crow's feet)

Forehead

Between the brows (angry 11s)

Top of mouth

Edge or the nose (nasolabial folds)

Corners of the mouth down to the chin (marionette lines)
Treatments to try: Botox, Dermapen 4 microneedling, Plasmage, Profhilo, Facial Fillers, Imperium Face Treatments, Meso-Tox
2. Thinning or sagging skin
As we age, our skin loses its elasticity and firmness. This is due to collagen loss, accumulated effects of sun damage, as well as poor lifestyle habits. The skin on your neck and chest area is more susceptible to sagging, as it is thinner than the skin on your face. It also has less collagen and is usually exposed to the sun and other harsh elements. 
Check out this blog and find out why your neck and décolletage need special attention.
Treatments to try:Ultherapy, Titan skin tightening, Exilis Ultra 360, Imperium Face Treatments
3. Volume loss
The loss of collagen and elastin as you age negatively affects the structural integrity of the skin. This then gives it a drooping appearance, along with other signs of aging. Volume loss can flatten the cheeks, resulting in sagging skin, a less defined jawline, as well as turkey neck. It can make you look sadder and more tired than you really are. 
Treatments to try: Dermal fillers (Juvéderm Volux and Radiesse) 
4. Dry skin and rough skin texture
The aging process negatively affects the skin's ability to retain moisture. This is mainly because the skin's water content and production of lipids decline as we age. Dry and flaky skin can also lead to the accumulation of dead skin cells, giving your skin a dull appearance or a rough or coarse skin texture. 
Treatments to try: Profhilo, Skin Boosters (Juvéderm Volite), Medical-Grade Skin Rejuvenation Facials
5. Enlarged pores
As the skin loses its firmness and elasticity, it sags and stretches, resulting in the appearance of enlarged pores. Your skin's natural exfoliation also slows down with age, causing more dead skin cells to linger on the surface. These can fill out the pores, stretch them and make them look more prominent. 
Treatments to try: Pearl Skin Resurfacing, Laser Genesis, Dermapen 4 microneedling, VI Peel, Meso-Tox
6. Sun damage
Signs of sun damage can appear early on if you spent too much time in the sun when you were younger. These include sun spots or age spots, pigmentation, as well as lines and wrinkles, on areas commonly exposed to the sun. Prolonged and unprotected sun exposure can also make your existing dark spots and wrinkles more noticeable. 
Treatments to try: PicoCare Laser, Limelight Photo Facial, Pearl Skin Resurfacing, VI Peel Precision Plus, Meso-Peel
7. Dull skin tone
This can be due to dark spots, melasma, redness, clogged pores, and dark circles. Your skin tone is more likely to appear dull and lifeless when dead skin cells build up on your face. The sad part is skin renewal slows down with age, which means more dead cells accumulate on your skin surface.
Treatments to try: Pearl Skin Resurfacing, Laser Genesis, VI Peel, Skin Boosters (Juvéderm Volite), Meso-Peel
Don't let these signs of aging take away your glow and confidence. Contact Cutis Medical Laser Clinics in Singapore today and schedule a consultation with our aesthetic doctor to find out which treatments can help you look and feel more youthful.