Dr. Chen Xi Cecilia 陈希 博士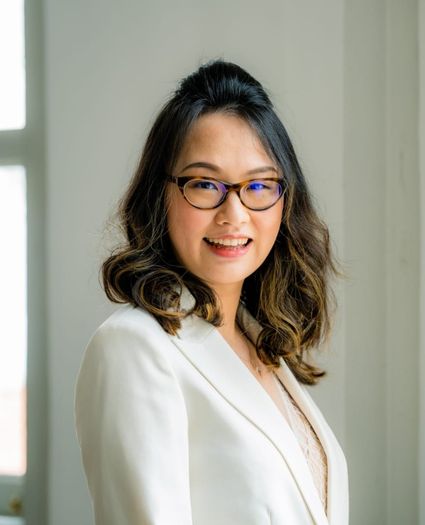 Dr. Chen Xi Cecilia (M.D., Ph.D) graduated from the doctoral program of clinical medicine (Surgery) in Shanghai Medical School, Fudan University. After graduation she was admitted as a Hand Surgery resident in Huashan Hospital. Her earlier practice was mainly surgical. During the 8 years she served in the restructured hospitals in Singapore, she was taught and inspired by many great hand surgeons, plastic surgeons, orthopedic surgeons and general surgeons from National University Hospital, Tan Tock Seng Hospital and Ng Teng Fong General Hospital.
With keen eyes in aesthetics, the surgical understanding of anatomy and microsurgery skills as foundation, Dr. Cecilia embarked her journey on the most innovative aspect of medicine - aesthetic and anti-aging medicine. She has completed all ADEG training and was rewarded Certificates of Competence (COC) in all face and body courses. Her area of interest in aesthetic medicine is full face rejuvenation.
Recognizing the role that aesthetic medicine plays in one's mental well being, Dr. Cecilia now sees more to what she can offer as a physician. She holds the philosophy that as a complete human being, one's entirety should be promoted, defended and enhanced. She believes that the aim of her aesthetic medicine practice is to celebrate a healthy and balanced life- who fully lives his age, who is able to recognize and accept himself, who works hard to improve himself and can respect and succeed in esteem and for himself. With this in mind, she joined the Abnormal Psychology course at Harvard Summer School, the Mindfulness Cognitive Behavioral Therapy training at Brahm Centre, and is currently enrolled in the Graduate Diploma of Mental Health at National University of Singapore. With the new perspectives and tools, she seeks a holistic approach for her patients' well-being in the long run.
Since medical school, Dr. Cecilia has always been enthusiastic about scientific research. She has 6 SCI publications, ranging from basic science to clinical studies. Her academic training has cultivated the habit of critical thinking. She tries her best to keep up with the literature and practice evidence-based medicine.
In her leisure time, she enjoys reading detective novels, sketching and watercolor painting, walking her dog in the Botanic Gardens, scavenging in board games, maybe occasionally cooks some authentic Takoyaki and share with friends.
陈希医生是复旦大学临床医学(八年制)外科学博士,毕业后她先后工作于复旦大学附属华山医院手外科、新加坡国立大学手部显微重建外科;陈笃生医院骨科、手外科、整形外科、普外科等,期间发表学术论文6篇,多次参与国际专科学术会议,并合作翻译了《手外科择期手术学》一书。在十年多外科执业的过程中,她逐渐对医学美容及抗衰老医学产生了浓厚兴趣,通过了新加坡皮肤医学美容教育协会的所有培训课程并获得了认证。她擅长面部皮肤美容,激光治疗,射频消融,超声刀,面部注射治疗等。她认为医学美容是一种可以帮助人们健康地认识自我、接受自我、完善自我、增添自信的途径。她希望通过融合解剖学、外科学、医学美容、预防医学以及正念心理学等的知识,帮助患者达成更健康和谐的生活状态。