CoolSculpting – Non-Surgical Fat Removal Treatment
Many people are faced with a common concern where it becomes difficult for them to get rid of excess fat from certain parts of their body such as the arms, belly and thighs.
CoolSculpting is clinically proven, US FDA-approved non-invasive fat reduction procedure that effectively targets, eliminates and freezes fat cells in specific areas of the patient's body without harming the skin or other tissues.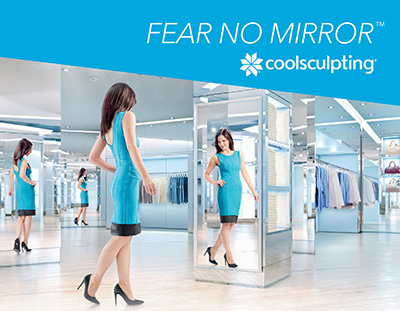 How Does It Work
CoolSculpting permanently destroys fat cells using a safe and controlled cooling technology called Cryolipolysis. Exposure to cooling destroys the fat cells and begins a process of natural removal in the patient's body, which gradually reduces the thickness of the fat layer.
The treatment results in a noticeable reduction of fat in the treated areas, and the treated fat is gone for good. At Cutis Medical Laser Clinics, this Fat freezing treatment in Singapore has provided effective results to numerous patients.
Reduced Treatment Time to 35 Mins with CoolAdvantage?
CoolAdvantage is the latest FDA approved applicator to perform the CoolSculpting procedure at lower temperatures for shorter treatment times.
By changing the shape of the applicator cup to increase direct tissue contact and lowering the temperature, the CoolAdvantage applicator delivers safe and efficacious results in just 35 minutes instead of 60 minutes.
It comes with 3-in-1 interchangeable cup designs, creating three distinct applicators to address multiple treatment areas:
CoolFit Advantage – inner thighs
CoolCore Advantage – abdomen
CoolCurve+ Advantage – flanks
Remove Double Chin Fat with CoolMini

CoolMini is another proven FDA cleared CoolSculpting applicator made specifically to treat visible fat bulges under the chin. CoolMini can reduce face fat by freezing it away from a double chin is as tolerable as using the CoolSculpting procedure in other parts of the body. Besides from double chin, CoolMini can also treat other small areas of fat deposits such as bra fat and knee fat.
How Do I Get Started with the CoolSculpting procedure?
If you're interested with the CoolSculpting fat freezing treatment and don't know where to start, try to follow these steps:
Contact Us – Do not hesitate to reach out to us to find out more about CoolSculpting. Our friendly team will give you a detailed and comprehensive information on how it works, how long is the treatment time for your areas of concern and what are the pricing structure of the cycles (session). You may email us at hello@cutislaserclinics.com or call us at 6801 4000.
Book Your Appointment – For a more accurate information (pricing, applicator and treatment time) based on your concerned areas, we invite you to book an appointment for a Body Assessment. The Body Assessment consultation will also give you a clear scope of the treatment and whether you are a good candidate for CoolSculpting.
The Body Assessment – In Cutis Medical Laser Clinics, CoolSculpting Singapore is done only by our certified and trained therapists who will do a 360 degree assessment to determine the treatment plan that is tailored to your needs. Together, you'll look at your whole body from different angles—and then focus on specific areas where you want to eliminate fat. Every patient is unique and each of our CoolSculpting treatment plan is customized to suit our patient's needs and concerns.
Your Treatment Day – During your treatment day, a gel pad and applicator will be applied to the targeted area. The CoolSculpting applicator delivers controlled cooling to the targeted fat. The applicator draws the fat bulge which is then followed by a cooling sensation. During your procedure, feel free to read, check email, or even take a nap. So sit back, relax, and say goodbye to stubborn fat!
After Your Treatment – Most patients can return to their normal activities immediately after the CoolSculpting procedure. While some patients may see results as early as 3 weeks after their first treatment, the most dramatic results are usually seen between 1 and 3 months following treatment.
Why Choose CoolSculpting in Cutis Medical Laser Clinics?
Cutis Medical Laser Clinics provides the Original and Certified CoolSculpting Practice in Singapore. Our team has undergone a comprehensive training and certification program for achieving optimum results for the CoolSculpting procedure. CoolSculpting is a technique dependent procedure and the certification ensures that each patient will receive the optimal treatment.
With CoolSculpting, we provide a customized treatment plan known as "Treatment to Transformation" – a holistic approach in transforming the body focusing on common problem areas such as the belly, abdomen, thighs and arms.
Our "Treatment to Transformation" program includes:
CoolSculpting Non-Surgical Fat Freezing
TriLipo Triple Action Fat Reduction
Tanita Body Diagnostics
Nutrition Consultation.
Patients will gain valuable insights about their total body fat, amount of fat surrounding internal organs, muscle and bone mass and metabolic age. The CoolSculpting procedure, for which Cutis staffs have been specially certified, removes stubborn fat and sculpts the body using safe fat freezing technology whereas the TriLipo treatment has collagen building and skin tightening benefits.
How safe is CoolSculpting?
The CoolSculpting procedure doesn't burn, shatter or extract any cells. Developed by Harvard scientists, this unique, US FDA-cleared, non-invasive patented procedure is clinically proven that effectively targets, eliminates and freezes fat cells in specific areas of the patient's body without harming the skin or other tissues.
How long does CoolSculpting last?
The fat cells that are eliminated during the CoolSculpting freezing will not grow back. The CoolSculpting treatment results in a noticeable reduction of fat in the treated areas, and the treated fat is gone for good. And as long as the patient maintains normal diet and exercise, long-term results will remain stable.
Is there any side effect?
Some patients experience temporary redness, minor bruising, tingling, numbness or discomfort in the treated area which will resolve completely. No other side effects have been found in fat freezing treatment used in Singapore at Cutis Laser Clinic.