The Non-Invasive Lift


Ultherapy is a safe and effective, non-surgical face lifting procedure that uses proven ultrasound energy penetrating deep into the skin's layers causing collagen production which results to visible skin tightening over time.
Ultherapy is the only US FDA-cleared non-invasive lifting procedure that uses time-tested focused ultrasound energy to lift and tighten the skin naturally without surgery, helping you achieve a fresher, more youthful look from your brow, to your face and jawline, to your chest.
The safety and effectiveness of Ultherapy has been established worldwide through clinical studies as well as 680,000 procedures performed internationally. Ultherapy is US FDA-cleared to lift the skin on the neck, under the chin, and on the brow, as well as to improve the appearance of lines and wrinkles on the decollete.
Ultherapy has also received the European CE mark for non-invasive dermatological sculpting and lifting of the upper face, lower face, neck and decollete.
Just a Single Treatment
With just one treatment, Ultherapy® helps counteract the aging effects caused by time, gravity and sun exposure resulting to firmer and more youthful skin.
The treatment takes between 30 minutes to 90 minutes depending on the treatment area. As an effective treatment, Ulthera can be slightly uncomfortable for some patients which we manage through topical anaesthesia.
And because Ultherapy® is non-invasive, there are no special preparations or skincare regimens needed before the procedure. This is also a safe and effective alternative for those individuals who are not ready for surgery and it can even be an option for patients who wish to extend the effects of cosmetic surgery.
How It Works
"Ulthera (the system) stimulates collagen production by delivering focused and precise ultrasound energy to the foundational layer of the skin typically addressed in cosmetic surgery without cutting or disrupting the surface of the skin."
Ulthera bypasses the skin's surface to deliver the right amount of ultrasound energy at the right depths and the right temperature. This energy triggers a natural response under the skin, jumpstarting the regenerative process that produces fresh, new collagen.
Some patients see an initial effect right after their treatment, but the real and significant results appear over 2−3 months as new collagen works to lift and tighten skin on the neck, chin and brow as well as smoothen skin on the chest.
Ultheraphy Treatment Zones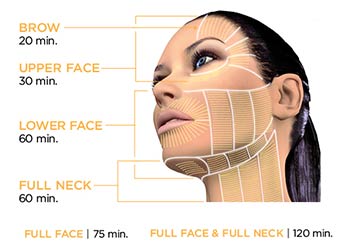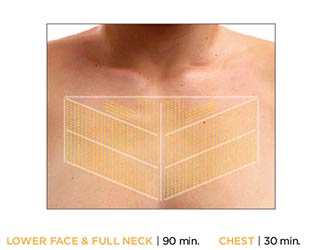 The Ulthera-Titan Combination: 'Evidence-based Treatments' for Collagen-building
At Cutis Medical Laser Clinics, we combined Ulthera with Cutera's Titan treatment which are the two well known evidenced-based treatments for collagen-building that provides significant skin tightening benefits resulting to an improvement in the skin's firmness and elasticity.
Titan is a US FDA-cleared non-invasive procedure that works at the deep dermal layers of the skin. Titan uses safe light energy to stimulate collagen growth by providing a uniform distribution of energy. This causes an immediate collagen contraction in the skin resulting in a naturally tighter look. After the Titan procedure, new collagen growth results in further tightening with the improvement of lax skin, folds and lines.
The Ulthera and Titan Combination gives synergistic collagen building results because they stimulate the fibroblasts with different mechanisms. Furthermore, the Ulthera-Titan Combination gives assurance to our patients that they will receive evidence-based treatments of skin tightening with visible and proven results.
Each procedure will be delivered in optimal areas where they will be the most beneficial, resulting in targeted collagen growth where it matters most and creating that natural lifting effect.
We would like to invite you for a consultation to know if Ultherapy is the suitable treatment for your skin concerns.
Please fill up the form and our friendly consultants will get in touch with you shortly.