The chemical peel is one of the oldest cosmetic procedures in the world, and was performed in ancient Egypt, Greece, and Rome to help people achieve smoother, more beautiful skin. Today, chemical facial peels are still popular because they offer nearly immediate results and can be performed as an outpatient procedure.
How Does It Work
By peeling the outer superficial layer of the skin, the chemical peel treatment helps to rebuild collagen and cell growth regeneration from the deeper layers of the epidermis. The newly formed skin is usually smoother and less wrinkled than the old skin. Chemical peel is also used to treat certain types of acne, reduce acne scars, age spots, pigmentation, freckles, sun damaged skin, and other skin concerns.
After a chemical peel treatment, the skin is temporarily more sensitive to the sun. It is advisable to wear a sunscreen with "broad-spectrum" – protection against the sun's UVA and UVB rays.
We provide two different types of chemical peels that are suitable for your skin concerns.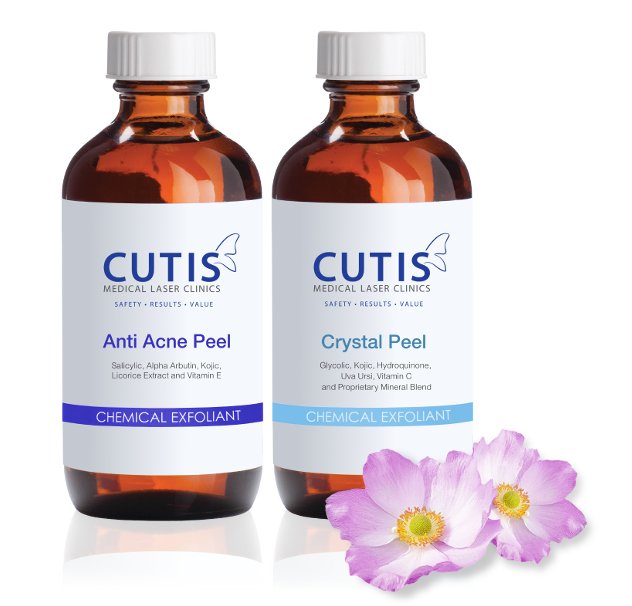 Cutis Anti Acne Peel
Cutis Acne Peel is derived from willow plant which has been proven to have a strong ability to penetrate and clear out pores. Cutis Acne Peel helps to reduce acne by unclogging the pores and killing the acne-causing bacteria due to its high yet safe concentration. A good choice for mild and moderate acne vulgaris. Cutis Acne Peel can be used to treat the face, neck and back.
Ingredients: Salicylic, Alpha arbutin, Kojic, Licorice Extract and Vitamin E
Cutis Crystal Peel
Cutis Crystal Peel is a superior and effective skin whitening peel treatment and booster for dull skin. It has been successfully used to lighten freckles, age spots, uneven skin tone and discoloration conditions of the face & body to brighten the skin, giving a youthful glow.
Ingredients: Glycolic, Hydroquinone, Kojic, Uva Ursi, Vitamin C, proprietary mineral blend