HydraMaster® – 14 in 1 Hydra Dermabrasion Platform
Achieve fresher, more vibrant, and younger-looking skin with our revamped Hydra Facial treatment via HydraMaster® – 14 in 1 Hydra Dermabrasion Platform.
HydraMaster works well as a standalone treatment or a pre-treatment solution to prepare the skin for various rejuvenation procedures. Featuring a unique 360° rotating tip and powerful suction, this platform offers extraction, cleansing, and hydration to enable effective treatments with impressive results.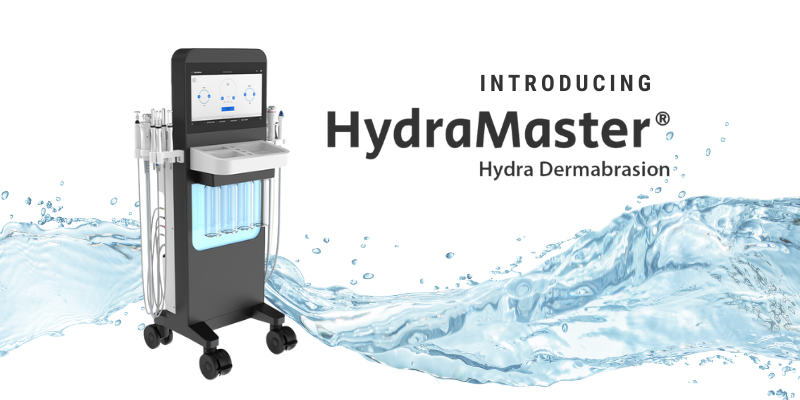 The HydraMaster Technology
360° rotating handpiece – used for chemical and physical peeling at the same time.
360° tip – features a strong vacuum pressure and is made of flexible silicone material. This is soft and feels pleasant on the skin. A small tip is used for the T-zone and curved areas, while a large tip is for the cheeks and forehead.
Penetration of solutions – patented rotation helps with better penetration of cosmetic solutions to be absorbed into the skin's deeper layers.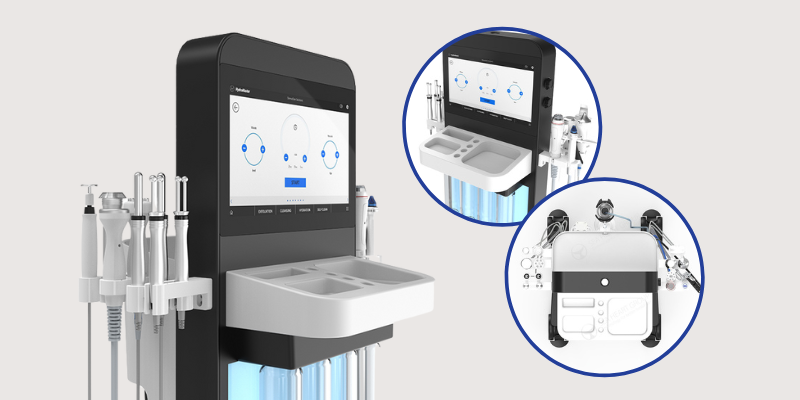 The HydraMaster Regimen - 3 Steps
This hydra dermabrasion platform cleanses, exfoliates, hydrates, and nourishes the skin, leaving it looking clean, fresh, and younger-looking.
Step 1: Extract and Clarify – It starts with removing the dead skin cells to get the skin ready for extraction. Thorough extraction reveals a healthy skin surface while leaving the skin clean and fresh.
Step 2: Dislodge and Cleanse – This involves deep cleaning suction to loosen the dirt and debris deep within the skin. This cleanses the skin and leaves it optimal for effective solution absorption.
Step 3: Condition and Hydrate – Using a rotating tip, a nourishing solution is delivered to the skin. This ensures optimal skin penetration with the solution protecting and hydrating the skin, as well as preparing it for the succeeding treatments.
HydraMaster 14 in 1 Technology
Diamond Dermabrasion
Skin Scrubber
Spray Mist Gun
Oxygen Injection
Ultrasonic Handles (Face & Eyes)
Three Polar RF
Electric Microneedle
Jet Peel
High Frequency
Vacuum Pen
Electrotherapy Gloves
PDT Light
Cooling Handle
FAQs
What are the benefits of HydraMaster?
HydraMaster enables effective treatment with impressive results. There is no discomfort, downtime, or irritation.
Accelerates skin renewal process for smoother skin
Improves skin tone and texture, including pigmentation or dark spots
Unclogs pores and enables the release of natural skin oils
Helps reduce pore size and superficial scars
Helps with fine lines and wrinkles
Enables better absorption of skincare products, serums, and treatments by removing the skin's top layer of dead and damaged cells
How does the HydraMaster Facial feel?
The treatment is comfortable and well-tolerated by most patients. Those who have undergone the procedure reported having refreshed skin after their facial.
When will I see the results? 
Results are immediate and will continue to become better after each HydraMaster session.
Are there any side effects?
Side effects are temporary and minimal. Depending on the treatment, some patients may experience peeling but this will resolve on its own immediately. Your doctor will let you know what to expect (including side effects) during your consultation.
Can HydraMaster facial be combined with other treatments? 
Yes, you can choose to combine HydraMaster with many of our non-surgical anti-aging and rejuvenation treatments. The additional treatment will depend on your needs and goals.