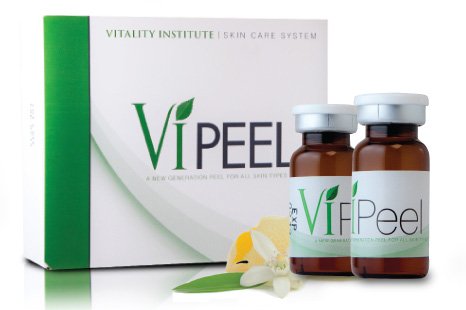 The Vi Peel is a chemical peel treatment that delivers superior and effective results for skin conditions such as active acne and acne scars. The Vi Peel skin care formulations are made of scientifically proven, result oriented ingredients designed to achieve and maintain healthy skin.
The VI Peel unique is as it provides a deeper and more effective result and yet it is safe for individuals with all skin types (including those with very dark complexions).  It is its special formulation which is designed to improve skin tone, texture and clarity of the skin; reduce or eliminate age spots, freckles, and hyper-pigmentation, soften lines and wrinkles; clear acne skin conditions; reduce or eliminate acne scars; and stimulate the production of collagen, for firmer, more youthful skin.
How It works
The Vi Peel treatments is painless, yet produces dramatic visible results in just days. It gives a slight tingling sensation for only a few seconds which subsides almost immediately. The peel is applied topically, numbing of the skin takes place after the first pass.
Following the application of the chemical peel solution, skin may appear reddish or tan for a brief time but this can be concealed with make-up.  The actual peeling process begins 1-2 days later, and can continue for 3-4 days.   Mineral foundation can be used during the actual peeling process.

Patients can return to work or other daily activities immediately after receiving their VI Peel, though strenuous exercise should wait until after the first five hours after the chemical peel solution is applied.