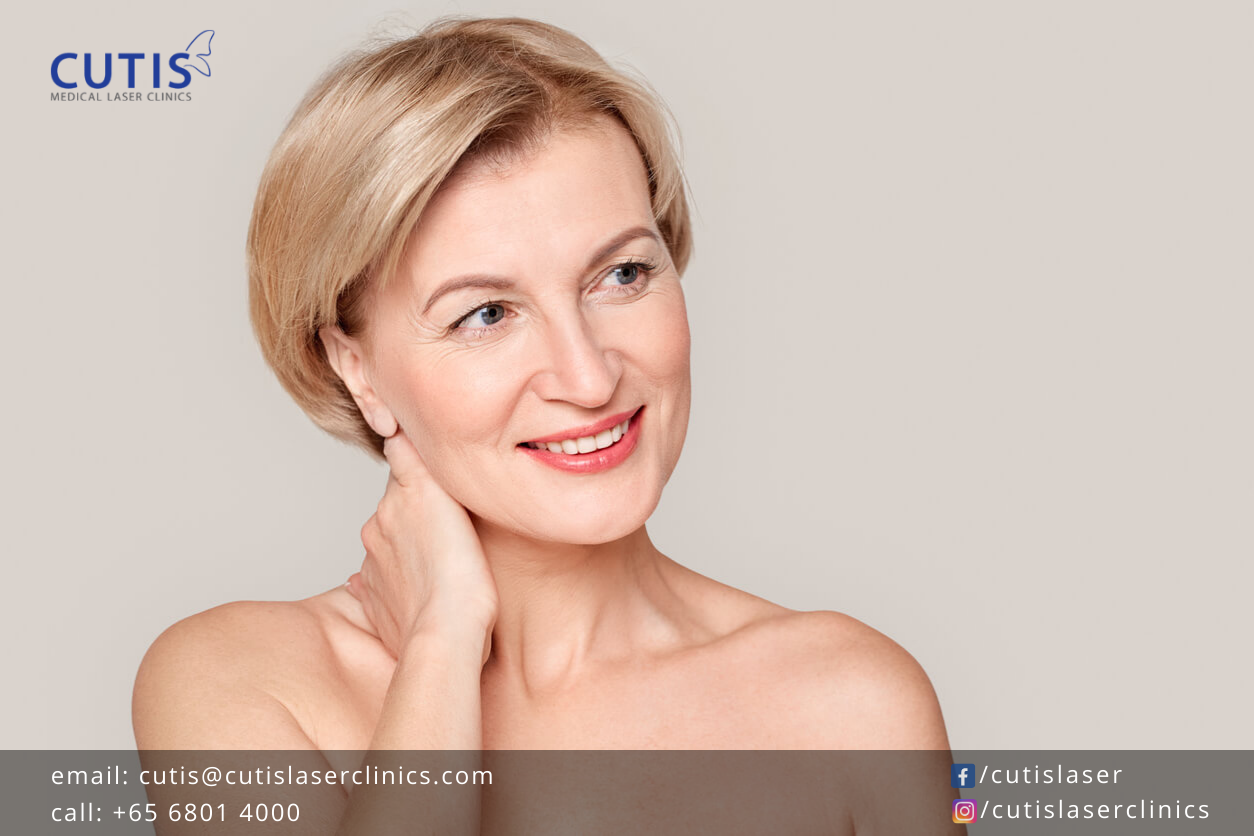 The aging process affects not just the surface of the skin. While facial lines and wrinkles are what most people are concerned about, aging also affects other layers of the facial structure, including the fat pads, muscles, and bones. These can cause changes in your facial contours, resulting in jowls or a less defined chin and jawline. 
Aging skin on the surface 
The loss of collagen and elastin as you age compromises the structural integrity of the skin. This can then cause your skin to lose elasticity and make it more prone to damage, wrinkles, and sagging. 
In addition, the sebaceous glands produce less oil with aging, which can then result in dryness and accentuated lines and wrinkles. The lower levels of oil and lipids in the skin can also break the support structure of the skin, resulting in lines, creases, and dry patches. 
Aging skin in other layers of the facial structure
Fat pads – Located below the surface of the skin, fat pads provide facial volume and fullness. They get thinner and fall downward as you age, resulting in drooping skin and hollows beneath the eyes. Loose skin and fat accumulation in the lower face can lead to a weaker jawline or the development of double chin or turkey neck. 
Muscles – Located beneath the fat pads, muscles enable us to make facial expressions. Repetitive facial movements, along with the loss of facial fat and effects of gravity, can cause deep wrinkles and creases. Thinning skin and weaker facial muscles can also give your skin a sagging appearance with less defined facial contours.
Bones – Facial bones give your face its shape and contour. The sad part is bones lose volume and recede with age, which can then make your jawline less defined. Bone loss can also contribute a deflated appearance, which can negatively affect the shape of your nose, cheekbones, lower part of the eye sockets, and lower face.
Restoring facial volume
Surgery is not your only option for lifting your lower face or restoring facial volume. At Cutis Medical Laser Clinics in Singapore, we have a number of aesthetic treatments that can address signs of aging and improve facial contours. Here are a few nonsurgical procedures worth considering: 
Ultherapy®
This US FDA-cleared non-invasive procedure can naturally lift and tighten skin on the face, neck, and decolletage. Ultherapy safely delivers ultrasound energy in the deeper layers, triggering collagen production. This can then tighten the skin over time, giving you a refreshed and a more youthful look.
With Ultherapy, you can expect to see the full results over 2 to 3 months. This is the period where the new collagen produced starts to lift and tighten the skin. Further improvements can be seen six months after the procedure. Skin rejuvenation by Ultherapy can result in tighter skin and a more defined facial contour.
RADIESSE®
This US FDA-cleared filler is composed of Calcium Hydroxylapatite (CaHA) microspheres (suspended in an aqueous gel carrier). Radiesse® is thicker than hyaluronic-acid based fillers and provides immediate volume and correction. It can smooth moderate to severe wrinkles and folds, as well as restore lost volume.
One unique thing about Radiesse is that it is a bio-stimulator that stimulates the body to produce its own collagen. It can fill and improve your nasolabial folds, contour the jawline and lower face, as well as smooth hand wrinkles. Radiesse can help improve facial balance and harmony with visible and long-lasting results. 
Read on and learn what makes Radiesse® different from other fillers.
Juvéderm Volux
This innovative injectable treatment is a structural filler containing 25mg of a manufactured form of hyaluronic acid (HA). Juvéderm Volux is intended for restoring and creating volume on the face and has been shown to be effective when used in the chin and jawline area. 
Volux chin fillers can temporarily change the shape of your chin and jawline, as well as add more definition and structure to your lower face. It can also help reduce signs of aging, moisturize the skin, and bring back its tone and elasticity. Volux can deliver natural looking results that can last between 18 and 24 months. 
Are you bothered with volume loss and less defined facial contours? Don't hesitate to reach out to us. Contact Cutis Medical Laser Clinics in Singapore today and schedule a consultation with our aesthetic doctor to find out which treatment suits you best.