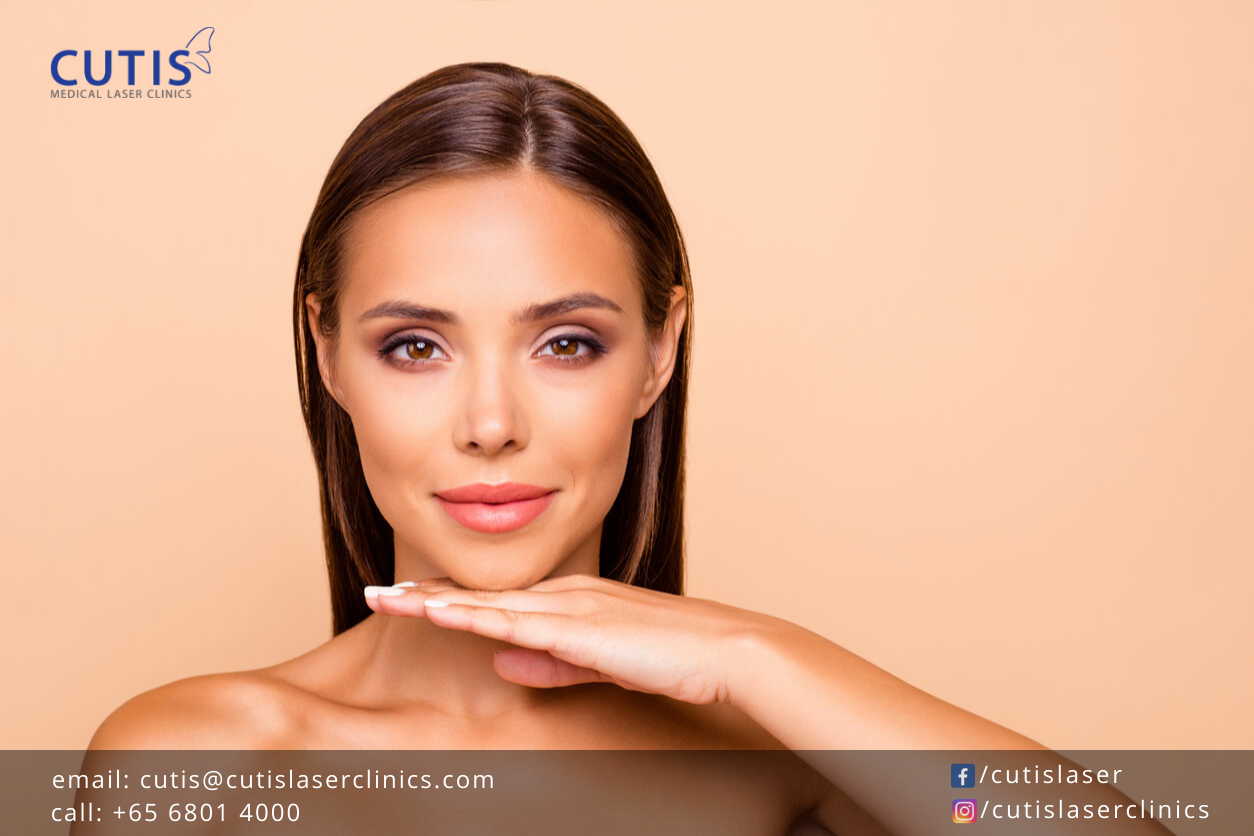 Many of us think fillers are mostly for giving the lips a fuller and plumper look – thanks to Kylie Jenner. Enhancing the lips is undoubtedly one of the most popular uses of fillers, but did you know that they can also improve facial harmony? Fillers can add volume and definition to the chin to correct a weak/receding chin or create a balance between the mid and lower part of the face. 
For patients who need subtle to moderate enhancements, chin fillers can provide great results. They also let you start small or with baby steps, ideal if you don't want to go under the knife and avoid surgery-related risks. Chin fillers, furthermore, let you know and understand the changes you'd want in your chin and surrounding areas before committing to a more permanent solution like implants.
So, what is the most common type of filler used for chin augmentation? 
Hyaluronic acid (HA) based fillers like Juvederm are used to contour and design the chin and jawline area. At Cutis, we have the Juvederm Volux, which is a US FDA-approved HA-based filler specifically developed for sculpting the lower face. It has a high lifting capacity that can create lasting results without the need for cuts or surgery. 
What can it do: Volux is a structural filler intended to restore and create volume on the face. It can help injectors create the ideal facial balance because of the injectable's high elasticity and cohesivity. This enables the practitioners to model and sculpt the fillers into the desired shape. 
The filler is known to be effective when used in the chin and jawline area. And because it is a structural filler, it becomes firm when it sets, which can appear and feel like bone. Juvederm Volux, moreover, can moisturize the skin and help restore elasticity, while also delivering natural-looking results.
What results to expect: Juvederm Volux is injected in the chin or jawline area to give it a crisper angle and make you appear more youthful. You can see improvements after just a week and you can expect the results to last as long as 18 to 24 months. That is up to two years of having a more contoured chin and jawline.
Benefits of Juvederm Volux include:
Adds more definition to the chin and jawline

Lifts and sculpts the lower face

Contours the chin and/or jawline

Restores volume loss in the lower face

Improves sagging in the chin/jawline due to aging

Offers bespoke and lasting results
Learn more about how Juvederm Volux can help you say goodbye to a sagging chin and jawline.
Are there other types of fillers used on the chin? 
Apart from HA-based fillers, there are also those made with Calcium Hydroxylapatite (CaHA) or calcium-based microspheres suspended in a water-based gel. Just like HA, CaHA is also a naturally occurring substance in the body, commonly found in human bones. At Cutis, we have Radiesse®, which is a US FDA-approved CaHA-based filler used for adding and restoring volume loss. 
What can it do: CaHA fillers are ideal for chin and jawline enhancements because they are thicker and typically last longer than conventional hyaluronic acid-based fillers. Radiesse is considered a non-surgical facelift filler, offering subtle contouring in the lower face. It can be used to sculpt the face and counteract the effects of volume loss.
One unique thing about this injectable is that it has the ability to act as a scaffold under the skin, which then provides structure. Radiesse can reshape the jawline, adding volume in the area and enhancing overall facial balance. Also, it can be molded to lift and sculpt the cheekbones for an improved facial contour.
What results to expect: Radiesse provides instant volume and correction while also stimulating the body to produce its own collagen. Its collagen-inducing effect helps the skin regain its youthful tightness and elasticity. It can provide natural-looking results that can last for 12 to 18 months or longer. 
Benefits of Radiesse include: 
Adds volume in the chin area

Reshapes the jawline and chin

Contours and lift the chin

Corrects facial imperfections due to aging

Helps stimulate new collagen in the process

Has no downtime and offers lasting results
Read our previous post and find out what makes Radiesse different from other fillers.
Chin augmentation: Ideal for both men and women
Both men and women wanting to add more definition in the chin area or improve the overall proportion of the face can turn to chin fillers. For women, these injectables can enhance the natural feminine contours of the face. For men, on the other hand, fillers can tweak the chin and jawline area for a chiseled or masculine look, or a more pronounced chin.
You can also consider chin fillers if you have a short, receding, or retracted chin. They can add volume to the area, as well as sculpt and redefine it while also providing natural-looking results. Fillers, furthermore, can also reduce the appearance of sagging skin on the lower face, giving you a younger-looking appearance.
A consultation with an aesthetic doctor can determine if Juvederm Volux or Radiesse is right for you. Make sure to only see a qualified injector who has years of experience administering cosmetic injectables to avoid unwanted side effects. Do take note that a filler injection is a medical procedure that also requires the skill and artistry of the injector.
Book a consultation today
Wondering how fillers can redefine your chin and give you a more attractive or youthful profile? Contact Cutis Medical Laser Clinics in Singapore today and schedule a consultation with one of our aesthetic doctors.