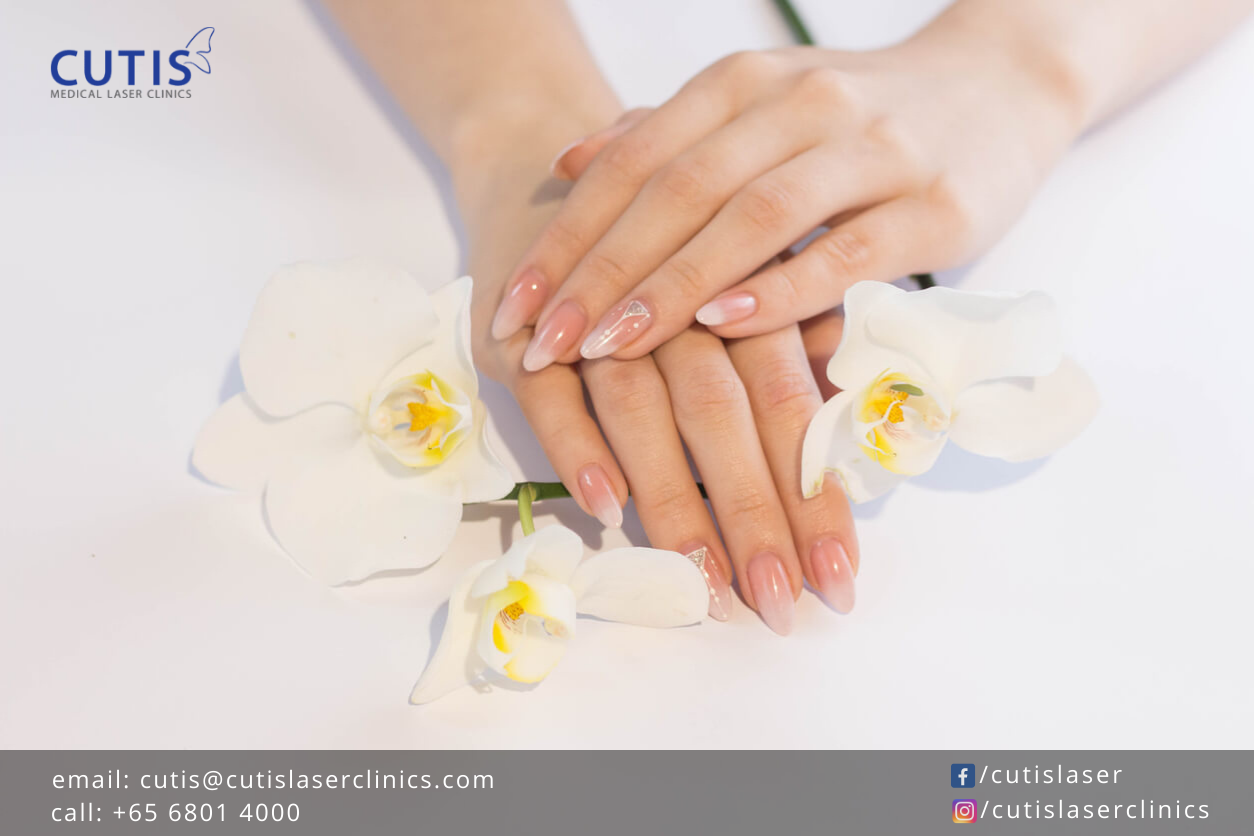 Our hands rarely get the attention they deserve. Most anti-aging products and skincare tips are geared up for the face and neck, with the hope of fighting or delaying signs of aging. Wrinkles, volume loss, and sagging skin are the most common concerns – all of which can show up on your hands faster than other areas of the body. 
This is the reason why hand lifts are gaining more popularity. These involve the use of injectable fillers to improve signs of aging in the said area. These include wrinkling, dry/crepey skin, and visible veins and tendons. Hand lifts can plump the skin in your hands to rejuvenate and give them a more youthful appearance. 
Which filler is used for hands? 
At Cutis Medical Laser Clinics, we use Radiesse® for hand rejuvenation. This FDA-cleared dermal filler is composed of Calcium Hydroxylapatite (CaHA) microspheres suspended in an aqueous gel carrier. CaHA is a mineral-like compound naturally found in bones and has a thicker consistency than hyaluronic acid or HA-based fillers. 
You can turn to Radiesse to rejuvenate both your face and hands. It is commonly used for correcting moderate to severe facial lines, wrinkles, and nasolabial folds (deep creases that run from the bottom of the nose to the outer corners of the mouth). Radiesse is also FDA-approved for correcting volume loss in the back of the hands.
Here's how this CaHA filler will improve the overall look of your hands: 
Minimize wrinkles

Reduce the visibility of veins and tendons

Restore a more youthful appearance of your hands

Provides smooth and natural-looking results
Find out what makes Radiesse different from other fillers. 
How does Radiesse lift and rejuvenate hands?
Using a cannula, the filler is injected below the skin's surface. Once injected, Radiesse adds lift and volume needed to minimize or reduce signs of aging. It offers immediate volume and correction, while also working as a bio-stimulator. Radiesse helps stimulate the body to produce its own natural collagen. 
Over time, the body absorbs the gel and metabolizes the CaHA microspheres, leaving behind only your natural collagen. And since Radiesse is a collagen stimulator, it helps your skin regain its youthful tightness and elasticity. This offers long-lasting correction and rejuvenation of the treated area.
How long does Radiesse last?
One advantage of Radiesse over hyaluronic acid-based filler is that it lasts long. HA-based ones typically last between 6 and 9 months, while Radiesse lasts from 12 to 18 months. Some patients also report the filler lasting for up to two years. 
It is also a thicker dermal filler, which makes it suitable for dry, crepey skin and prominent volume loss. Radiesse provides instant volume correction and with the filler's collagen-inducing effect, improvements continue over time. Once the effects of Radiesse wear off, you can get the filler again. 
Why say yes to Radiesse?
Safe and hypoallergenic

– The US FDA approved

Radiesse

in 2006 for treating moderate to severe facial wrinkles. In 2015, it received its approval for the correction of volume loss and in 2016, its CE certification. 

Minimal to no downtime

– As

Radiesse

has virtually no downtime, you can return to most of your routines after the procedure. Just make sure to avoid sun exposure, excess heat or sweating, and strenuous exercise 24 hours after the injection. Your injector/

aesthetic doctor

will also provide post-treatment guidelines.

A variety of uses

–

Radiesse

is not just safe and effective for restoring smooth, younger-looking hands. It can also be used for anti-aging your face, adding volume to the cheeks, and sculpting the face.

Radiesse

can also:

Improve the appearance of jowls

Reduce the appearance of sagging jawlines

Help correct marionette lines and other lines around the mouth

Temporarily lift and sculpt your cheekbones

Strengthen a weak chin and jawline

Improve facial contours
Tips on taking care of your hands
Radiesse can improve the overall look of your hands, but it is also important to give them some TLC. Here's how you can protect your hands and keep them looking youthful: 
Slather on sunscreen

– Prolonged and unprotected sun exposure can lead to premature aging with the appearance of lines, age spots, and sagging skin on your hands. Always apply

broad-spectrum sunscreen

daily, regardless of the weather.  

Moisturize

–

Frequent handwashing

can dry out your hands and lead to crinkling and wrinkling. Dry skin can also make the existing lines and wrinkles on your hands more visible. Make sure to use creams and lotions (with moisturizing ingredients) throughout the day to counteract dryness and crepey skin. 

Wear gloves

– A pair of gloves can protect your hands whenever cleaning, washing dishes, or gardening. Do take note that hot water and chemicals from cleaning supplies can dry and irritate your hands. This is especially true if you have sensitive skin.
Here are a few other tips on fighting and treating dry hands. 
Schedule a consultation
Do the signs of aging on your hands betray your age? A little TLC and Radiesse can help. Contact Cutis Medical Laser Clinics in Singapore today and schedule a consultation with our aesthetic doctor to find out if Radiesse is right for you.