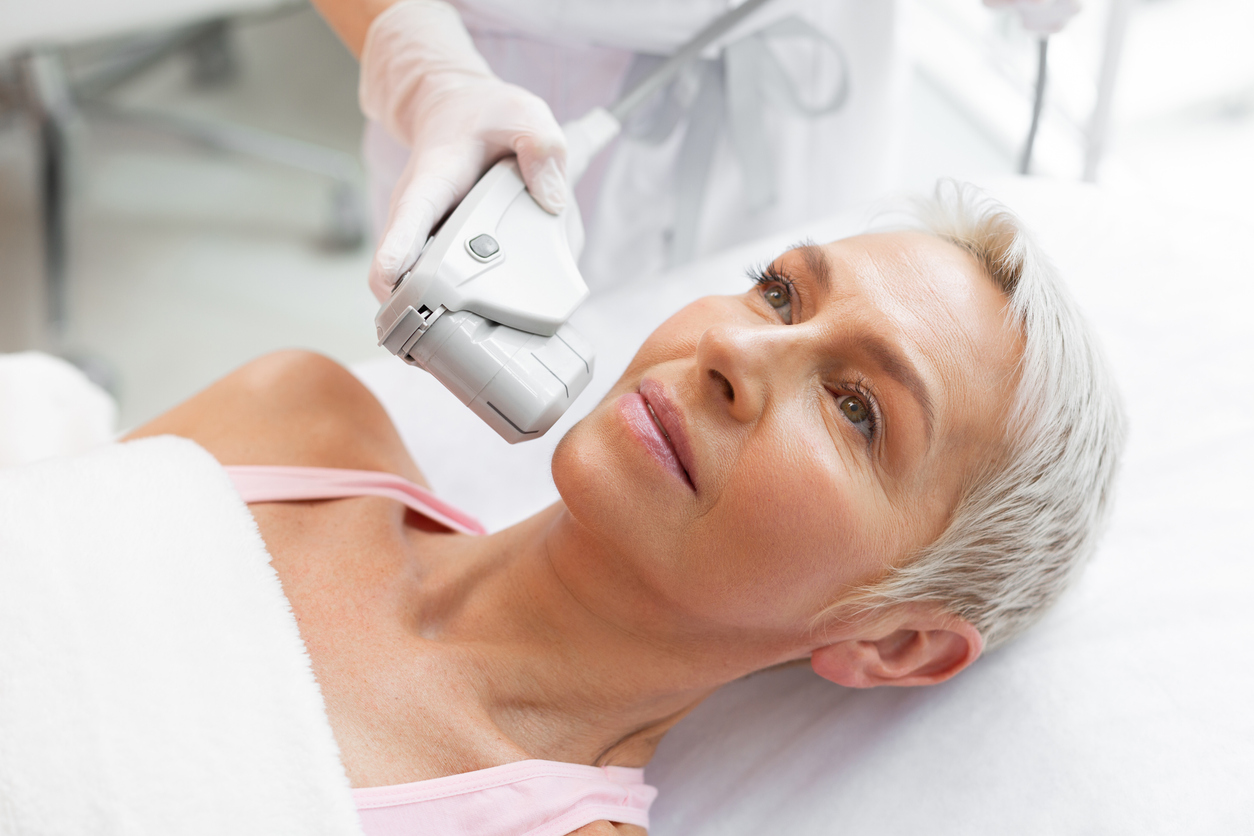 While ultrasound is commonly used in medical imaging, it is also found helpful in tightening loose and saggy skin. One well-known procedure that incorporates this energy is Ultherapy, a US FDA-cleared non-invasive treatment for lifting the skin on the brow, under the chin, and on the neck. 
Ultherapy has also received the European CE mark for non-invasive dermatological sculpting and lifting of the upper and lower face, neck, and décolletage. It safely delivers ultrasound energy into the deeper layers of the skin to achieve a visible yet natural lift over time.
To find out what makes ultrasound in Ultherapy great for firming the skin, it is important to understand first how this type of energy relates to skin tightening.
How Do Ultrasound and Ultherapy Work?
Ultrasound is a form of acoustic (sound) energy that can produce waves with varying intensity. To transmit the energy to the skin tissues, it uses a medium like a handheld device that generates heat. 
This can be used to focus the energy where it is needed the most, with the heat going into the deepest layers of the skin to stimulate new collagen.
What separates Ultherapy different from other laser treatments (that only target the outer layer) is that it bypasses the skin's surface. This means, Ultherapy delivers the ultrasound energy deep into the skin's layers without cutting or disrupting the skin.
When the energy is delivered, it triggers your skin to undergo a natural healing response. This jumpstarts the regenerative process that stimulates the production of new and fresh collagen.
It is also good to know that Ultherapy uses an ultrasound imaging that enables the aesthetic doctors to see the tissue layers that are being treated during the procedure. This reassures patients that the ultrasound energy is delivered to the areas where it will be effective and beneficial.
Why is it a Good Alternative to Surgical Facelift?
Ultherapy is a non-invasive procedure, which means that it does not require needles, incisions, stitches, or special preparations and skin regimen before the treatment. It also has no downtime or longer recovery period, so you can immediately return to your normal routines after the procedure. 
If you want to achieve a natural-looking facelift or reverse sagging skin but are not willing or ready to go under the knife, Ultherapy is a safe and effective alternative. It is also a good option if you want to maintain or prolong the effects of cosmetic surgery like a surgical facelift.
Who is a Good Candidate for the Procedure?
Good candidates for Ultherapy include patients with mild to moderate skin laxity in the face and neck. Younger people (below 30) can also consider the procedure as a preventative treatment. 
You can also benefit from Ultherapy if your skin is starting to look and feel saggy with common indications such as wrinkles, lowered eyebrow line, loose skin on the neck, and fine lines on the chest. 
How Long Does it Take and How Many Sessions are Needed?
The treatment can last between 30 to 120 minutes depending on the number of areas you want to treat or address. In general, a full face treatment can last for about 75 to 90 minutes, a full face and neck treatment for 120 minutes, and a lower face and neck for 90 minutes.
One session of Ultherapy can provide a natural lifted appearance over time. However, do take note that in order to maintain the results, it must be done at least once a year. 
A consultation with an aesthetic doctor can determine the number of treatments you need, as well as to provide you with the right expectations of the procedure.
What Results Can You Expect After Ultherapy?
Some patients notice an immediate effect a few days after the treatment, but be reminded that significant results appear over two to three months—the period when the new collagen starts to lift and tighten your skin. You can also see further improvements up to six months after the procedure.
Slight skin redness is common after the treatment, but this should subside after a few hours. A consultation with an experienced aesthetic doctor can help you learn more about Ultherapy as well as the things you can expect before, during, and after the procedure.
Look Younger Today with the Help of Ultrasound Energy
Discover the wonders of ultrasound energy for skin tightening today. Contact Cutis Laser Clinics in Singapore and schedule a consultation with Harvard-trained our aesthetic doctor, Dr. Sylvia Ramirez, to learn more about this treatment and to find out if you're a good candidate for Ultherapy.
Tag: Ultherapy, Skin Tightening