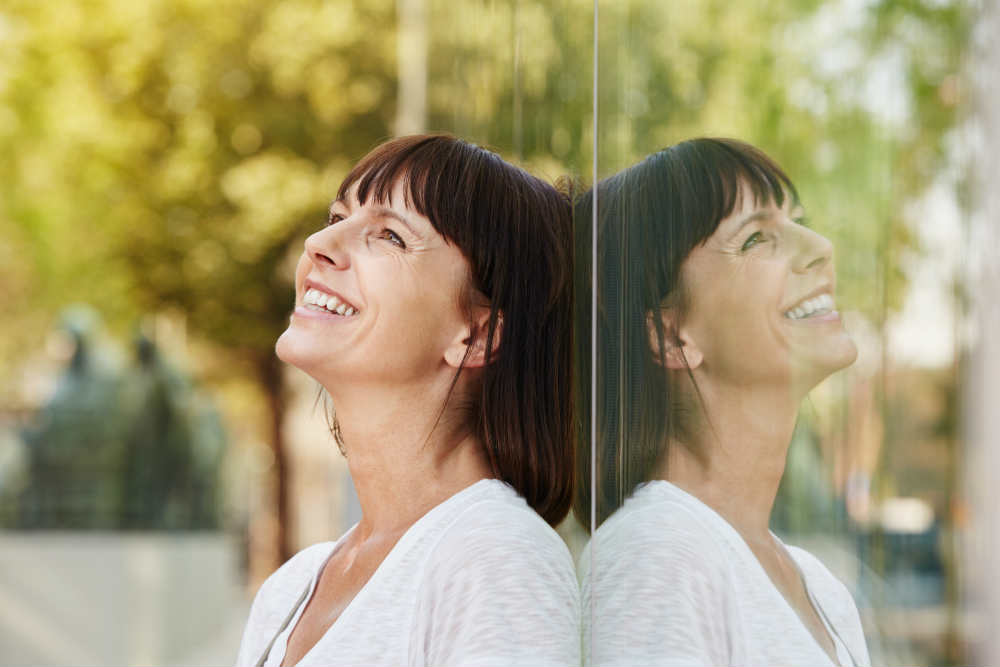 Most people give little thought to their neck until it begins to show signs of aging. Genetics, hormones, environmental factors, and years of neglect can lead to saggy skin, wrinkles, and discoloration of the skin.
Avoiding preventive treatments can worsen these symptoms. To reverse aging skin on the neck area, you need to maintain a healthy skin care routine consisting of a cleanser, toner, moisturizer and sunscreen.
Depending on the condition of your skin, you may also consider skin tightening treatments. At the Cutis aesthetic clinic, we provide FDA-cleared non-invasive procedures for to restore tighter, firmer and youthful-looking necks.
Ultherapy
Loose skin on the neck can make you look years older than you really are. Ultherapy is a safe and effective solution for sagging skin on the neck area.
This FDA-approved ultrasound treatment delivers focused energy to deeper layers of skin stimulating new collagen production. As the energy pulses penetrate the skin, they trigger the body's natural healing response causing the regenerative process to kick in.
The result is a significant lift and tightening that can be seen around two to three months once the new and fresh collagen are produced in the skin. UItherapy is also a non-invasive wrinkle treatment which does not include any incisions or downtime. The fast and efficient skin tightening procedure lasts about 30 to 90 minutes. Ultherapy can provide noticeable results in just one treatment and it can be done as a maintenance procedure to prolong the effects.
BTL Exilis Elite
Exilis is an exciting new radiofrequency technology designed for the face and body. This skin treatment in Singapore offers skin tightening and contouring benefits that not only helps to firm the skin but also remodels collagen which further tightens the neck area.
At Cutis, we provide Exilis Elite which offers twice the amount of energy in a shorter amount of time. During the treatment, the device is glided over the skin. Most patients describe the feeling as a deep heating sensation. At least four treatments are recommended to see noticeable results.
Anti-Aging Tips
If you're seeing signs of aging on your neck, you're likely seeing it elsewhere too. Besides from doing your maintenance skin treatments, it's also important to practice proper anti-aging techniques to keep your skin looking healthy and youthful.
No need to hide aging skin with a turtleneck or a scarf. Follow these simple tips for a younger-looking neck:
Eat Right:

A proper diet provides the nourishment your body needs to maintain hydrated, healthy skin. Eat plenty of fresh fruits, vegetables, and whole foods, and keep your sugar and carb intake to a minimum.

Work Out:

Exercise has the ability to reverse signs of aging by making the skin thicker and more elastic. Engage in moderate-intensity exercise twice a week.

Apply Sunscreen:

Exposure to UVA and UVB rays can result in free radical damage contributing to wrinkles, pigmentation and sagging skin. Keep your skin protected by applying a broad-spectrum sunscreen such as

Oil Free Sun Protection SPF30 from Dr. Sylvia Skin Care.
Sleep Well:

Sleep is essential to allow your body to renew and rejuvenate. Get plenty of sleep at least 7 hours to allow your skin to absorb nutrients, recover and get stronger.

Moisturize:

Apply a moisturizer day and night to keep your skin protected from drying out.

Use a Serum:

Use an anti-aging serum with clinically-proven ingredients to prevent your skin from environmental stress and pollution.

Vitamin

C 20%

with Ferulic Acid from Dr. Sylvia Skin Care is a great antioxidant super serum that combats oxidative stress, and provides additional hydration and skin lightening benefits.
The skin on the neck is often one of the first places to show signs of aging. While you can't always prevent neck aging, you can reverse it with a combination of aesthetic treatments and the right skin care regime.
To know if you are a good candidate for Ultherapy or Exilis, schedule a consultation with our Harvard-trained specialist at Cutis Laser Clinics in Singapore today.
Tags: Aesthetic Clinic, Skin Tightening Treatments, Ultherapy, Exilis