When it comes to premature skin aging, many of us probably know that overexposure to the sun is the biggest culprit. While the sun is our best source of vitamin D, extended exposure to it can accelerate the aging process. This can make the skin more susceptible to developing age spots, fine lines, and wrinkles.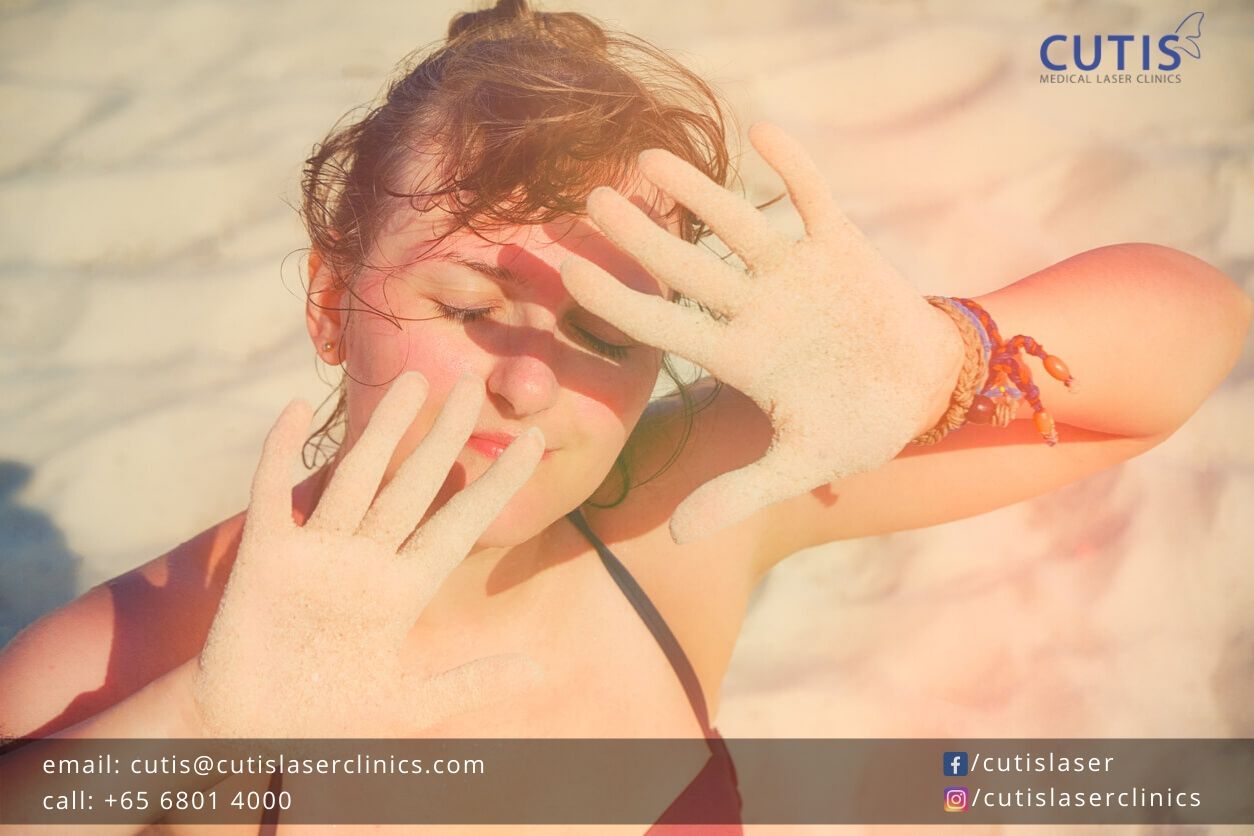 Prolonged and unprotected exposure damages essential proteins in the skin, resulting in photoaging. This can lead to dark spots, uneven skin color, wrinkles, and loose or leathery skin. 
Photoaging and its causes
Overexposure to the sun is the main cause of photoaging. The UV radiation that the sun produces contributes to the production of free radicals or unstable molecules. This then causes oxidative stress, damaging cell membranes, DNA, and proteins. Oxidative stress from prolonged sun exposure results in cumulative damage in the skin. 
Photoaging occurs on parts of the body that receive the most sun exposure. These include the face, neck, upper chest, and back of the hands. There are also cases where the effects of photoaging or sun damage can be seen on the lips. 
Preventing photoaging
Since extended sun exposure causes premature aging, it is only important to protect your skin from the sun. Here are a few sun protection tips:
Limit the time spent in the sun

, especially during its most intense hours or between 10am and 4pm.

Use broad-spectrum sunscreen

with an SPF of at least 30. Be sure to choose a product that is water resistant and apply it liberally at least 20 to 30 minutes before going out.

Reapply sunscreen every two hours

or every hour if you are sweating excessively or swimming. 

If possible, wear protective clothing

or long-sleeved shirt and long pants. Dark clothes with tightly woven block more sun than white clothes or those with loosely woven fabrics.

 

Accessorize with a brimmed hat and sunglasses

with lenses that offer more than 90 to 100% UV protection.  

Apply a lip balm

with an SPF of at least 30. 
Aesthetic treatments
If you already had signs of aging or sun damage, there are a number of aesthetic treatments that can help you. At Cutis Laser Clinics, we have procedures that can fade pigmentation, brighten skin, and reduce the appearance of wrinkles.
Pearl Laser Resurfacing 
This US FDA-cleared laser procedure is used for reducing the appearance of wrinkles, acne marks, pigmentation, and uneven skin texture. It treats the top layer of the skin using pulses of light in a pre-selected pattern removing a portion of sun-damaged skin.  
The Pearl Procedure can reverse the signs of aging with fewer treatments and less overall recovery than other procedures. It causes skin to produce a natural protective dressing, which will peel off after three to five days. This then reveals an even-toned skin with a "pearly" glow. 
Limelight IPL
This innovative laser device uses intense pulsed light (IPL) technology to treat a range of skin concerns. These include brown spots, freckles, sun damage, and uneven complexion. You can use Limelight IPL on any part of the face, neck, and décolleté with redness, brown spots, and tiny veins. 
The procedure works by emitting light from the device, targeting the pigmentation and drawing out dark spots. It is normal for the spots to turn darker after the treatment, but they will scab and fall off after three to five days. This will then reveal a more glowing or brighter complexion.
VI Peel
This chemical peel treatment is commonly used to deal with fine lines, sun damage, and acne marks on the skin, neck, and chest. You can also turn to VI Peel to fade brown spots, freckles, and other types of pigmentation.  It can improve the overall look of the skin by triggering elastin and collagen production.
The procedure involves an application of the chemical peel solution on your face. This will remain in the skin for about 4 hours and you will have to wash off the solution at home. Skin peeling can happen on the second or third day and may continue up to seven days. 
Cosmetic Injectables
If you're worried about fine lines and wrinkles, Botulinum toxin or Botox is worth considering. This works by temporarily blocking the signal from a nerve to muscle to relax and soften the wrinkles. You can use Botox to reduce the appearance of forehead lines, frown lines, crow's feet, and upper lip wrinkles. 
Dermal fillers are another option for improving the appearance of signs of aging. It can restore lost volume in the skin, soften wrinkles, as well as improve eye bags and nasolabial folds. Most fillers are made with hyaluronic acid (HA), which is a naturally occurring substance in the body.
Schedule a consultation today
Be proactive in taking care of your skin, especially when it comes to sun exposure. To find out if you're a good candidate for these procedures, contact Cutis Medical Laser Clinics today and schedule a consultation with our aesthetic doctors in Singapore.