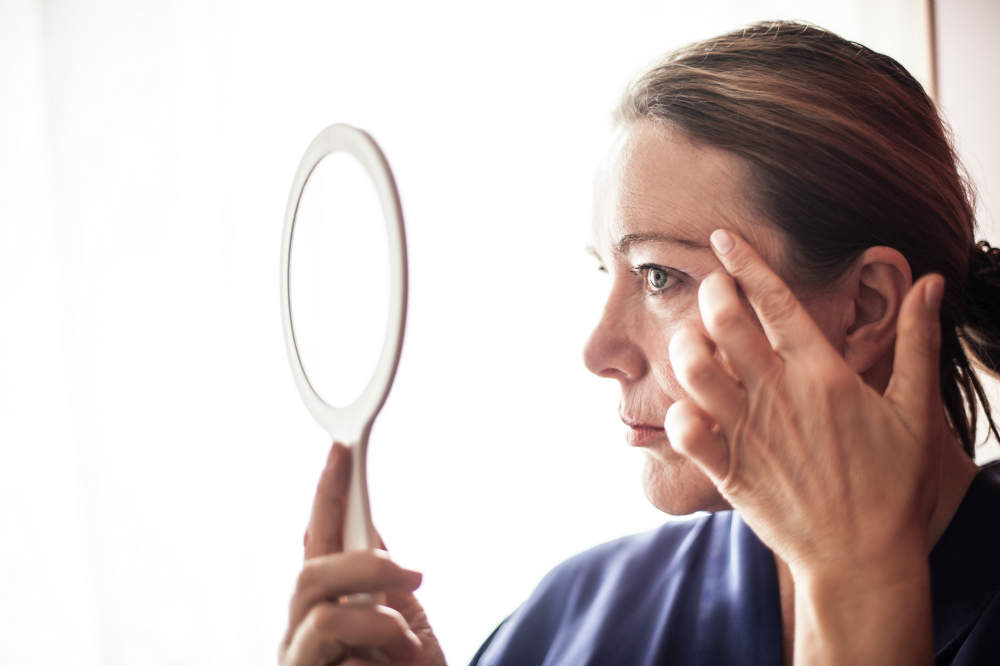 Looking back at old photos will make you notice distinct differences in the shape, plumpness, and smoothness of your face and skin.
As we age, our facial bones change shape, fat and tissue is lost, and wrinkles start to set in. In addition to the natural aging process, changes in hormones and certain lifestyle habits can contribute to changes in your facial appearance.
While you can't stop the aging process, you can reverse its effects. Learn more about what happens to the face as you age and what you can do to maintain a youthful appearance.
Effects of Aging on Your Face
The face is majorly made up of bone, fat, muscle, and skin. Each component of the face plays an important role to maintain a healthy and youthful skin. Unfortunately, aging can wreak havoc on the face over time.
Bones
Our bones, which gives your face it's unique shape, changes shape as we age. CT scan images from University of Rochester Medical Center in the US showed that bones of a 65 year old woman showed larger and wider eye socket and the angle of her lower jaw has dropped.
Muscles
The muscle makes your face appear toned and your skin is what covers everything. Over time, your muscle loses its tone and strength. The fat and skin that are attached to it begin to sag.
Fat
The fat is what plumps up the skin creating a youthful complexion. Unfortunately, it begins to lose volume from under the eyes to the cheeks resulting to wrinkles, folds and lines in the skin.
Skin
Collagen and elastin are responsible for firmness and elasticity of the skin. Both start to decrease as we age causing further appearance of wrinkles, laxity and saggy skin.
Treatments to Reverse Aging
Botulinum Toxin (or more commonly known as Botox) to Reduce Wrinkles
When it comes to creating a more youthful look, most people go straight to Botox. If you're tired of looking at fine lines and wrinkles in the mirror, Botox in Singapore can temporarily blocks the muscles responsible for the wrinkles, causing the lines to relax.
Botox is an effective treatment for frown lines (angry 11s), forehead lines and smile lines. While Botox side effects are minimal which may include temporary bruising, redness, swelling in the injection site which will subside after a few days.
Dermal Fillers to Restore Volume
Similar to a Botox injection, dermal fillers consist of a quick injection under the skin. Unlike Botox that softens the muscle, fillers plump up sunken cheeks and eye areas, thin lips, facial creases, and wrinkles using a hyaluronic acid, a type of molecule that is already present in our skin.
Dermal fillers can also offer other benefits, such as improving the appearance of recessed scars and augmenting facial contours without surgery. Fillers can increase the height of the nose as well as elongate the chin giving a softer side profile.
PDO Threads to Tighten Sagging Skin
PDO threads are another popular option for men and women looking to turn back the hands of time on their skin. A PDO thread is a type of absorbable suture composed of polydioxanone. As these threads are commonly used in surgery, they are one of the safest materials that can be inserted in the body to provide an instant lifting and tightening.
PDO thread lift can immediately lift sagging skin on the middle face and jawline. Once the threads are inserted in the skin, they take four to six months to be fully absorbed while the skin around it repairs itself and stimulates new collagen production.
Ultherapy for Non-Invasive Face Lifting
Our last recommendation to reverse the signs of aging is Ultherapy. Known as the non-invasive face lift, Ultherapy is FDA-cleared ultrasound treatment that counteracts the effects of gravity on the skin by stimulating the body's own regenerative response.
The procedure bypasses top skin layer and works by emitting focused ultrasound energy to the skin's deeper layers to gradually lift skin on the face while smoothing out lines and wrinkles.
What's unique about Ultherapy is that it's the only cosmetic treatment that uses ultrasound imaging for enhanced precision and consistent patient results. The procedure has been cleared by the FDA for lifting skin on the face and improving fine lines on the chest.
If your face is giving away your age, you may have considered treatment to achieve a more youthful appearance. There are a number of safe and effective non-surgical procedures to choose from but knowing which one works for you can only be determined during consultation.
Learn more about these skin treatments by contacting our aesthetic doctor at the Cutis Laser Clinics.
Tags: Aesthetic Doctor in Singapore, Botox, Fillers, PDO, Ultherapy