PDO Thread Lift

Want to improve the appearance of sagging cheeks, jowls, and neck? PDO thread lift is a growing cosmetic technique that helps lift and tighten sagging skin. It involves the insertion of PDO threads in the deeper layers of the skin, which promotes the skin's healing process and triggers collagen formation.
At Cutis Laser Clinics, we have Dr. Perfect V-Line thread lift, which is a stronger and a more effective type of PDO thread. This can safely and gently elevate loose skin, giving you a natural-looking facelift with minimal to no downtime. This PDO thread lift in Singapore can also be combined with dermal fillers to address both sagging skin and volume loss in the face.
Treatment areas include:
Cheeks
Eyebrows, crow's feet, under eyes
Nose
Jawline
Neckline
(Double)Chin
Nasolabial Folds/Lines
We are also happy to introduce the latest addition in PDO thread lift therapy: The 4D and Multi threads.
4D threads – These are thicker and stronger, providing better grip because of the 4-dimension cogs. They have more hold or grip, which results in better and faster results.
Multi-threads – These are about 14 strands of strong sutures tied to guiding threads. They are simultaneously inserted into the skin, reducing treatment time.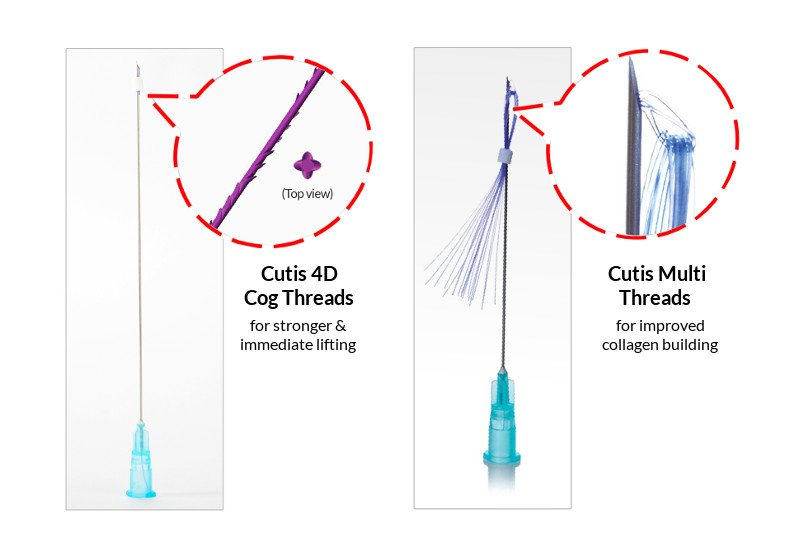 FAQs
What are the benefits of a Dr. Perfect V-Line thread lift?
Dr. Perfect V-Line thread lift in Singapore offers a range of PDO threads for different concerns. There are thin mono threads suitable for concerns around the eye, and thicker 4-D 360 Degree cog threads for sagging cheeks, lower face, and double chin.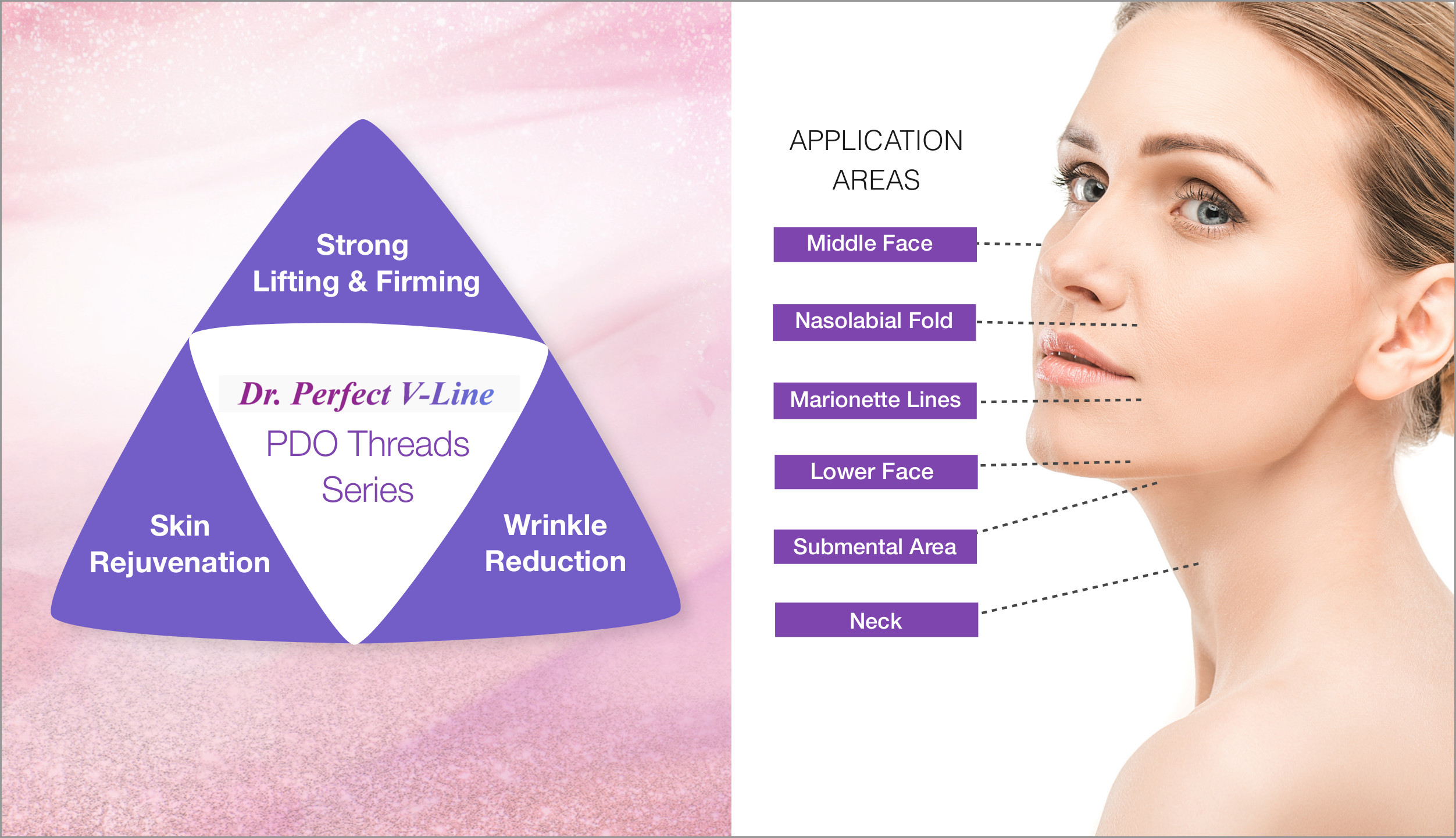 How is the PDO thread lift procedure performed?
Depending on the treatment area, the PDO threads can be inserted into the skin (subcutaneous fat layer) or the superficial muscular aponeurotic system (SMAS). They then trigger the process of self-healing, stimulating collagen production and improving the quality of the skin.
After the procedure, the body absorbs the threads within six to eight months. You can then notice a natural lifting effect, as the collagen begins to form around the skin. Over time, you will notice a tighter and smoother skin, with smooth fine lines and wrinkles.
Does the PDO thread lift procedure hurt?
The thread needles and cannulas used in the procedures are polished several times and coated with silicon. This helps minimize pain and tissue bleeding/destruction during the PDO thread lifting. There is also an application of numbing cream before the procedure to make it more comfortable.
Are PDO threads safe?
The PDO threads used in Dr. Perfect V-Line thread lift are both KFDA and CE marked. They are also made of absorbable PDO (polydioxanone), a material that has been used in medicine (mainly in surgery) for many years. Our PDO threads, furthermore, do not produce any allergic reactions.
How long do the results last?
The results vary depending on factors like the patient's age at the time of the treatment and how much sagging the procedure has corrected. Reports show that results last between 18 and 24 months, or as long as the new collagen produced holds the lift in the skin.
How much does PDO thread lift cost?
The cost of a PDO thread lift treatment varies depending on the number of threads used in the procedure and the area of concern. Here at Cutis Laser Clinics, the price range is between $960 and $1,980.  Do take note, however, that the prices are subject to change.
A consultation with a PDO thread lift clinic or an aesthetic doctor will give you a better idea of the cost based on your needs and concerns.
Are there any side effects?
PDO thread lift side effects include mild swelling and bruising that should settle quickly. A pulling sensation is normal after the procedure, but this is temporary.  Our clinic will provide you with aftercare instructions and schedule a review after your procedure to check the treatment area.
Is there any downtime?
PDO thread lifting provides a quick recovery with visible results. There is no significant downtime after the procedure, but it is advisable to avoid strenuous activities for about two weeks.
We invite you to contact Cutis Laser Clinics today to schedule a consultation and find out if a PDO thread lift treatment in Singapore is right for you.