The most romantic day of the year is almost here. It is one of the best times to show appreciation to that special someone in your life, but it could also be the perfect time to show yourself love and TLC. You can even devote the entire month of February to celebrating and being extra kind to yourself.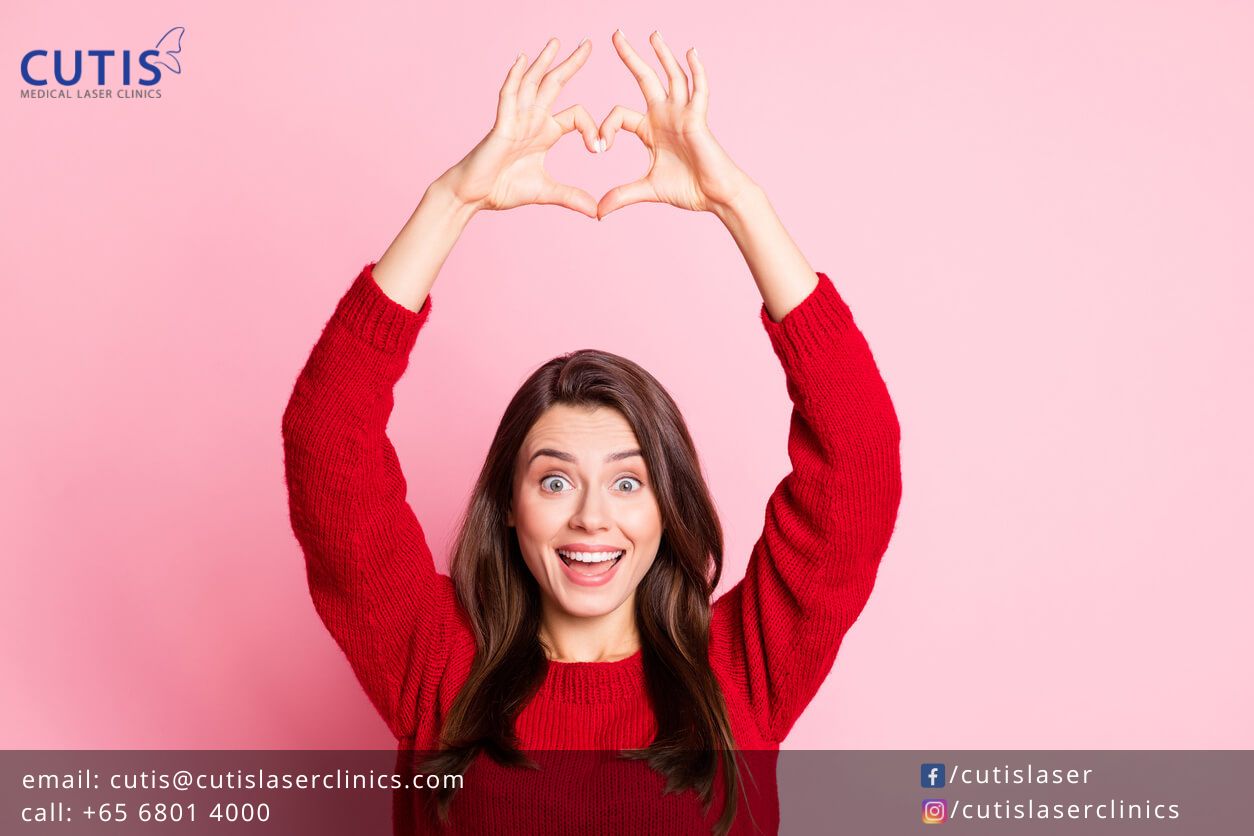 Here are a few ways you can show yourself some love:
Treat yourself to a facial
There's more to a facial than relaxing your muscles and stimulating blood circulation. Apart from unclogging your pores and getting rid of dead skin cells, it can also brighten your skin and help reduce the appearance of some signs of aging. There are also facials that can help firm and lift the skin.
Here at Cutis, we have several medical-grade facials that can improve the tone, texture, and clarity of your skin. We have the Clarifying Facial with Sapphire, ideal for those with congested/acne-prone skin, and Anti-Aging with Perfectio+ for improving dull complexion. We also have face treatments that can provide a non-invasive tightening effect and help stimulate collagen and elastin.
Cutis can also be your partner in showing your skin some love or achieving a glowing complexion. If you, for instance, are looking to smooth wrinkles, we have botulinum toxin that can relax those lines and give you a well-rested appearance. We also have dermal fillers that can plump your pout and smooth lines and folds for a more youthful look. 
Have a spa night 
Not everyone has the time and budget to book a day or a week of bliss and relaxation at some fancy location or spa destination. Fortunately, you can have a home spa ritual whenever you want to pamper yourself and get the needed respite you rightfully deserve. 
Get started with setting the right atmosphere. Apart from having a clean bathroom, you can also benefit from having fresh towels, scented/aromatherapeutic candles, a cozy robe, and a soothing music/playlist. 
There is also a range of activities to do. You can try a bubble bath, apply hair and face sheet masks, pamper your feet with a scrub or massage, or exfoliate your whole body. You can also just relax in a tub or shower while listening to your favorite songs, podcast, or an audiobook. Do whatever it is you feel like doing. 
Make yourself a self-care kit or package
One good way to practice self-care is to create a self-care kit or package. This contains a set of items that deliver pleasant feelings, including relief, comfort, happiness, and relaxation. Below are some things you can include in your own self-care kit:
Journal

Something cozy (a scarf, a sweater, or socks)

Art supplies

Bath/shower supplies

Favorite snacks/sweet treats

Scented/comforting candles 

Books

Single-serving packets of your favorite tea or beverage

Puzzles or brain games

Favorite movies or TV show 
Buy yourself something nice
There's nothing wrong with splurging a little bit. Buy yourself that dress or shirt you've been contemplating for too long to purchase. Go grab that book you've been wanting to read for a long time or just treat yourself to a nice dinner. 
Also, that something nice doesn't have to be tangible or a physical item. You can also buy an app, software, or a subscription that will make your life more organized or your days go more smoothly. It can also be a romantic getaway on your own or a vacation to  a place that you and your friends have been wanting to visit. 
Other tips for practicing self-care and self-love
Stress affects not just your mood and appearance. When you're feeling too overwhelmed, your work and personal relationships can suffer and this can lead to more stress that can compromise your health. Do take note that there is nothing wrong with wanting to escape for a while, taking a break, or having more time for yourself. 
It is also worth noting that focusing on your well-being or spending time alone is not a selfish act. In fact, it can improve your mental and physical health, as well as allow you to take care of others and make your connection or interactions with people better. 
Self-care and self-love can mean different things to different people. It could be doing the things that give you joy or activities that can take better care of overall health like eating healthy or exercising. 
Read a fiction or feel-good book.

Listen to a podcast or an audiobook.

Cook yourself a healthy meal or your favorite dish.

Write 10 things you love about yourself.

Book an at-home massage.

Have a movie marathon.

Have a nice/relaxing bath.

Journal or meditate.

Go to bed early.
Valentine's Day is a great time to put self-care and self-love into practice, but it should be done regularly. If you need help in taking better care of your skin or tackling certain skin issues, don't hesitate to reach out to us. Contact Cutis Medical Laser Clinics in Singapore today and schedule a consultation with our aesthetic doctor to learn which procedures are right for you.