When you are in your 50s, your skin undergoes many changes. Sun damage, age spots, stress, gravity, weight gain, an unhealthy and inactive lifestyle, and age-related decline in collagen and hormone production affects your skin's overall tone and texture.
Furthermore, you may also notice that eye wrinkles look deeper and brown spots, as well as other discolorations on your face, have become more obvious. And you constantly worry about the increasing sagginess of your brows, not to mention the eye bags and dark circles around your eyes that seem to won't go away.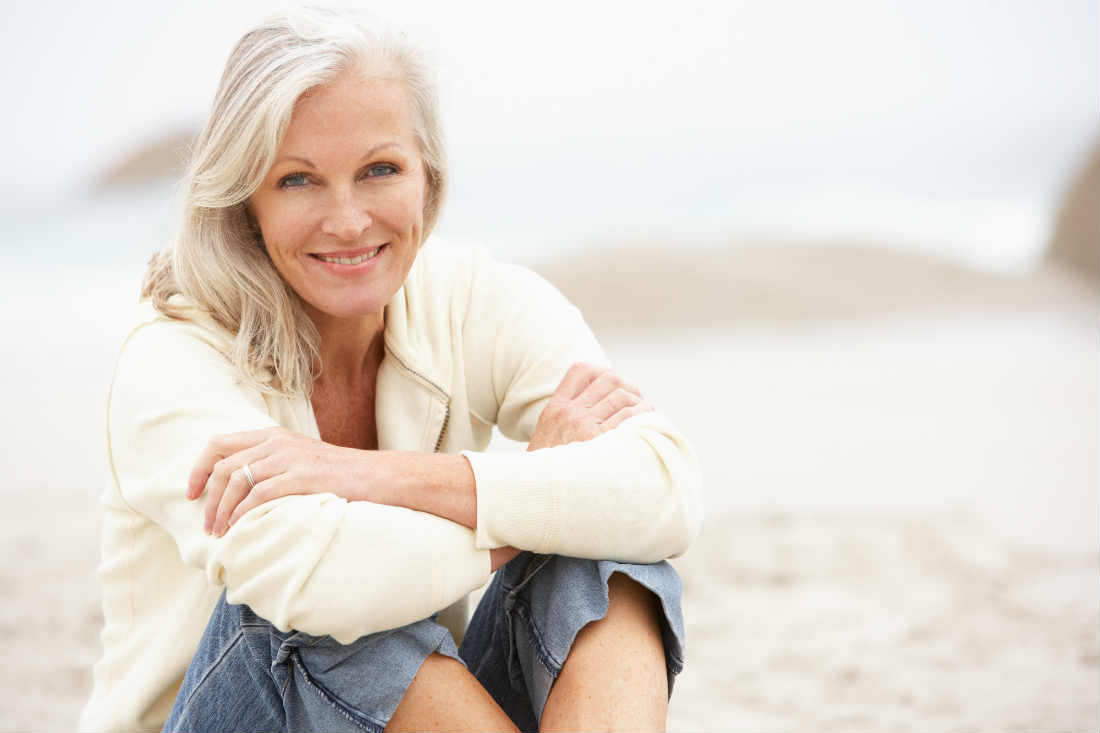 How to Take Care of Your Skin When You Are in your 50s (Skincare Tips)
Thankfully, there are skin-saving measures you can do to help you achieve that smooth and radiant complexion you've always wanted. Below are skincare tips that will help you have youthful-looking skin well into your 50s.
1. Adopt a healthy lifestyle. If you want to look great, you should adopt and maintain a healthy lifestyle. This means saying "no" to smoking, poor nutrition, inadequate hydration and prolonged sun exposure – which are common causes of skin aging, dryness, and collagen loss. To keep your skin healthy and glowing, you should also manage stress.
2. Use sun protection.  One of the leading causes of skin aging and sun damage is unprotected exposure to the sun's harmful rays. To prevent further sun damage, wear a broad-spectrum sunscreen that protects your skin from UVA and UVB rays.  If you are prone to developing brown spots on face and have oily skin, try a light and oil-free sunscreen such as Oil Free Sun Protection SPF 30 from Dr. Sylvia Skin Care
3. Exfoliate your skin. In addition to cleansing, toning, and moisturizing, exfoliating once a week can help brighten your skin by using products or treatments that gently peel away dead skin cells. Your skin specialist in Singapore can recommend products that are specially formulated for women with mature skin.
4. Use anti-aging products. To restore your skin's youthful look, start using products that are formulated to target signs of aging. For example, if you have eye wrinkles and fine lines under eyes,you should add Elastifirm Eye Cream in your skin care routine. Applying Elastifirm eye cream regularly will help keep the delicate skin surrounding your eyes firmer and more elastic. If your concern is to remove dark under eyes, try using Dark Circles No More to lighten the shadow below your eyes.
5. Consider skin rejuvenation treatments. Aside from having a skincare regimen, skincare in your 50s also mean trying different anti aging skin treatments that address your specific skin concerns. For example, if there's volume loss around your eyes, eye fillers for dark circles and filler under eyes can plump up and brighten your eye area, and make your eyes light up. Face fillers – Restylane, Juvederm, or Perlane – are highly popular for smoothing lines, wrinkles, and volumizing hollow spots on your face.
For melasma, liver spots, and rosacea, IPL or Intense Pulsed Light is an effective hyperpigmentation treatment. The skin lightening effect that results from IPL treatments can take years off your face.
Other skin rejuvenation treatments that are popular among women aged 50 and older, especially those who visit aesthetic clinics Singapore are PDO thread lifts, Ultherapy, and Titan treatment. All three treatments are proven to be effective skin tightening treatments for lax skin, particularly if you need a nonsurgical eye lift or brow lift. Aside from producing significant lifting and tightening of the skin, these treatments bolster collagen formation, improving the skin's appearance and texture.
Stay beautiful in your 50s. Find out more about skin rejuvenation treatments for aging skin by calling our clinic for a consultation today. Dr. Sylvia Ramirez, our Harvard-trained and US Board-certified skin specialist, will gladly discuss your skin concerns and the appropriate treatment options with you.
Tags: Skin Specialist in Singapore, IPL, Fillers, PDO Thread Lift, Ultherapy, Titan, Elastifirm Eye Cream, Oil Free Sunscreen