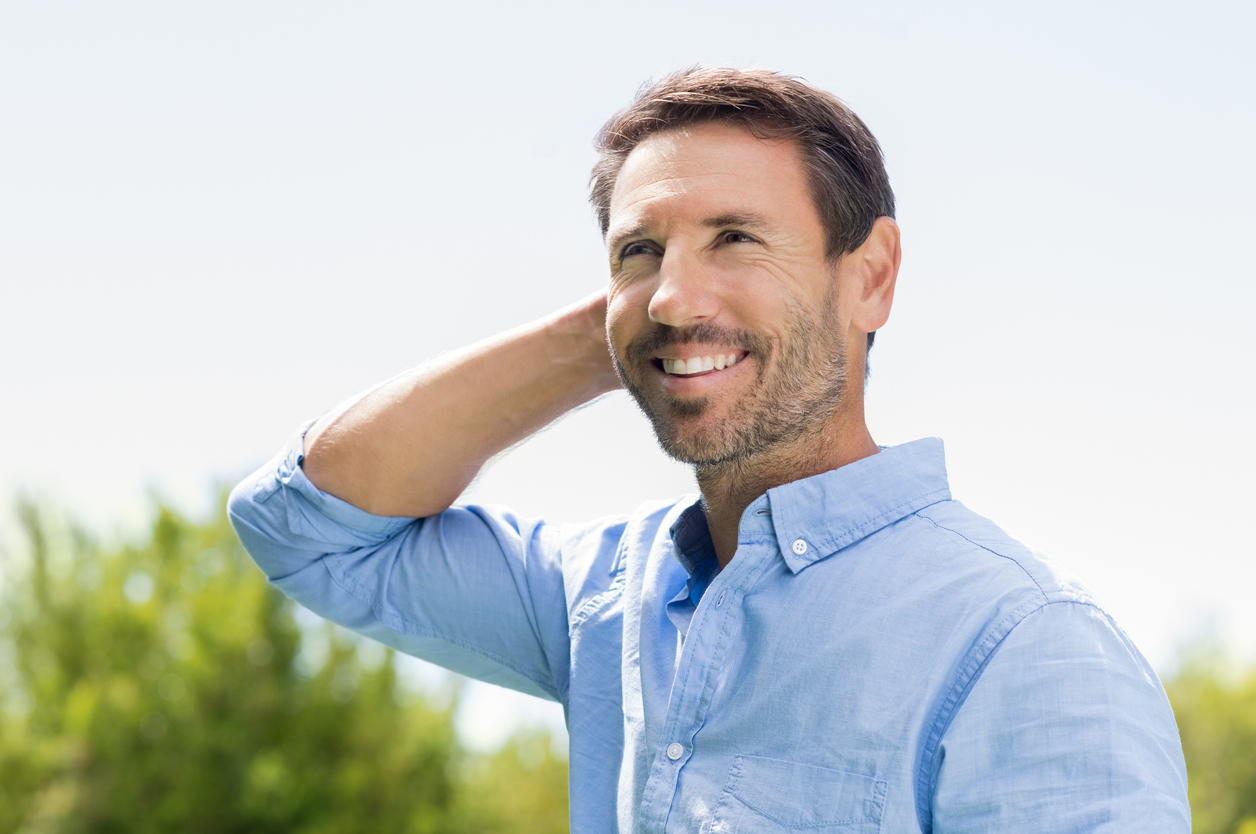 Many anti-aging skin treatments are now available for discerning men who are looking to soften the signs of aging, such as fine lines, wrinkles, and sagging skin.
Men are no longer embarrassed to be open about their aging concerns just like women. Statistics suggest that an increasing number of men are also becoming proactive in retaining a youthful appearance by considering anti-aging aesthetic treatments. 
For men who want to look youthful and more competitive, an effective option for lifting sagging skin is Ultherapy, a US FDA-cleared non-surgical face lift procedure.
Ultherapy can safely and effectively lift and tighten sagging skin caused by aging. It can also be used to improve the appearance of fine lines and wrinkles, and lift the skin on the brow, under the chin, and on the neck.
How does Ultherapy work?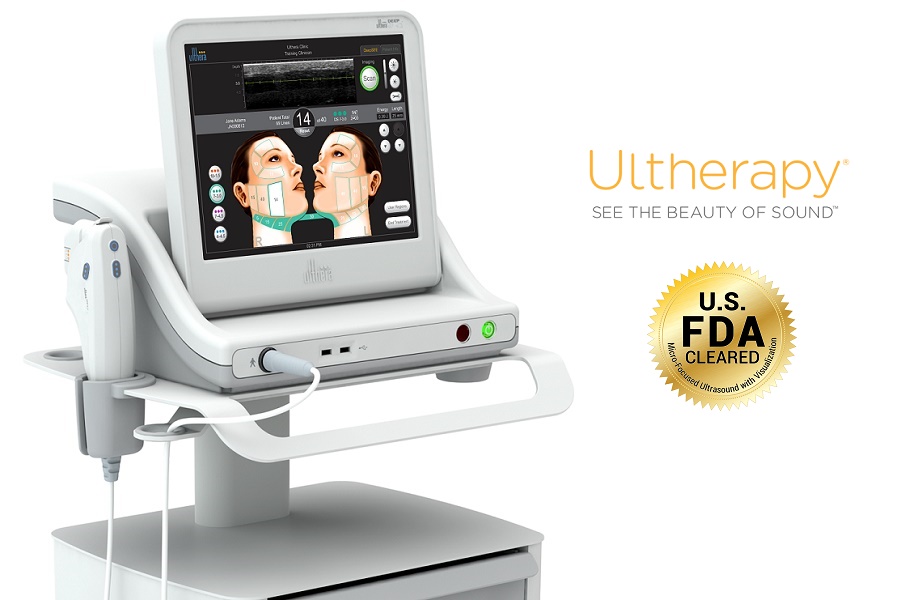 Ultherapy in Singapore works the same way for both men and women. It uses a handpiece that safely delivers ultrasound energy into the deeper layers of the skin. This triggers the production of new collagen, which then enables the skin to achieve a visible yet natural lift over time.
The procedure targets deeper layers or the skin's foundational layer called SMAS (Superficial MusculoAponeurotic System). This is the layer that is usually addressed in cosmetic surgery but with a non-invasive treatment like Ultherapy, it can be treated without cutting or disrupting the skin surface.
Ultherapy also involves the use of ultrasound imaging, which then enables aesthetic doctors to see exactly where they are treating and beneath the surface of the skin. This gives patients a reassurance that the ultrasound energy is delivered precisely to where it will be effective and beneficial.
So why do we need collagen?
Collagen is the most abundant protein found within our body. This is what our skin needs to maintain its youthfulness and elasticity.
Unfortunately as we age, our collagen breaks down and we lose more of it than what we build. Decrease in collagen can be seen as a "dropping" appearance of the face (jowling) and formation of nasolabial folds (near the nose and mouth), as well as fine lines and wrinkles all around the face.
Thanks to advanced technology, we can now safely restore collagen production without surgery with the help of Ultherapy. 
The only way for our body to procedure collagen is to have a treatment that can reach deep into the skin (subcutaneous layer) where the collagen structures are found. Ultherapy does exactly that and more. It safely and precisely delivers ultrasound energy from 1.5mm up to 4.5mm deep beneath the skin to effectively stimulate your body to produce its own new collagen.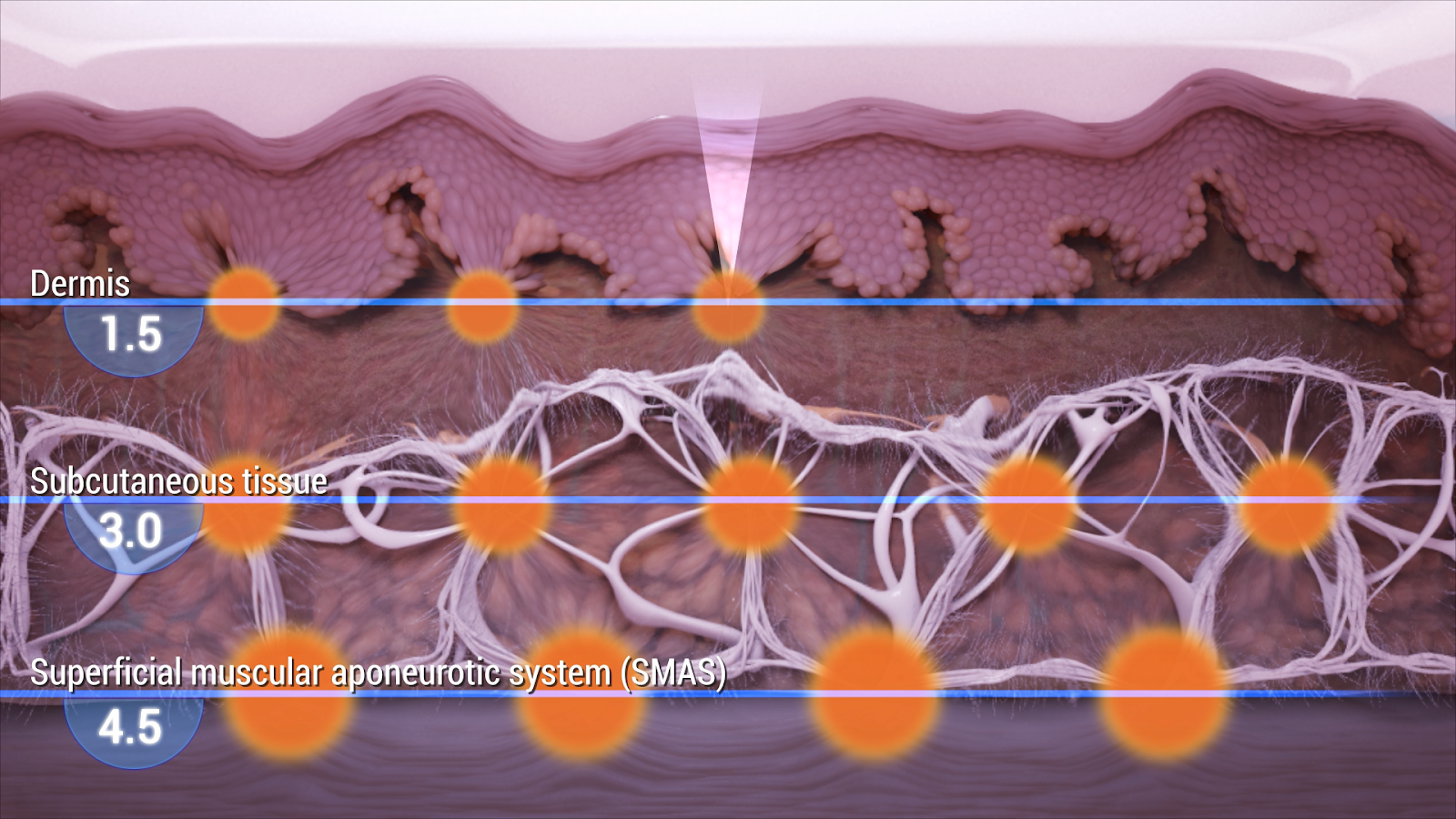 This is done without cutting or disrupting the skin which also means there is no downtime. You can do your normal activities after the procedure.
Am I a good candidate?
Good candidates for Ultherapy in Singapore include those with mild to moderate skin laxity. You can also consider this treatment if  your skin is beginning to feel and look less firm, with indications such as lowered eyebrow line, loose skin on the neck, or wrinkles or fine lines on the chest.
Just take note that Ultherapy is not a replacement for a surgical procedure like a facelift. It is only a good choice for skin tightening if you're not willing or not ready to go under the knife or if you want to prolong the effects of your cosmetic surgery. 
How does Ultherapy feel like?
During the procedure, you may feel tiny amounts of energy in your skin, which indicates that the collagen-building process has been started. Comfort levels vary from patient to patient, but these sensations are only present during the treatment. 
In Cutis Laser Clinics, we prepare our patient's skin with topical numbing cream and painkiller medication to improve their treatment experience and comfort. 
To find out what you can expect before, during, and after Ultherapy, check out our previous post. 
How many Ultherapy treatments do I need?
A single session can help you to achieve a firmer skin as your body produces new collagen. However, the aging process and collagen breakdown continue over time which is why we recommend our patients to consider Ultherapy as an annual maintenance procedure.
One treatment can last between 30 to 120 minutes depending on the number of areas to be treated. In general, a full-face treatment can last for about 75 minutes, a full face and neck treatment for 120 minutes, and a lower face and full neck for 90 minutes.
In Cutis, we provide two different types of Ultherapy protocol (Classic and Premium) based on our patients needs and concerns. The differences of these protocols will be further explained during the consultation. 
What can I expect after the procedure?
You may be able to see an initial effect after the procedure, but significant results appear over 2 to 3 months. This is the time when the new collagen starts to lift and tighten skin. Further improvements are seen up to six months after the treatment.
You may also experience slight redness in the skin after the procedure, but this is temporary and should subside after a few hours. Ultherapy, however, is non-invasive, so there is no recovery or downtime. You can immediately return to your normal routines and there are no restrictions to be followed after the treatment.
Schedule a Consultation Today
Just like women, Men also deserve to look and feel good. Ultherapy can help you achieve this by counteracting the effects of time and gravity on your skin without cuts or needles, as well as without any long recovery time. 
Contact Cutis Laser Clinics in Singapore today and schedule a consultation with our Harvard-trained aesthetic doctor, Dr. Sylvia Ramirez, to find out if you're a good candidate for this Ultherapy.
Tags: Ultherapy, Skin Tightening, Aesthetic Doctor