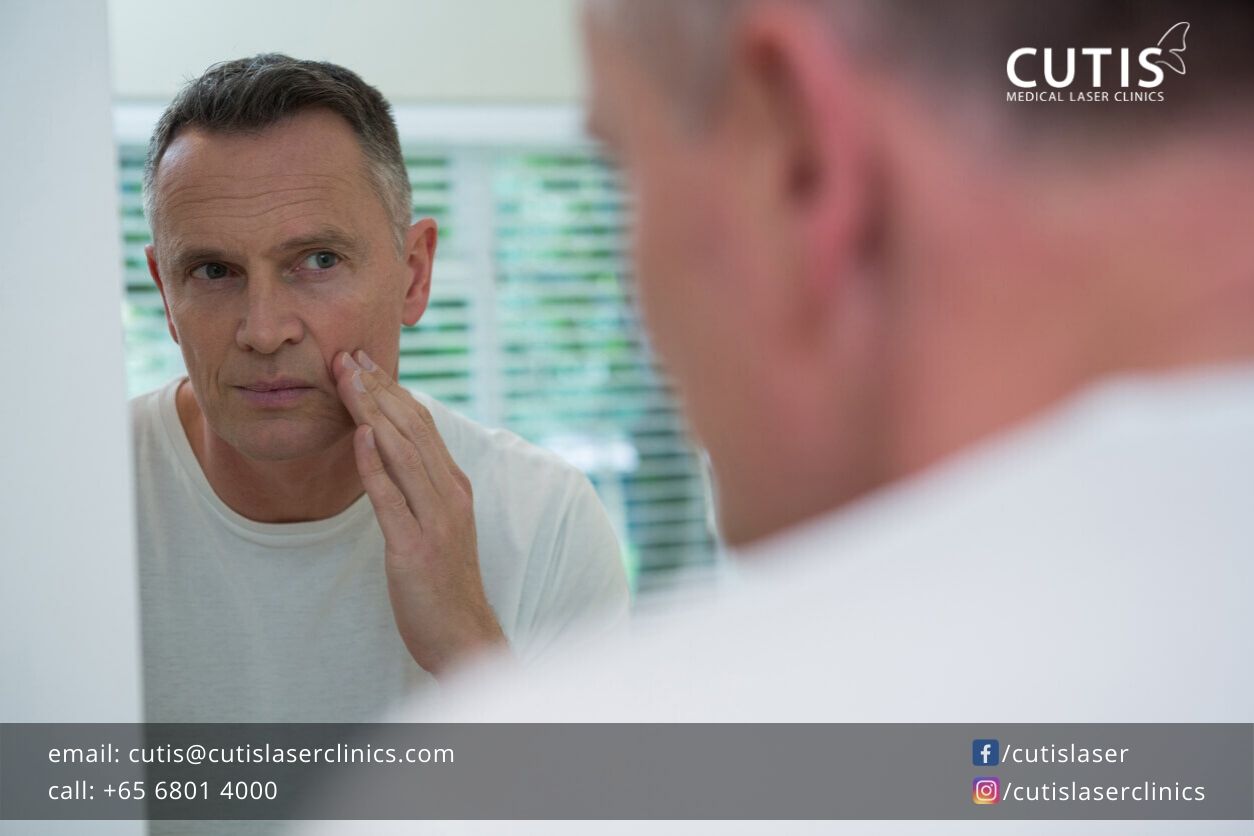 Diet and exercise benefit the body, but are sometimes not enough to combat aging. Stress, sun damage, and sleepless nights, can take a toll on skin, resulting in a tired or older appearance. This can also make you feel like you're starting to lose some edge, especially when competing professionally with younger guys. 
The Importance of Looking Well Rested
While you may have more skill and experience over younger men, it is easy to feel pressured when you're not confident with the way you look. If your outer appearance doesn't reflect what you feel inside, others might think you're fatigued or simply don't have the energy to do the job. 
The desire to look younger and less tired is one of the reasons why there is an increase in the number of men undergoing aesthetic treatments. Most want to keep their rugged looks, but also want to soften signs of aging or simply appear relaxed and well rested.
Men and Nonsurgical Procedures
At Cutis Laser Clinics, we have a number of nonsurgical aesthetic procedures that can benefit your skin and help you fight signs of aging. Here are some treatments worth considering:
Ultherapy
This FDA-cleared and CE-marked non-invasive face lifting procedure uses time-tested ultrasound energy to address signs of aging. It can improve the appearance of fine lines and wrinkles, as well as lift the skin on the brow, under the chin, and on the neck. 
Ultherapy uses a handpiece that delivers ultrasound energy into the skin's deeper layer, stimulating collagen production. The new collagen replaces the old ones, resulting in improved skin elasticity and naturally lifted appearance. Ultherapy does this without cutting or disrupting the skin, which means no downtime.
This non-invasive facelift can also help men achieve a more chiseled jawline without going under the knife. Ultherapy can lift sagging jaw and neckline, giving you a more youthful and attractive appearance. The production of new collagen also helps in firming the skin around the chin. 
Botulinum Toxin (Botox)
Botulinum toxin (Botox) or "Bro-tox" for men is an injectable used for smoothing forehead lines and frown lines or angry 11s. It is also effectively used for reducing the appearance of crow's feet or wrinkles in the corner of the eyes and smoker's lines (lines on top of the lips). 
Botox works by temporarily paralyzing the muscles to relax the wrinkles caused by muscle contraction. Many men get Botox to soften forehead lines, which creates a more relaxed and youthful look. It can take two weeks to see the full results that can last for three to six month or more with touch-up treatments.
Dermal Fillers
Fillers are primarily used to "fill in" lost volume in certain areas of the face. The most common types of fillers are those made with hyaluronic acid (Juvederm), a naturally occurring substance in the body. There are also those made from calcium-based compound (Radiesse), which is similar to the natural minerals found in the body.
Many men turn to fillers to achieve a more chiseled and athletic look. At Cutis Laser Clinics, we have Juvederm Volux, which is a structural filler that can improve the chin and jawline area. It contains 25mg of a manufactured form of hyaluronic acid (HA) and has been shown to be effective when used in the chin and jawline.
Note: For both Botox and dermal fillers, it is important to find an experienced injector or aesthetic doctor. Keep in mind that the doctor's skills, injection technique, and eye for detail will affect your results. Dr. Sylvia Ramirez of Cutis Laser Clinics is a US Certified Board physician and is an experienced Botox and filler injector for many years. 
Facial Peel or Chemical Peel
VI Peel at Cutis Laser Clinics is a stronger type of chemical peel that can address a range of skin concerns. It provides a deep peeling effect that gently removes damaged skin layers and stimulates production of new cells. Men can turn to this chemical peel for dealing with:
Aging skin (lines and wrinkles)

Active acne

Acne Scars

Pigmentation

Enlarged pores

Rough Skin
With VI Peel, you can expect to experience some peeling after two to three days. There will also be unusual skin coloring during the peeling process, but this is normal. You can see the full results of the treatment within four to six weeks. VI Peel is ideal for rejuvenating and improving the overall appearance of the skin.
If you're concerned about lines, wrinkles, and other signs of aging that make you look tired, consider the treatments above. Contact Cutis Laser Clinics in Singapore today and book an appointment with our Harvard-trained aesthetic doctor, Dr. Sylvia Ramirez, to determine which procedures suit you best.