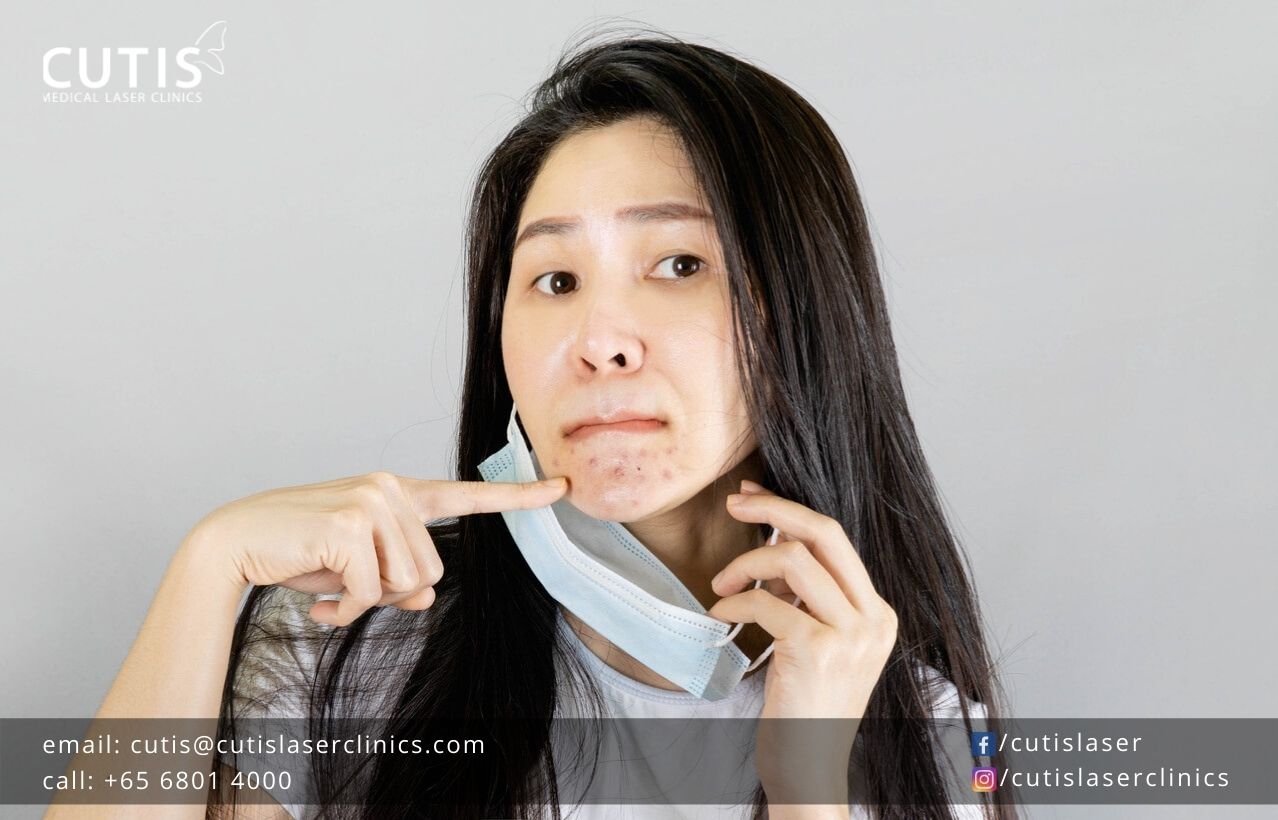 Wearing a face mask is a necessity in this time of coronavirus pandemic. Unfortunately, doing so can also irritate the skin and trigger breakouts, especially when worn for longer periods. The constant pressure and friction from face masks can result in irritation that can lead to trauma lines, skin discoloration, and even acne.
Face masks and skin irritation
Part of the reason why face masks lead to blemishes and irritation is because they trap sweat, oil, and dirt. Breathing and talking into the mask also cause concerns as trapped breath and moisture can alter the pH level of the skin. The fabric and material can also rub against the face and lead to friction and irritation. 
Our habits while wearing masks can sometimes contribute to the problem. If the face mask, for instance, doesn't fit properly, we may need to touch our face to adjust it and this may leave dirt behind. We also have to move or take off the mask when eating or drinking and this can cause friction. 
The right face mask matters
While a variety of face masks are now available online, don't just go with colorful or aesthetically pleasing face coverings. Choose those made with tightly woven fabric or soft and natural materials like cotton. Cotton is a much better option, as it is breathable and less irritating than waterproof or airtight fabrics. 
Also, avoid synthetics like nylon and polyesters, as they can trap heat and cause your face to sweat more. Masks made from silk may be better for skin (because they don't cause further irritation and have antimicrobial properties), but they are not effective in preventing the spread of the virus.
Things you can do to protect your skin
Before putting on the mask:
Clean your face

– Wash your face thoroughly to remove dirt, oil, and bacteria. Use a

cleanser that is right for your skin type. If you, for instance, have oily and problematic skin, we recommend Dr. Sylvia's Deep Cleanser with AHA

. This formula removes makeup, impurities, dead skin cells, and excess oil. It is also rich in moisturizing and soothing ingredients. 

Moisturize

– After washing or cleansing your face, put on a light and fragrance-free

moisturizer

. This is beneficial in sealing in moisture and protecting the skin. You might also want to consider using a

moisturizer

with Niacinamide, as it helps reduce inflammation and keep the skin smooth.

Consider forgoing makeup

– Wearing foundation or makeup under your mask can clog the pores and cause the skin to breakout. It is best to

skip it altogether

, but if you feel the need to put some, choose noncomedogenic products and keep your makeup light and simple. 
After removing the mask
Cleanse and moisturize again –

After the mask comes off for the day, wash your face again and apply

moisturizer

. Use a heavier formula or a cream if you have dry or sensitive skin. Make sure to wash your hands with soap and water after taking off your mask.

Wash your mask

– If you're using cloth or reusable masks, make sure to wash them after every use. You can wash them along with your regular laundry or wash the masks by hands using mild detergent. Dry in direct sunlight, if possible. 

Treat the problem

– If you're already dealing with acne and other skin problems, using products and trying treatments can help solve the issue. If acne is a concern for you, the use of products with salicylic acid and benzoyl peroxide can help. It is also advisable to talk to a dermatologist or

aesthetic doctor

for other solutions in treating your skin concerns. 
We are likely to be wearing masks for a long time, so it is best to be proactive in protecting your skin. This is to avoid irritation and breakouts that can make your skin look tired and dull. Contact Cutis Medical Laser Clinics today or browse through our website for more skin care tips and product recommendations on taking better care of your skin.