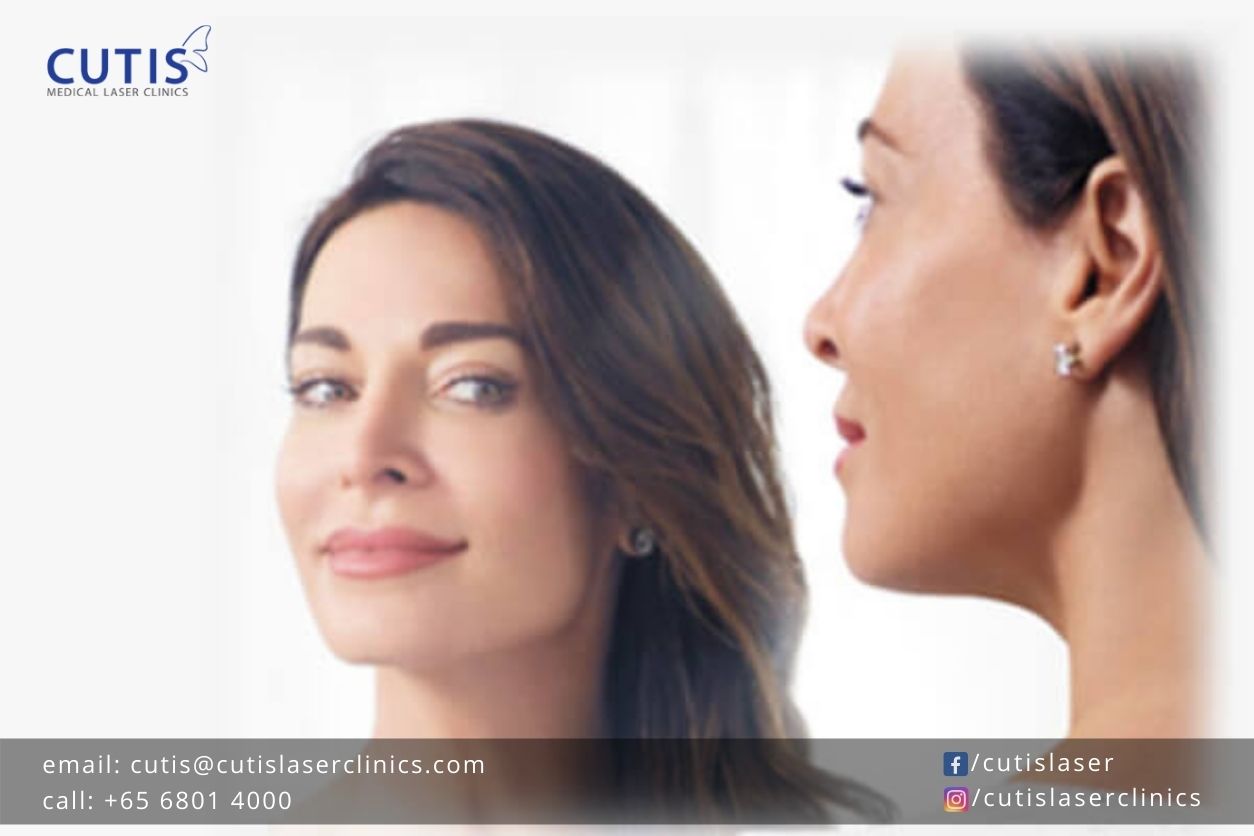 While dermal fillers are mostly used to plump up the lips and add volume to the cheeks, they can also be used to change the shape of your chin. The procedure has been gaining popularity over the years, mainly because it can help balance facial features without surgery or longer downtime. 
So, what exactly is a chin filler? 
Chin fillers are injectable gels used to add definition to the lower face, the chin and jawline area. There are a number of filler substances that can address different chin concerns like enhancing or reshaping a weak chin and adding structure to the area for a more sculpted appearance. 
Dermal fillers are commonly made with hyaluronic acid (HA), a naturally occurring substance, which the body gradually absorbs. They are injected under the skin, filling in the gaps due to folds and creases. Fillers work by boosting the skin's supply of a specific substance like HA to revitalize the skin and restore volume loss. 
Read our previous post on 5 misconceptions about dermal fillers. 
What fillers (materials) are used for the chin? 
The most commonly used substance/material for chin fillers is HA or hyaluronic acid. At Cutis Medical Laser Clinics, we have Juvéderm Volux, which is an FDA-approved filler for re-sculpting the lower face. This structural filler, which contains 25mg of a manufactured form of HA, has shown to be effective in the chin and jawline.
We use Juvéderm Volux because it has the highest cohesivity and elasticity of all the VYCROSS products. This enables doctors to sculpt and mold the fillers into the desired shape. It can also moisturize the skin and deliver natural-looking results. 
Another HA filler called Juvéderm Voluma XC, which is used in the cheeks and mid-face, received its FDA approval for chin augmentation last year. It can lift the area and add definition to it, improving your chin profile. Juvéderm Voluma XC is the first FDA-approved filler for correcting volume loss in the cheek area.
What can chin fillers do? 
Chin fillers, especially Juvéderm Volux, can restore and create volume on the face. They can also help return the skin's tone and elasticity, reducing the signs of aging. Here's what you can expect from Volux chin fillers:
Improving sagging in the chin and jawline due to aging

Give the jawline more definition

Contour the chin and/or jawline

Lift and shape the lower face

Soften jowls and help improve a double chin

Improve facial harmony
Check out our previous blog and find out how dermal fillers can enhance your facial features. 
Who can get chin fillers? 
Chin fillers like Juvéderm Volux are ideal for patients wanting to have a more contoured jawline or lower face without surgery. While it is more common for older patients to consider chin fillers, younger patients, especially those who are born with less bone and structure in the area can also turn to these injectables. 
A consultation with your provider can determine if Volux chin fillers are right for you. We at Cutis ask our patients to undergo a detailed skin analysis before any procedure to help us recommend the most suitable option and reduce any unwanted risks. 
How long do the results of chin fillers last? 
Using Volux chin fillers, you can expect a more sculpted chin and jawline for 18 to 24 months. They also take longer to break down, giving you natural-looking results that you can enjoy for up to two years.
You may notice immediate signs of improvement after the treatment, but significant results show after a couple of weeks. Some patients may also need more syringes of filler to get their desired look. This will also be further discussed during your consultation. 
Is there any downtime or side effects? 
Volux has a high safety rating. There are minimal side effects, including inflammatory reactions, discoloration, itching, or nodules at the treatment area. These are temporary and should clear within a few days to a week, with no long-term effects.
Make sure to only trust a qualified injector or aesthetic doctor who has experience in administering cosmetic injectables like fillers. Keep in mind that a filler injection is a process that requires both the skin and artistry of the injector to achieve your desired results.
Schedule a consultation today
Want to learn more about dermal fillers and what they can do for your facial features? Contact Cutis Medical Laser Clinics in Singapore today and schedule a consultation with our Harvard-trained aesthetic doctor, Dr. Sylvia Ramirez.