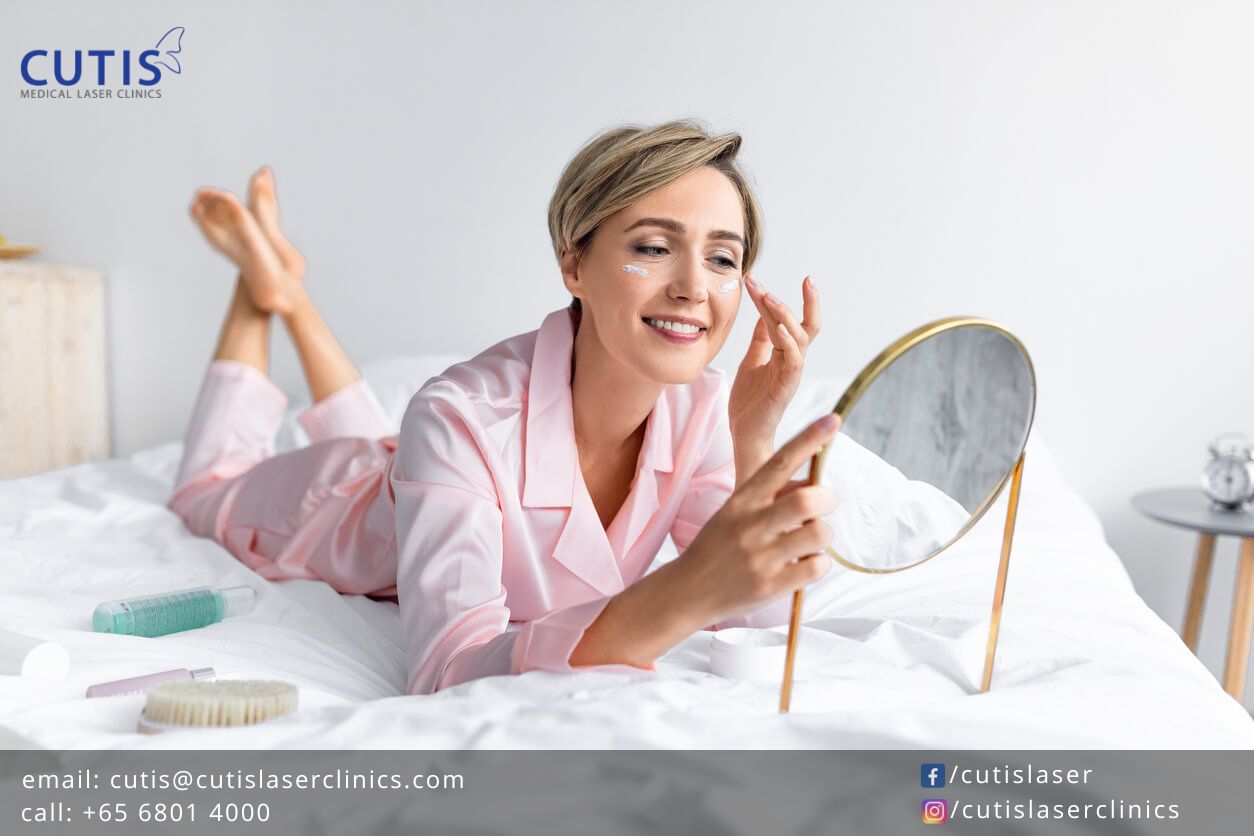 The body goes into recovery mode while you sleep, repairing daytime damage, with the skin's renewal rate almost doubling. It is also during nighttime when the skin is more permeable and more receptive to the skincare products you apply. This only makes it important to build a great nighttime skincare routine that can help you achieve brighter and younger-looking skin. 
Here are the five steps that can help you get started: 
1. Remove makeup and cleanse
Start your nighttime skincare routine by removing your makeup using a gentle makeup remover. Many products in the market today contain micellar water, which is packed with cleansing bubbles (called micelles), which are effective in attracting oil, dirt, and impurities. Other options include cleansing balms, makeup cleansing oils, and oil-free liquid eye makeup removers. 
After removing makeup, follow up with a gentle cleanser. Be sure to choose a formula that is right for your skin type and won't strip the skin. Dr. Sylvia's Perfecting Cleanser with Rose Hip Seed provides deep cleansing without stripping while delivering the regenerative benefits of Rose Hip Seed Oil. It can also soothe and nourish the skin. 
Learn the 5 reasons why you should use a gentle cleanser.
2. Tone
While many skip toners or believe they're unnecessary, a good product can still benefit your skin during night time. It helps rebalance the skin and restore it to a healthy pH and moisture level. A toner also preps your skin to absorb all the essential ingredients you're going to apply later on. 
If you have oily and problematic skin, we recommend Dr. Sylvia's Refreshing Toner with Herbal Astringents. It contains safe and natural herbal ingredients that can improve and protect the skin. The formula also has pore-reducing benefits and helps balance pH levels.  Learn the 5 reasons why you need to use a toner after cleansing.
3. Treat or use a serum
This step is where you can personalize the regimen based on your skin's needs and goals. This can include serums, which are packed with active ingredients that go deep into your pores. It is best to apply them before using heavier/thicker creams and moisturizers. 
There are different serums available in the market: hydrating, brightening, firming, reparative, and anti-aging. The right one depends on the skin concerns you wish to improve. If you, for instance, are looking to lift and tighten your skin's appearance, we recommend Age Defying Serum with Skin Tightening Helix. This mimics the effects of traditional retinoic products without the associated irritation. 
Other benefits include: 
Contains a unique nail secretion that has restorative and protective properties 

Supports the appearance of skin elasticity

Delivers collagen and elastin

Tightens and smooths the skin's appearance
4. Apply eye cream
As you know, the skin around your face is thin and delicate, and one of the first areas to show visible signs of aging. Using an eye cream can help protect this area, as well as slow down the outward signs. Just make sure to apply it properly; dotting and gently patting the skin and not rubbing the area. Check out our previous post on applying eye cream the right way. 
Our clinic's skincare line also carries eye creams and serums that can make the area firmer and more elastic in appearance. We have the Elastifirm Eye Restore with Peptides and Arnica, which is clinically formulated with anti-aging ingredients, such as peptides, hyaluronic cream, and arnica (reduces inflammation/puffiness). This formula can:
Reduce undereye puffiness

Reduce dark eye circles

Retain moisture in the skin to reduce the look of fine lines
5. Moisturize
The last important step is moisturizing. It locks in hydration and seals everything in, locking in nutrients. Just be sure to use a formula that can hydrate your pores without clogging the pores or triggering breakouts. Read our previous blog for five ways to get the most out of your moisturizer.
Dr. Sylvia's Deep Hydrating Moisturizer strengthens and hydrates the skin without the use of oil-based ingredients. It has seaweed extract and hyaluronic acid that can provide superior levels of hydration. It can also reduce the look of lines and wrinkles, and strengthen the epidermal barrier of the skin. 
After layering the right products, make sure to get at least seven to nine hours of sleep at night. As the skin repairs itself and produces new collagen during your slumber, the effects of getting only a few hours can translate into your complexion. Check out our previous post for a few tips on getting beauty sleep. 
For more skincare tips and product recommendations, browse through our blog. Don't hesitate to contact Cutis Medical Laser Clinics in Singapore and schedule a consultation with one of our aesthetic doctors to start your journey toward healthy, brighter, and more youthful skin.