Fine lines and wrinkles aren't the only signs of aging that people wish to treat or banish. While they are among the most common age-related skin changes, many are also concerned about thinning, sagging, dryness, and dull skin. This is why when attempting to counteract these signs of aging, combination treatments are recommended. In many cases, procedures that complement each other produce optimal results in less time. At Cutis, we have a combo treatment that can address different signs of aging without surgery: Ultherapy and dermal fillers.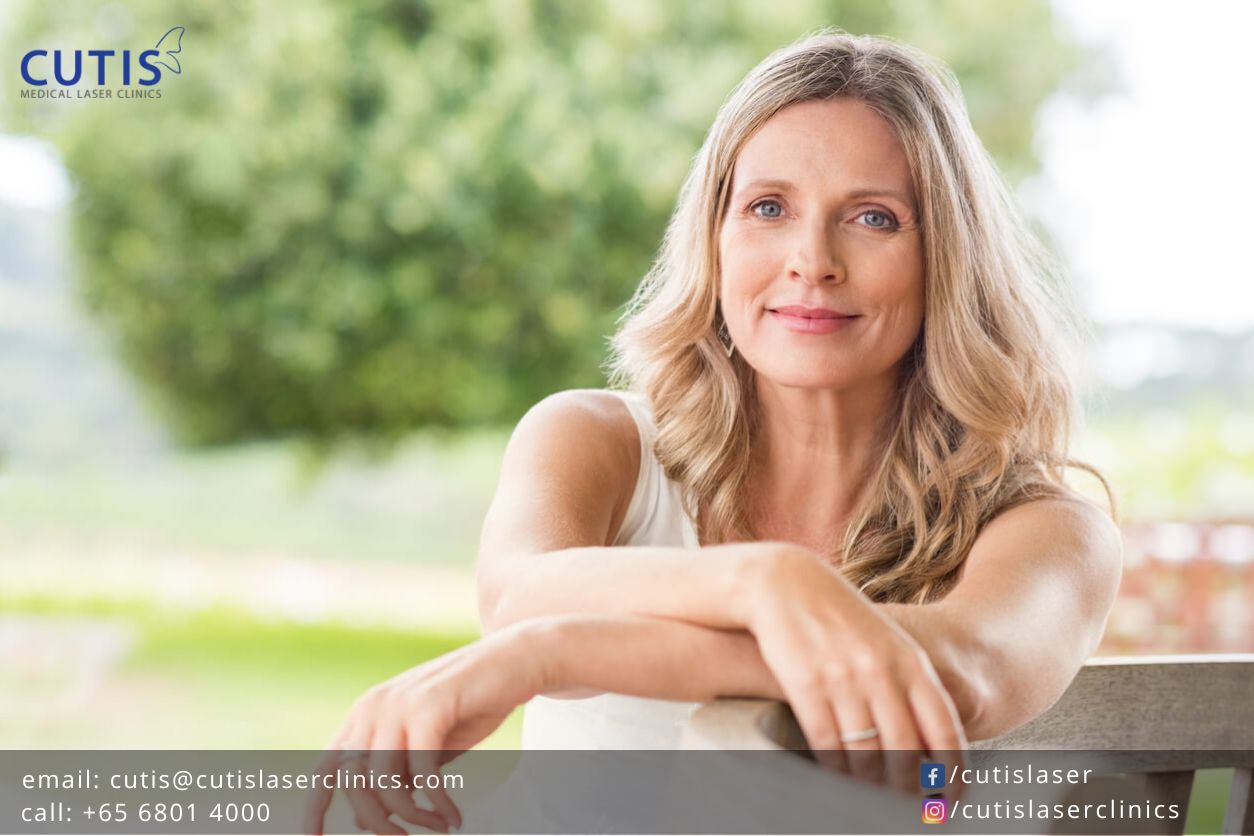 Ultherapy is an energy-based procedure that can lift the skin and improve wrinkles on the décolletage. Dermal fillers, on the other hand, are gel-like structures that can restore or add volume loss. When combined, they can let you achieve a natural skin lift and a more refreshed and youthful appearance.
What is Ultherapy?
Ultherapy is a non-surgical alternative to a facelift. It is US FDA-approved for naturally lifting and tightening the skin on the face, brow, neck, and under the chin. Ultherapy is also European CE-marked for non-invasive dermatological lifting and sculpting of the upper and lower face, neck, and décolleté.
The procedure uses time-tested micro-focused ultrasound energy, which penetrates the skin's deeper layer. This then triggers the production of new and fresh collagen, enabling the skin to achieve a visible yet gentle lift over time. Significant results appear over two to three months and can last for a year or two. 
Ultherapy can also treat the skin's foundational layer called SMAS (Superficial MusculoAponeurotic System, which is usually treated in cosmetic surgery. With Ultherapy, however, it can be addressed without cutting or disrupting the skin surface. 
Here are the other things Ultherapy can do for your skin:
Tighten loose skin without downtime

Treat or improve general skin laxity

Improve fine lines and wrinkles on the décolletage

Lift and tighten jawline (or improve its definition)

Stimulate collagen production
One thing that sets Ultherapy apart from other non-invasive skin lifting procedures is its use of real-time visualization technology. This enables aesthetic doctors to see and assess skin structure and composition, and deliver the ultrasound energy to areas where it will be most beneficial.
Learn more about Ultherapy and its hyper-personal lifting solution, which involves the See, Plan, Treat, or the SPT Protocol. 
What are dermal fillers?
Dermal fillers are injectable gels used for restoring volume loss and adding fullness to the face. US FDA-approved fillers are temporary ones or are made from materials that are eventually absorbed and broken down by the body. We have these types of fillers at Cutis, Juvéderm (from hyaluronic acid or HA), and Radiesse (calcium hydroxylapatite). 
HA-based fillers like Juvéderm come in various types and are used to shape, volumize, and hydrate facial skin. They can also reduce or soften the appearance of lines, folds, and creases, plump up the lips, and even sculpt the lower face.
Certain Juvéderm fillers can also help the skin retain moisture and stimulate collagen over significant periods. Results can last between six and 12 months or longer. They can also be reversed or removed if you're not happy with the results. The area can be injected with hyaluronidase, an enzyme that breaks down the HA quickly.
CaHa (calcium hydroxylapatite)-based fillers like Radiesse are used for restoring or adding volume to different areas of the face. It can smooth or improve mild to severe wrinkles and folds and jowls, and contour the jawline. 
Radiesse has the ability to act as a scaffold under the skin, which then provides structure. It also works as a bio-stimulator, stimulating the skin to produce collagen. Results can last for 18 to 24 months. Check out our previous post to find out what makes Radiesse different from other fillers. 
Dermal fillers are injected under the skin and work by imitating a (naturally-occurring) substance in the body. This then fills in the gaps due to folds and creases, restoring volume loss and improving the appearance of lines and wrinkles. You'll be able to see the results almost immediately, but it can take two weeks for the fillers to fully blend and settle. 
Why combine Ultherapy and dermal fillers?
By combining two treatments, you can address or improve different signs of aging on the face. With Ultherapy, you can tighten and lift lax skin, as well as treat lines on your upper chest. And with fillers, you can correct folds and jowls, and add volume to areas where it is needed. Both can also improve your facial profile.
There is also research documenting the effects of micro-focused ultrasound with visualization (MFU-V) and CaHA fillers. A paper published in 2019 (Kerscher et al.) assessed clinical and biophysical outcomes of combining MFU-V with CaHA dermal filler in tightening skin at the submental region and contouring the jawline.
It involved 22 subjects, with 9 receiving combined treatments and observed at different periods for 48 weeks. It was reported that after 24 weeks, skin thickness was significantly improved. The same goes for skin firmness after 48 weeks. 
The study concluded that the combination of these two treatments for facial laxity (lower face) didn't cause any changes in the function of the skin barrier. There were also improved appearance and decelerated visible skin aging processes for at least 48 weeks. 
***While both procedures are not permanent, they offer lasting effects due to their ability to stimulate collagen production. Ultherapy is usually performed first, then followed by fillers after a few weeks' interval. They can treat signs of aging and improve your facial profile for a more rejuvenated appearance.  
Fillers work immediately, delivering near-instant results.

Ultherapy

offers progressive results, as it stimulates the body's collagen renewal process. 

The combination creates noticeable lift and firming around treatment areas.

They can help you achieve smoother and firmer skin with fewer visible lines and wrinkles.

They offer more comprehensive facial rejuvenation results. 

Both treatments require little to no downtime.
Book a consultation 
Want to learn more about Ultherapy and dermal fillers and how they can rejuvenate your overall appearance? Contact Cutis Medical Laser Clinics at +65 6801 4000 for more information or to schedule a consultation with our Harvard-trained aesthetic doctor in Singapore, Dr. Sylvia Ramirez.