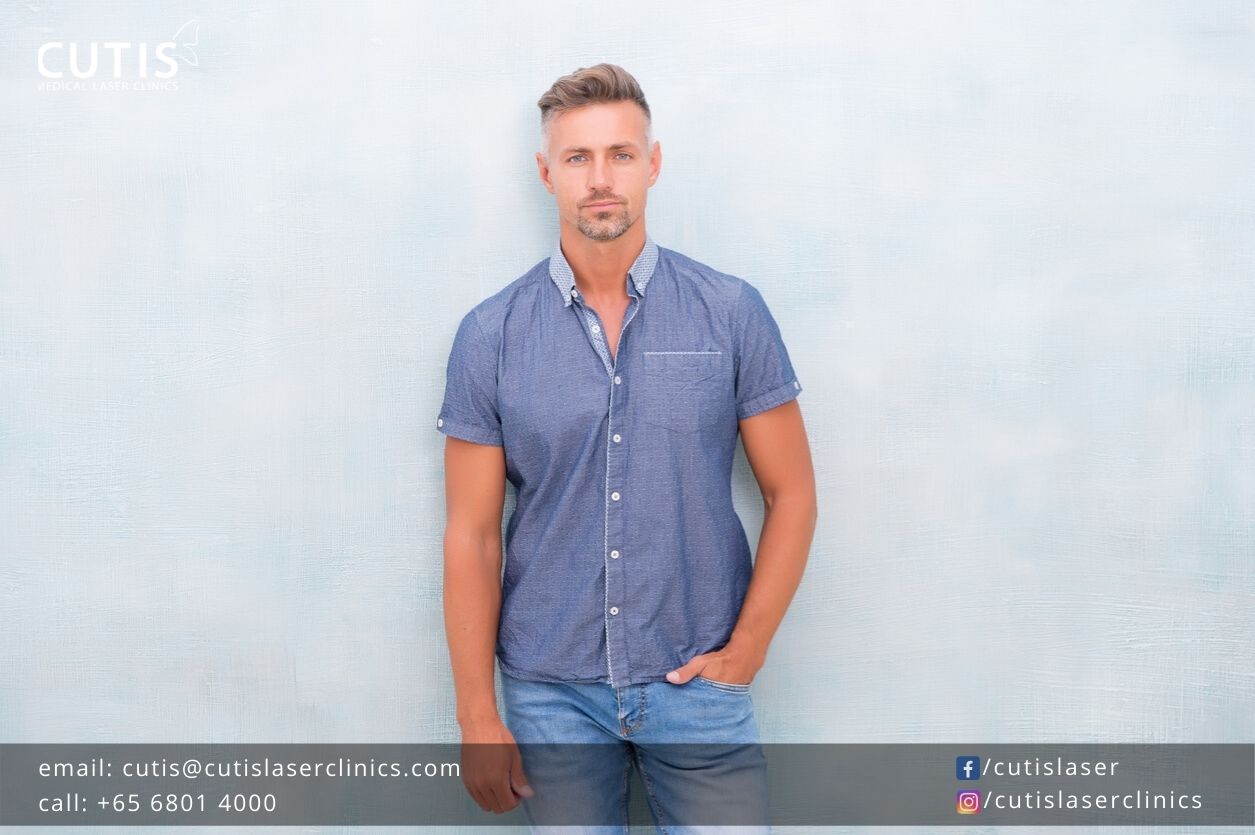 Non-invasive body contouring is not only for women. Men who are struggling to achieve their ideal body despite regular diet and exercise can turn to nonsurgical procedures. Whether it's about having a flat abdomen, sculpted abs, or a more masculine chest, non-invasive treatments can help contour the body without cuts or needles.
Consultation and body assessment matter
When considering any type of body contouring procedure (whether surgical or nonsurgical), it is important to get assessed by a board-certified aesthetic doctor or plastic surgeon. This is to learn more about your options and determine which procedures or combination of treatments suits your needs and goals.
At Cutis Laser Clinics in Singapore, we do a 360-degree assessment to create a personalized treatment plan for you. We also offer several fat reduction and body contouring procedures and have certified doctors and trained therapists to carry out the treatment. 
Here are 5 body contouring treatments for men:
1. CoolSculpting
This is one of the most popular procedures for fat reduction. It uses Cryolipolysis or controlled cooling temperatures to target fat cells. Exposure to low temperatures causes the cells to undergo apoptosis or natural cell death. They will then be processed as waste in the liver and cleared naturally through the lymphatic system. 
CoolSculpting uses a vacuum pressure to draw out the fat tissue, which follows cooling. Patients may see results in as early as three weeks, but significant changes can be seen in about three months after the procedure.
It can be used for:
Belly 

Chest (or man boobs)

Arms 

Thighs

Smaller areas (Chin and knee fat)
2. Z Lipo
Just like CoolSculpting, Z Lipo also uses cooling temperatures to kill fat cells. It uses a handpiece that suctions in the fat bulges and freezes them for about an hour. After this, the fat cells die naturally and are metabolized by the body over a period of 10 to 12 weeks.
One unique feature of Z Lipo is that it has two applicators attached to its device, which can be used in a single session. It also has a strong vacuum pressure and pulse vacuum suctioning for drawing out a good amount of fat.
Results may be seen after the first session, but most patients need two to three (or more) sessions per area. Patients are advised to wait between 8 to 12 weeks for best results. Once the body has flushed out the fat cells, you will notice a slimmer treated area.
Z Lipo has been found successful in reducing fat on the:
Belly 

Hips 

Thighs

Love handles
3. Vanquish ME
Unlike CoolSculpting and Z Lipo, Vanquish ME uses heat to melt and kill fat cells. It delivers radiofrequency (RF) energy to disrupt the fat cells and trigger apoptosis or natural cell death. Heated cells will also be cleared naturally through the lymphatic system and processed as waste in the liver.
Results vary from patient to patient, but Vanquish is proven safe and effective. Some patients report seeing improvement in as early as four to six weeks, but significant changes can be seen after four to eight weekly sessions. Read our previous blog and find out what makes Vanquish different. 
Vanquish ME can help you lose inches off your:
Waistline 

Abdomen

Thighs

Flanks

Arms
4. ZField Dual
This non-invasive body shaping device uses electromagnetic energy for inducing muscle contractions. It has two applicators that can be used individually or at the same time for stimulating two opposing sections of muscles. ZField Dual strengthens the muscle fibers, which then results in improved muscle conditioning.
On average, about eight 30-minute treatments, over a four-week period produce noticeable improvements. Most patients need between 6 and 8 treatments (total treatment time of 3 to 4 weeks). This delivers a significant increase in the muscle layer and fat reduction in the treated area. Read our previous post to find out why you should say yes to ZField Dual. 
ZField Dual can improve the tone and shape of your:
Arms

Stomach/Abdomen

Legs

Buttocks
5. Exilis Ultra 360
Unlike other procedures mentioned above, Exilis Ultra 360 isn't a fat reduction procedure. It is more of a skin tightening treatment (but can also address fat) that uses ultrasound and radiofrequency energies. Exilis can help reverse the signs of aging, as well as firm and tighten body areas that are resistant to diet and exercise.
It has a small applicator that emits heat energy to address lines and wrinkles and saggy skin on the face and other smaller parts of the body. It also features a big applicator (with a controlled cooling system) for disrupting fat cells in any body part that requires tightening or contouring.  
Exilis Ultra 360 can treat problem areas in the:
Chin

Face and neck

Abdomen

Buttocks

Arms

Legs

Inner and outer thighs
Getting rid of unwanted fat or having a more sculpted physique is more than about looking good. When you like how you look, you can appear more confident, younger, and more competitive. Contact Cutis Laser Clinics in Singapore and schedule a consultation with our aesthetic doctor to find out which procedures are right for you.