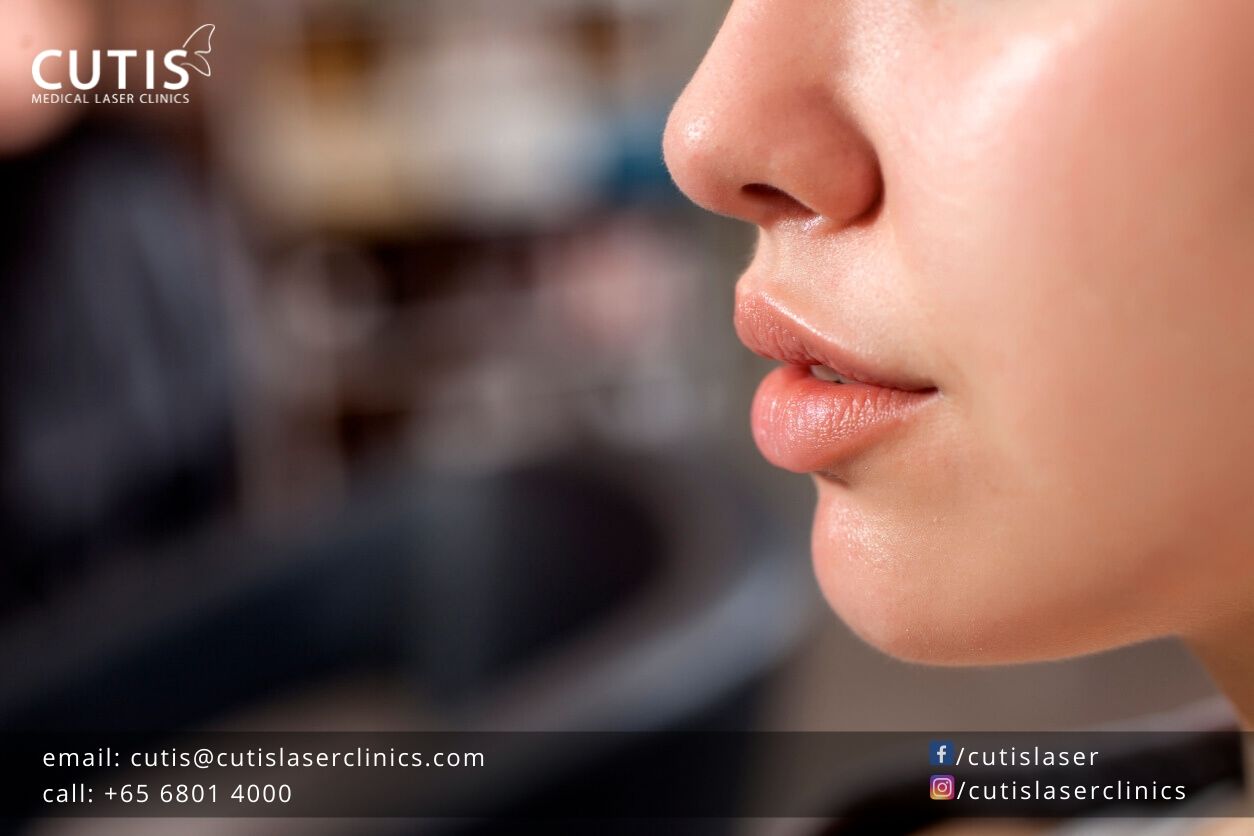 When it comes to fighting the signs of aging, many of us focus on fine lines and wrinkles around the eyes. While this area is one of the first regions to show aging, another part of the face needs care too. Your lips can also betray your age, especially with volume loss and the formation of lines around the mouth.
Fast facts about lips and aging
All the movements from smiling, eating, and talking can make the lips susceptible to developing fine lines and wrinkles. 

The volume loss that occurs with aging can cause your lips to look thinner and lose its natural shape. 

The flattening of the Cupid's bow (double curve in the upper lip) can reveal your age or make you look older. 

Your lips are vulnerable to sun damage, as its skin is delicate and has no melanin. Lips are also often exposed and unprotected from the sun.

Smoking can lead to lip wrinkles because it breaks down the collagen and causes repeated puckering of the mouth.
Anti-Aging Your Lips
If you want your pout to look healthy and more youthful, your lip care routine should go beyond picking the right lipstick shade. While this is important, it is also advisable to put in more effort in protecting your pout. Here are a few tips that can help:
Exfoliate your lips
To slough off dead skin cells and create a natural plumping appearance, don't forget to exfoliate your lips regularly. You can do this by using a damp washcloth or gently brushing your lips with a soft toothbrush. You can also try a homemade lip scrub with sugar or honey.
Use a lip balm with sun protection
Prolonged and unprotected sun exposure accelerates the aging process, with effects that can show on your lips. This is why you should use a lip balm with SPF to protect your pout from the sun. Many lip balms today have SPF and other nourishing ingredients that can keep your lips hydrated or moisturized.
Avoid bad habits
Premature lip thinning is very much likely with smoking, so it is best to kick the habit or never start smoking in the first place. Repeated use of straw and drinking from water bottles can also contribute to lines and wrinkles due to constant pursing of the lips. It is advisable to not do this all the time or use a regular glass/cup when drinking. 
Stay hydrated
Dehydration can also take a toll on your lip and contribute to premature lip aging. It can also lead to flaky or chapped lips. Drinking lots of water and limiting your consumption of caffeinated drinks can help you stay hydrated. You can also benefit from using a lip balm to prevent moisture loss. 
Try lip fillers
Dermal fillers are worth considering if you want to improve the appearance of your pout or thinning lips. These injectable gels are commonly used to restore volume loss in the skin as well as plump up the lips. Lip fillers are usually made with hyaluronic acid (HA), a naturally occurring substance in the body that keeps the skin hydrated. 
Juvederm is one popular brand of HA-based fillers and has been proven effective for many years. These lip fillers are also favored over those made of silicone, which can result to harder lips that are susceptible to lumps.  
The results of fillers can be seen almost immediately, but you have to give it at least two weeks to fully blend and settle. You may also be glad to know that repeated injections can improve your skin's hydrobalance. 
Consider Botox
If you're worried about lip wrinkles or lines on top of the lips, Botulinum toxin or Botox can reduce their appearance. This works by temporarily blocking the signal from a nerve to a muscle to relax and soften the wrinkles. It can take about two weeks to see the full results. This can last for three to six months or longer with repeated injections.
When getting Botox or fillers, make sure to look for a skilled injector or aesthetic doctor. Keep in mind that filler or Botox injection is a process that takes time and requires the skill and artistry of the doctor to get natural looking results. 
Make Cutis Laser Clinics your partner in anti-aging your lips or getting a younger and fuller pout. You can contact our clinic at +65 6801 4000 or email us at cutis@cutislaserclinics.com to schedule a consultation with our Harvard-trained aesthetic doctor in Singapore, Dr. Sylvia Ramirez.