While it is true that diet and exercise can help you lose weight and shed fat, they are sometimes not enough. This is especially true for fat bulges located in the midsection, hips, butt, and thighs. The pinchable fat in these areas are so stubborn and not always responsive to diet and exercise.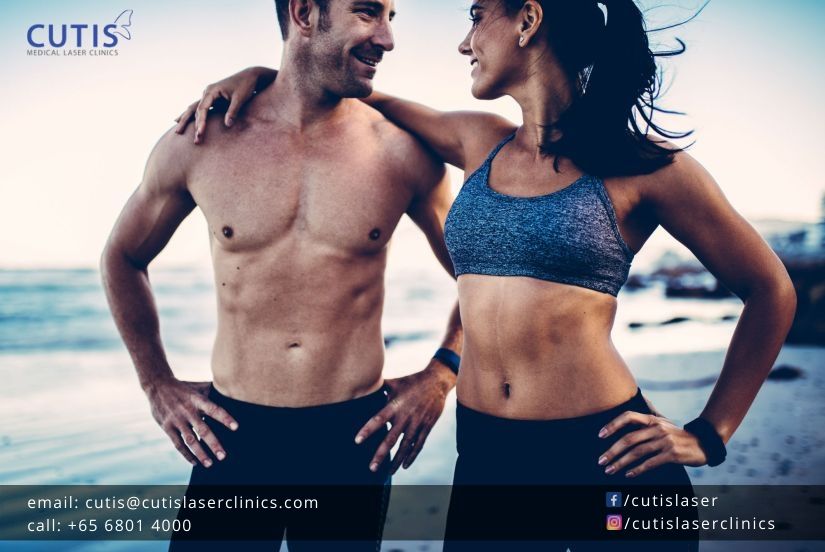 In cases like these, many consider turning to cosmetic procedures. One common option is liposuction, which involves surgery to get rid of fat. The problem is not everyone is willing to go under the knife. This is where a non-invasive procedure like Vanquish comes in. This kills fat cells using radiofrequency energy, without cuts and needles.
If you're not yet familiar with Vanquish ME, continue reading as we further explain the procedure and its difference from liposuction.
Liposuction
Liposuction is a surgical procedure that removes fat cells permanently. It involves incisions and stitches, and is usually carried under general anesthesia. It uses a hollow instrument called cannula, which is inserted under the skin. Then, a high-pressured vacuum is applied, removing unwanted fat cells.
Treatment areas: You can turn to liposuction for removing fat in the abdomen, back, and legs, as well as face, neck, and arms. Compared to nonsurgical fat reduction procedures, it offers more dramatic results, but has a higher cost. There is also the risk of bruising and scarring due to cuts/ incisions made during the procedure. 
Number of sessions needed and downtime: Most patients only need one procedure. This can take between one and two hours, depending on the treated area. As liposuction is an invasive procedure, you'll experience some bruising and swelling that can last for 10 days. This can also depend on the size of the treated area.
Results to expect: The results of surgery will not be visible until the swelling subsides. This can take about several months, but you will not see clear and final results after six months or longer. The treated fat cells are permanently removed, but you can still gain the weight back. You need to follow healthy habits to keep your new shape.
Vanquish ME
Vanquish ME is a nonsurgical fat reduction procedure that uses contactless radiofrequency energy. It uses an FDA-cleared device that emits controlled energy, targeting and melting fat cells. Exposure to heat causes the fat cells to die naturally over time. They will then be processed as waste in the liver and cleared through the lymphatic system.
Treatment areas: You can turn to Vanquish for reducing stubborn fat in the abdomen, hips, arms, and legs. The use of RF heating can flush away fat cells, which then reduces the entire circumference of your abdomen area. Research also suggests that it can remove up to 59% of excess fat in the tummy area after diet and exercise had failed. 
Number of sessions needed and downtime: The number of Vanquish treatments you need will depend on the problem area. You may need about six to eight week sessions done once a week to see noticeable results. As the procedure is non-invasive and contactless, there is no downtime needed. You can go back to your normal routines after the procedure.
Results to expect: Some report seeing improvements in as early as three weeks. Optimal results, however, can be seen after a 60- to 90-day window. Also, the treated fat cells are gone for good and will not come back. Your diet and habits play a role in maintaining long-term results. 
Which is right for you?
If you have larger deposits of unwanted fat, liposuction may be the right choice. Do take note, however, that it is a surgical procedure with more risks and higher cost. It is best to learn more about the pros and cons of liposuction before undergoing the treatment.
If you, on the other hand, are at your ideal weight and want to target smaller fat bulges, a non-invasive procedure like Vanquish in Singapore may be a better choice. You will need multiple treatments, but there are no cuts and stitches involved, so there is less risk and no downtime.
While both procedures can permanently remove fat cells, they are not weight-loss treatments. If you have trouble spots that you want to treat or reduce, diet and exercise can help, along with body contouring procedures. 
Schedule a body assessment and consultation
If you want to reduce fat but are not willing to go under the knife, consider Vanquish fat reduction. Contact Cutis Laser Clinics in Singapore today and schedule a consultation and body assessment with our aesthetic doctor to find out if Vanquish is right for you.