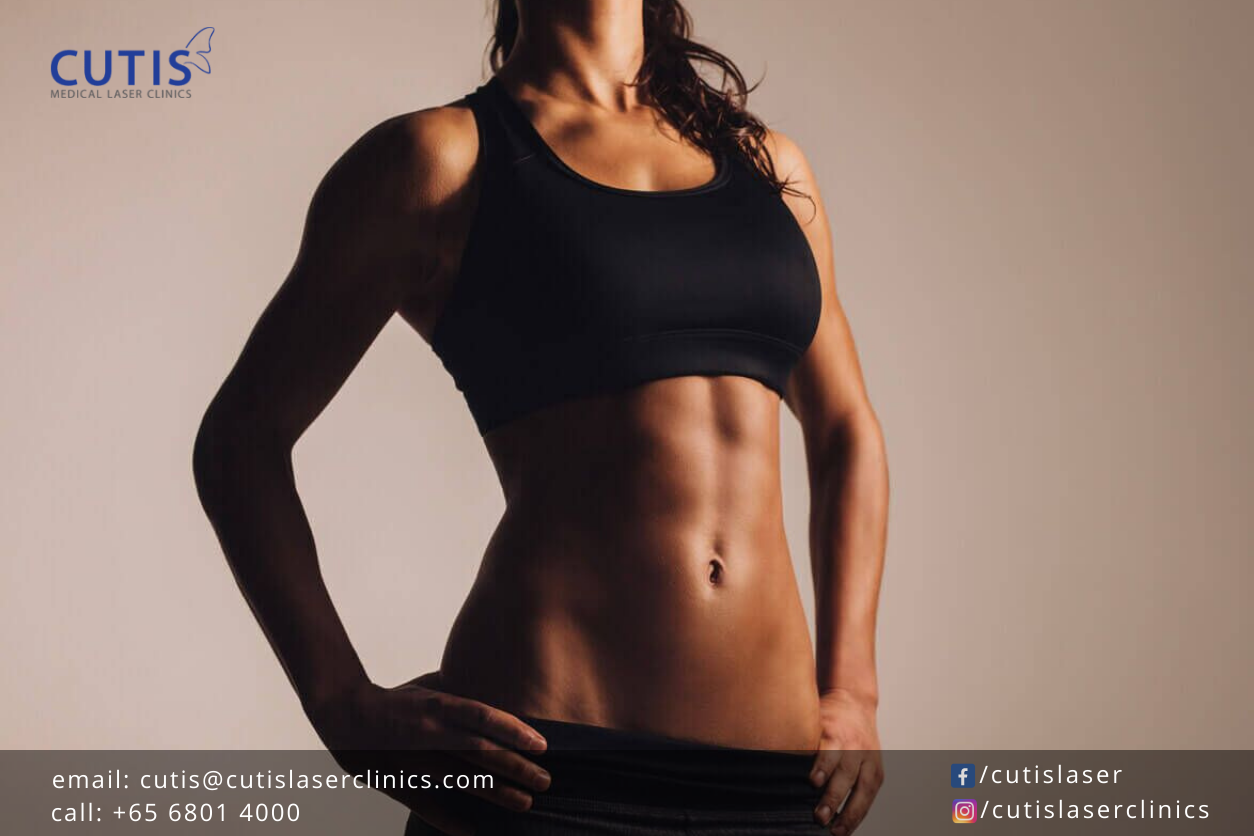 If diet and exercise seem to be doing little to nothing in getting your ideal figure, you probably need a boost. Cutis Medical Gym can offer the help you need with a subscription-based approach to non-invasive body shaping procedures. Whether it's flabby arms, belly fat, less defined muscles, or skin laxity( body concerns) you're concerned about, Cutis Medical Gym got you covered. 
Here are some trouble zones and body concerns our medical gym can help you with: 
STUBBORN FAT (Body Concerns)
Also referred to as subcutaneous fat, stubborn fat clings to your body despite your best efforts. It is soft, pinchable, and located underneath the skin. Stubborn fat bulges can be found all over the body, including the:
Belly

Arms and armpit

Back

Chest

Chin
Here are some procedures worth considering for non-invasive fat reduction.
BTL Vanquish ME
Vanquish ME is suitable for contouring larger areas of the body. It uses contactless radiofrequency, which targets the fat cells and exposes them to heat. This increases their temperature, triggering apoptosis or natural cell death. The treated fat cells will then be processed as waste in the liver and cleared through the lymphatic system. 
Studies suggest that Vanquish ME can eliminate up to 59% of excess fat in the belly after failure to respond to diet and exercise. It is also FDA-cleared for circumference reduction in the abdomen and thighs, and can treat other areas like the flanks, back, and upper arms. 
CoolSculpting
Using Cryolipolysis or fat freezing, CoolSculpting exposes the fat cells to controlled cooling temperatures, triggering natural cell death. It has applicators of different sizes to target fats in different areas of the body. CoolSculpting also uses a vacuum pressure to draw out the fat between the panels before cooling them.
On average, this procedure can help remove up to 20 to 25% of fat cells in a specific area. There are also instances where it can eliminate more fat cells, depending on the treated area and the amount of fat you have near the surface of the skin.
ZLipo
This non-surgical fat reduction treatment also uses fat freezing to target and kill stubborn fat cells. It has handpieces that cool down fat deposits in a controlled manner. The procedure starts with pulsed vacuum suctioning, which breaks down the fat cells even further before the actual fat freezing begins. 
ZLipo can reduce 15 to 25% of fat in the treatment areas, especially the abdomen, back, and flank areas. There are also the new ZLipo 360° applicators that feature an enlarged treatment area, shorter treatment time, and more comfortable vacuum. 
SKIN LAXITY, CELLULITE, AND STRETCH MARKS (Body Concerns
While it is normal to have cellulite and stretch marks, they can make people self-conscious. Cellulite affects about 90% of women and gives the skin a lumpy and dimpled appearance. Stretch marks, on the other hand, appear as lines and streaks on the skin and are common during pregnancy and growth spurts in puberty. 
Here are the aesthetic treatments that can reduce/improve their appearance. 
Acoustic Shockwave Therapy
This procedure delivers acoustic wave pulses or radial shockwaves into the connective tissues, breaking down fat and cellulite(Body Concern). At Cutis Medical Laser Clinics, we have two devices that use acoustic shockwave: X-Wave and ZWave.
X-Wave

– uses targeted vibrations to break down fat under the skin and other factors that contribute to uneven skin texture. It can stimulate lymphatic drainage and promote new collagen formation to improve skin texture and elasticity.

X-Wave

can tighten mild loose skin, smooth cellulite, and reduce the look of stretch marks. 

ZWave

– uses radial shockwaves that break down fat and tissues that cause cellulite. Just like

X-Wave

,

ZWave

also assists in collagen growth, making the skin firmer and more elastic. It can tighten skin and reduce cellulite appearance by softening the fibrotic tissues and strengthening the connective tissues 
BTL Exilis Ultra 360
Exilis Ultra 360 provides head-to-toe rejuvenation by combining radiofrequency and ultrasound energy. The Exilis device delivers monopolar RF energy with ultrasound to target and eliminate fat cells. It also helps with the production of new collagen to reduce the appearance of cellulite and tighten loose skin. 
You can turn to Exilis Ultra 360 if you have small pockets of stubborn fat or mild skin laxity due to past pregnancy or minimal weight loss. Exilis also has an applicator dedicated to improving the signs of aging on the face, including jowls, fine lines, and wrinkles. 
FLABBY AREAS AND LESS DEFINED MUSCLES
Hitting the gym doesn't always guarantee that you'll get your dream figure. If you are near or within your ideal weight, but still have less defined muscles or abs, we can help you. Our clinic has body shaping procedures that can improve fat burning and muscle conditioning, so you'll have visible or toned muscles. 
ZField Dual
If you're looking to achieve visible muscles without intense workouts, ZField Dual can help. This non-invasive body shaping procedure uses electromagnetic energy for targeted muscle building and stimulation. ZField Dual is designed to strengthen the gluteal and abdominal muscles, but it can also be used on the arms, thighs, and lower back. 
Supports fat reduction

Get a 30-minute ab treatment equivalent to thousands of sit-ups

Lifts and firms your buttocks non-invasively

Helps you achieve more toned abs or a six-pack
ThermoSculpt
This non-invasive body shaping procedure uses diathermy and faradic muscle contraction (diathermocontraction) for total body reinvention. It is specifically designed for muscle toning, fat burning, and skin laxity improvement. ThermoSculpt involves deep dermal heating and electrical muscle stimulation to sculpt and define your body. 
The device that carries out the treatment emits radiofrequency energy, developing endogenous heat and deep muscle contraction waves. This results in rejuvenation in different areas of the body, particularly those that require muscle toning. Common treatment areas include: 
Abdomen

Thighs

Inner Arms

Buttocks (gluteus)

Knees
ACCESS TO A RANGE OF DEVICES/TREATMENTS
With a subscription to Cutis Medical Gym, you won't be tied to just a single treatment package. You'll have a patient-tailored fitness plan and be able to choose from a range of devices that suit your needs and goals. This allows you to combine treatments and work out different trouble zones for fast and consistent results. 
If you're looking to boost your fitness efforts or reach your body goals faster, you can combine healthy habits with Cutis Medical Gym. As it can help you reduce fat and tone muscles, it can also improve your fitness levels and self-confidence. There is also the benefit of reducing the load you have to carry when working out or playing sports. 
Benefits include:
Combination treatments instead of locked in a package

Wide range of US FDA-cleared and CE-marked body shaping devices

Work out different body areas for consistent results

Membership/subscription plans for people of different ages and fitness levels
Schedule a consultation and body assessment today
Want to learn more about Cutis Medical Gym and our non-invasive body shaping treatments? Contact Cutis Medical Laser Clinics today to schedule a consultation and body assessment with our medical aesthetic doctor in Singapore.