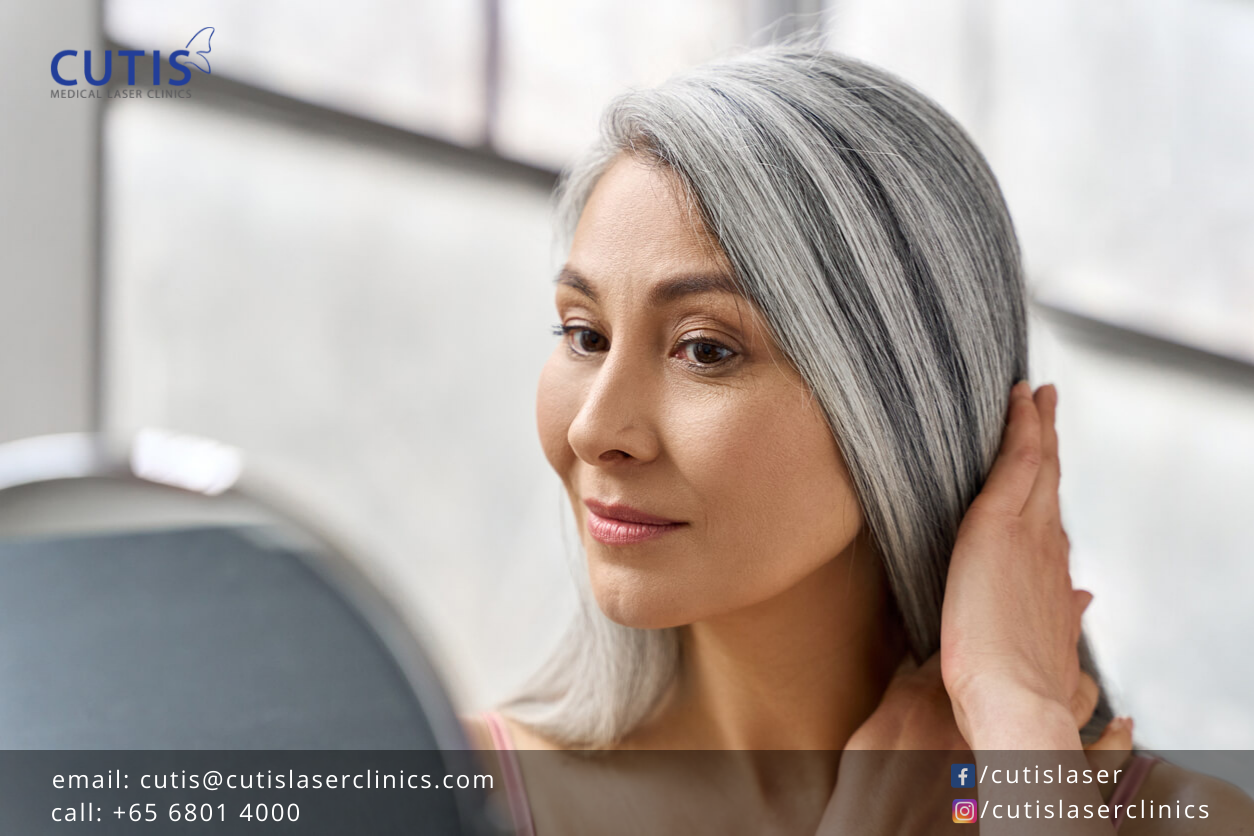 While Profhilo can reduce the appearance of lines and wrinkles, and give you smoother and tighter skin, it is neither a Botox nor a dermal filler. It is a completely different injectable product that is designed to address skin laxity and collagen loss. Profhilo stimulates tissue remodeling, improving skin hydration and its overall integrity.
The basics of Profhilo
Profhilo is referred to as a bio remodeling injectable that contains 100% pure hyaluronic acid (HA). It has a unique formulation of low and high molecular weight HA that provides hydration, firming, tightening, and lifting effects on the skin. Profhilo remodels and hydrates the skin from within through a slow release of hyaluronic acid. 
The slow release of HA enables bio remodeling of the skin by stimulating 4 types of collagen (types I, III, IV, and VII), elastin, and proliferate adipocytes (fat) stem cells. This then improves skin laxity, hydration, and different signs of aging, giving you plumper, glowing, and more youthful skin.
Profhilo uses the BAP (bio-aesthetic points) technique, with injection sites that are carefully selected across the face. It is injected only on five points on each side of the face. These points are located away from nerves and blood vessels, which helps minimize the risk of injury or bruising.
Here are the benefits of Profhilo: 
Improves skin hydration

Stimulates collagen and elastin levels

Treats fine lines and wrinkles

Improves the skin's overall quality

Stimulates tissue repair (ideal for acne scarring)
Check out our previous post to learn more about Profhilo and how it can transform and remodel your skin. 
The buzz surrounding needleless Profhilo (and dermal fillers) 
Needle-free or needleless injections for cosmetic injectables like fillers and Profhilo are getting a lot of buzz. These involve the use of non-invasive injection pens like "hyaluron pens" that force or push the filler material into the skin. It relies on high speed and pressurized air, creating a stream of HA that spreads under the skin.
It does seem tempting to undergo a cosmetic injectable procedure without needles (and their associated side effects). Apart from the absence of needle or injection pain, it is also cheaper and can be done at home or without going to a medical aesthetic clinic. There are also lots of resources and how-to guides online on how to use these needle-free devices. 
Say no to needleless Profhilo and fillers
Profhilo is an INJECTABLE treatment that is intended to be injected using a needle. The only approved injection technique for the product is the "Bio Aesthetic Points" or BAP technique. According to a press release from the company, "Needleless Profhilo is not an approved method by IBSA Derma", the manufacturer of Profhilo. 
"All claims and benefits of Profhilo Injectable are only achievable by injection as demonstrated in the multiple published clinical journals. The safety and efficacy of Profhilo Injectable are not applicable to other methods of administration", the statement reads. 
The US Food and Drug Administration (FDA) has also issued a safety communication warning about the use of needle-free devices for dermal fillers. The devices, which are sold directly to customers online, are neither evaluated for their safety and effectiveness. The FDA has also not approved their marketing for the injection of any dermal fillers.
The FDA recommends not to undergo any filler procedure with needle-free devices, as well as not to inject yourself or others with these devices or products. The use of these devices for cosmetic or aesthetic purposes does not provide enough control over where the product is placed or injected, according to the statement. 
Some of the risks associated with the use of needle-free devices include:
Bleeding or bruising

Infection with bacteria, fungus, or virus from the filler or needle-free device

Scarring

Transmission of disease between people who use the same needle-free device

Blockage of a blood vessel, leading to tissue death, blindness, or stroke

Damage to eyes from the pressure of the needle-free device

Allergic reactions
Only trust licensed and trained injectors
Whatever cosmetic injectable you're considering, be sure to only see a licensed, trained, and experienced injector or aesthetic doctor. Do take note that injecting fillers and similar products is a medical procedure that should only be undertaken or administered by or under the supervision of an authorized provider like a medical doctor.
Cutis Medical Laser Clinics in Singapore has licensed, trained, and skilled injectors that can administer Botox, dermal fillers, Profhilo, and other injectables. Our medical and scientific director, Dr. Sylvia Ramirez, is a US Board Certified physician, Harvard-trained, and has years of experience with fillers and other injectables.
Learn more about the difference between Botox, Profhilo, and dermal fillers. 
Schedule a consultation today
Contact Cutis Medical Laser Clinics in Singapore and schedule a consultation with our aesthetic doctor to find out more about Profhilo and how it can transform your skin.