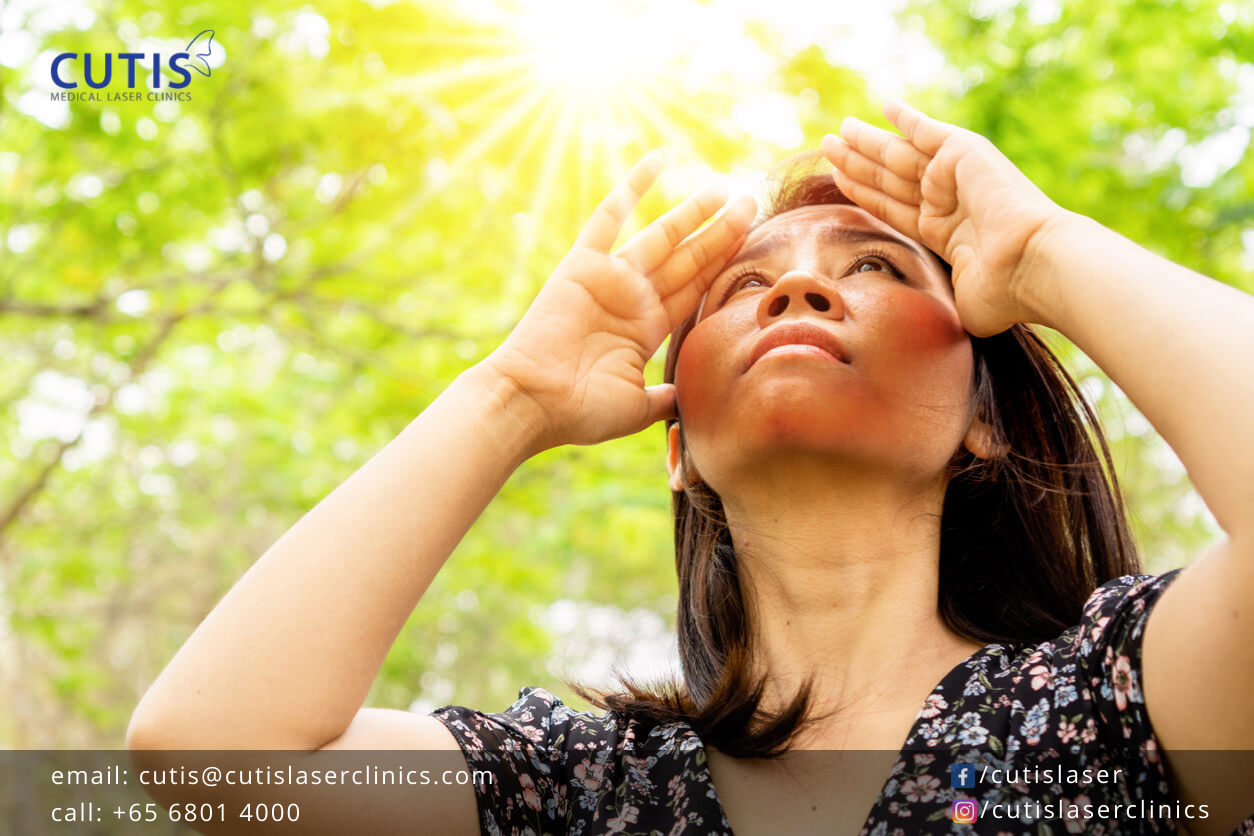 Ultraviolet (UV) exposure, according to studies, accounts for about 80 percent of visible signs of aging on the skin. These include dryness, wrinkling, sagging, and pigmentation or age spots. What UV radiation does is destroy collagen and elastin, as well as slow down your skin cell's renewal rate. 
Prolonged and unprotected sun exposure is also the main cause of photoaging, which refers to premature aging due to repeated exposure to UV rays. The UV radiation from the sun contributes to the production of free radicals, which then causes oxidative stress. This damages the DNA, essential skin proteins, and cell membranes.
How soon can you notice sun damage?
Most sun damage is cumulative or caused by many days of sun exposure. Photodamage, furthermore, occurs in the skin's deepest layers, which means that it can take years before the damage shows up and becomes noticeable. It can take about one to two decades for the damage to surface, with some people noticing signs as early as their mid-20s to early 30s.
Here are some signs of sun-damaged skin:
Fine lines and wrinkles

Pigmentation or age spots

Loose and saggy skin

Dry and rough skin 

Spider veins

Blotchy complexion
How can you treat or improve sun damage? 
It all starts with protecting your skin from intense UV exposure. This means applying a broad-spectrum sunscreen daily, avoiding the sun's peak hours, and wearing protective clothing and accessories. Aesthetic procedures can help too, especially those that are designed to resurface the skin and help stimulate collagen production.
At Cutis, we have the Pearl Fusion, which is a combination of two Pearl procedures: Pearl Laser Resurfacing (or simply Pearl) and Pearl Fractional. It can penetrate deep into the skin to minimize the effects of sun damage and aging, and significantly improve your skin tone.
 What is Pearl Fusion and how does it work?
As previously mentioned, Pearl Fusion is a combination of Pearl Resurfacing and Pearl Fractional. The former helps renew the skin's surface while reducing wrinkles and pigmentation while the latter provides an ablative treatment that can treat moderate to severe sun damage or aging skin on the face.
Pearl Laser Resurfacing

– works well for mild to moderate sun damage and aging skin. It treats the top layer of the skin using a 2790 nm laser, which then delivers heat to the skin's deeper layers, stimulating collagen regrowth. With

Pearl

Laser, the skin will form a protective dressing, which will peel off after three to five days, revealing healthier and clearer skin.

Pearl Fractional

– selectively removes columns of damaged tissues by placing tiny holes in the skin. It stimulates the body's natural process of building collagen, which then plumps the skin and reduces the appearance of wrinkles, sun damage, and other imperfections.

Pearl Fractional

delivers more intense heat to the area to vaporize and remove damaged tissue. It also coagulates neighboring tissue to reduce operative bleeding. 
The combination of these two procedures provides a complete skin rejuvenation treatment that promotes healthier, smoother, and glowing skin. It can help address or reverse many side effects of sun damage that other procedures may not be unable to improve or treat effectively. 
Why say yes to Pearl Fusion
Combining Pearl Laser and Pearl Fractional offers a two-in-one solution for treating or improving different signs of sun damage. It features both thermal effects and ablation that can help lead to collagen stimulation and give the skin a more youthful-looking appearance. It can help with:
Photoaging

Facial lines and wrinkles

Skin laxity

Uneven color and texture

Acne or surgical scarring
Treatable areas: Pearl Fusion can treat the face, neck, chest, and back of hands. It can help improve not just the tone of your skin, but also its texture and tightness. If you, for instance, have dark spots, surface wrinkles, and uneven texture, Pearl Fusion might be right for you. Both men and women can undergo this procedure. 
Results: When it comes to results, you may be able to see some improvements after just a week. The peeling of the skin can last from five to seven days. And as new collagen continues to grow, you'll also notice improvements for three to six months. You'll see a smoother skin appearance, with noticeable improvement in sun damage, wrinkles, skin laxity, and other skin imperfections. 
Sessions required and downtime: For mild sun damage, a single treatment is required with about five days of social downtime. For moderate to severe sun damage, more sessions (two or three) may be needed. There are also temporary side effects like peeling, redness, and mild swelling after the treatment. During downtime, you need to let your skin heal and avoid UV exposure. 
Schedule a consultation today
Want to treat or improve the effects of sun damage? Don't hesitate to consider Pearl Fusion. Contact Cutis Medical Laser Clinics today and book a consultation with our aesthetic doctor to learn more about the treatment or find out if it's right for you.