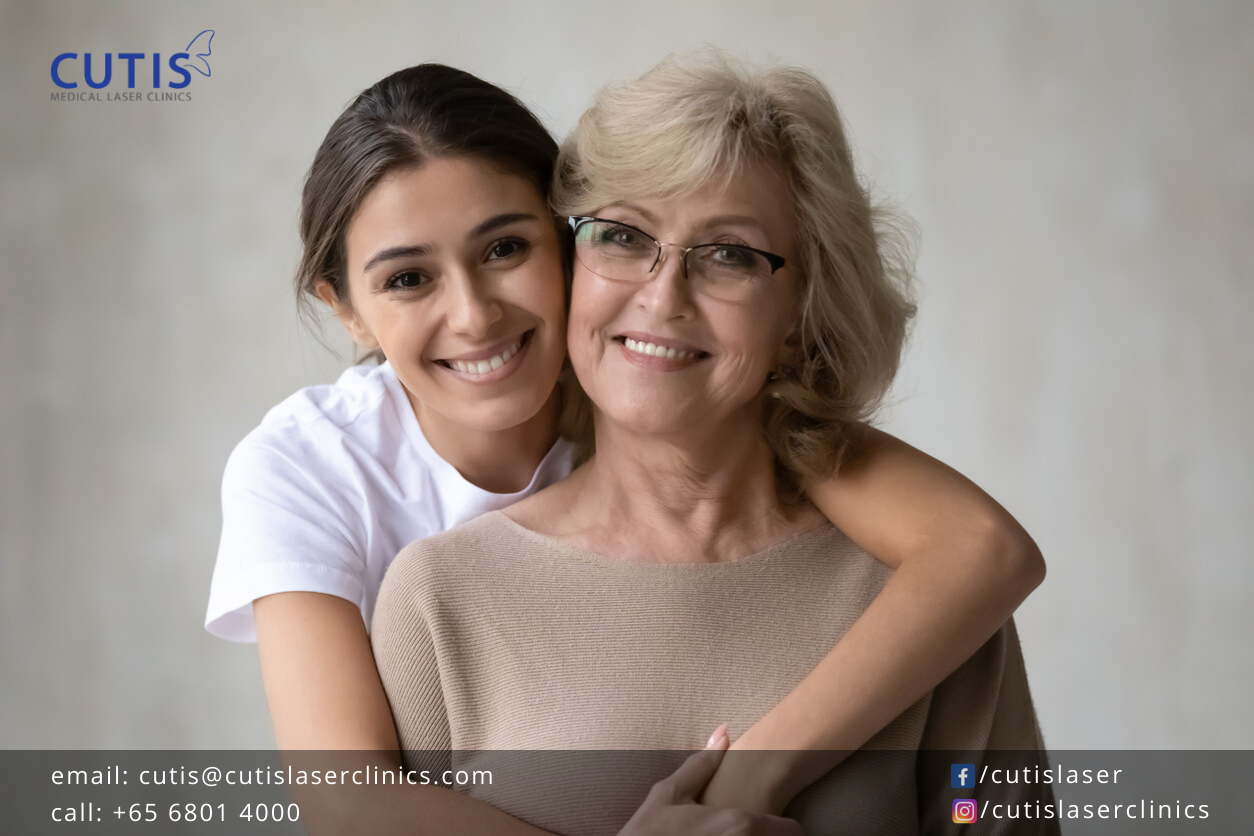 The COVID-19 pandemic has made motherhood even more difficult and challenging. From running the household to taking care of the kids and managing job responsibilities, moms are left with little time and energy to focus on their own needs. This only makes it important to encourage moms to prioritize their health and wellness this Mother's Day!
We at Cutis Medical Laser Clinics in Singapore recommend pampering and treating your mom with our Hydra Anti-Aging facial. This medical-grade rejuvenation treatment gently exfoliates the skin without any side effects the next day. It also nourishes and polishes the skin, and reduces signs of aging like lines and wrinkles. 
Read on and learn what makes this facial a great way to pamper your mom.
What is Hydra Anti-Aging Facial?
Hydra Anti-Aging facial is a type of hydra dermabrasion facial that can address or improve signs of aging. It provides more dramatic results than regular facials because it deeply cleans the skin while infusing it with serums right for your skin type. It is a three-step process consisting of:
Cleansing

– dissolves sebum and other residues on the pores using a non-irritating soluble solution.

Exfoliation/T-zone intensive care

– decongests the pores to remove blackheads and extra sebum.

Moisture and nourishment

– deliver serums customized to your skin and skin concerns, giving a nourishing effect. 
Hydra dermabrasion (also called HydraFacial) uses oxygen and water instead of microcrystals or abrasive particles to cleanse and exfoliate the skin. It uses a strong yet safe vacuum technology and a vacuum-based skin abrasion tip with a multifaceted spiral contraction. This clears the pores and removes impurities while infusing the skin with serums.
Our Hydra Anti-Aging facial also includes the following:
Lymphatic drainage

– improves lymph fluid circulation to speed up the removal of waste and toxins.

Skin scrubber

– softens the skin and targets deeper wrinkles.

Microcurrent BIO

– reduces puffiness, tightens pores, improves muscle tone, and increases cellular activity. 

Facial & Eye Ultrasonic – helps increase collagen and elastin production to improve the appearance of lines and wrinkles.
Oxygen spray

– helps even out skin tone, reduces lines and wrinkles, diminishes pores, and strengthens the elasticity of the skin.
Reasons to love HydraFacial
The absence of downtime and side effects like pain, redness, and bruising is one of the reasons  why people love this facial. Here are the other benefits of booking a HydraFacial treatment:
Painless extraction

– the vacuum suction technique means there is no squeezing or pressing needed to remove impurities in the skin.

Immediate pay off in less time

– it instantly improves tone and texture and can be done in as little as 30 minutes.

Customizable

–

HydraFacial

can be customized based on your skin type and needs.

Safe and consistent

– this

facial

is not technique-dependent, which means it delivers consistent results.

Works well with other aesthetic procedures

– can be combined with other treatments like RF therapies, laser, and microneedling.
Other Mother's Day ideas
While pampering her with a facial is a wonderful treat, there also other ideas that can show your love and gratitude for mom. These include: 
Breakfast in bed.

Cook or treat mom to her favourite meal.

Take her to a massage or book a spa day.

Give her a flower bouquet.

Create a collage.

Plan a weekend adventure if possible.
Want to give your mom a totally rejuvenating facial? This Mother's Day, we have a promo for our Hydra Anti-Aging facial. Contact Cutis Medical Laser Clinics in Singapore today to book aan appointment. You can also schedule a consultation with our aesthetic doctor to learn more about other aesthetic treatments that can help your mom look and feel her best.