VI Peel stands out among other chemical peels. Formulated with a synergistic blend of effective ingredients, this peel can improve the tone, texture, and clarity of your skin. It also provides a deep peeling effect without the pain and longer recovery time associated with other types of chemical peels. 
Here are the other benefits of VI Peel:
Softens lines and wrinkles

Clears acne skin conditions

Reduces or eliminate acne scars

Helps with age spots and pigmentation

Stimulates collagen production
Apart from the original VI Peel, we at Cutis Medical Laser Clinics have other types of this chemical peel. We have the VI Peel Purify for dealing with acne and other concerns caused by acne symptoms and VI Peel Precision Plus for addressing sun damage and hyperpigmentation.
Continue reading to find out what you can expect from these two types of VI Peel.
VI Peel Purify
If you're struggling with acne, and oily or blemish-prone skin, VI Peel Purify is worth considering. It features a unique formula combination that can kill acne-causing bacteria, reduce comedones, and increase cellular turnover. This helps you achieve cleaner and refreshed skin with fewer breakouts.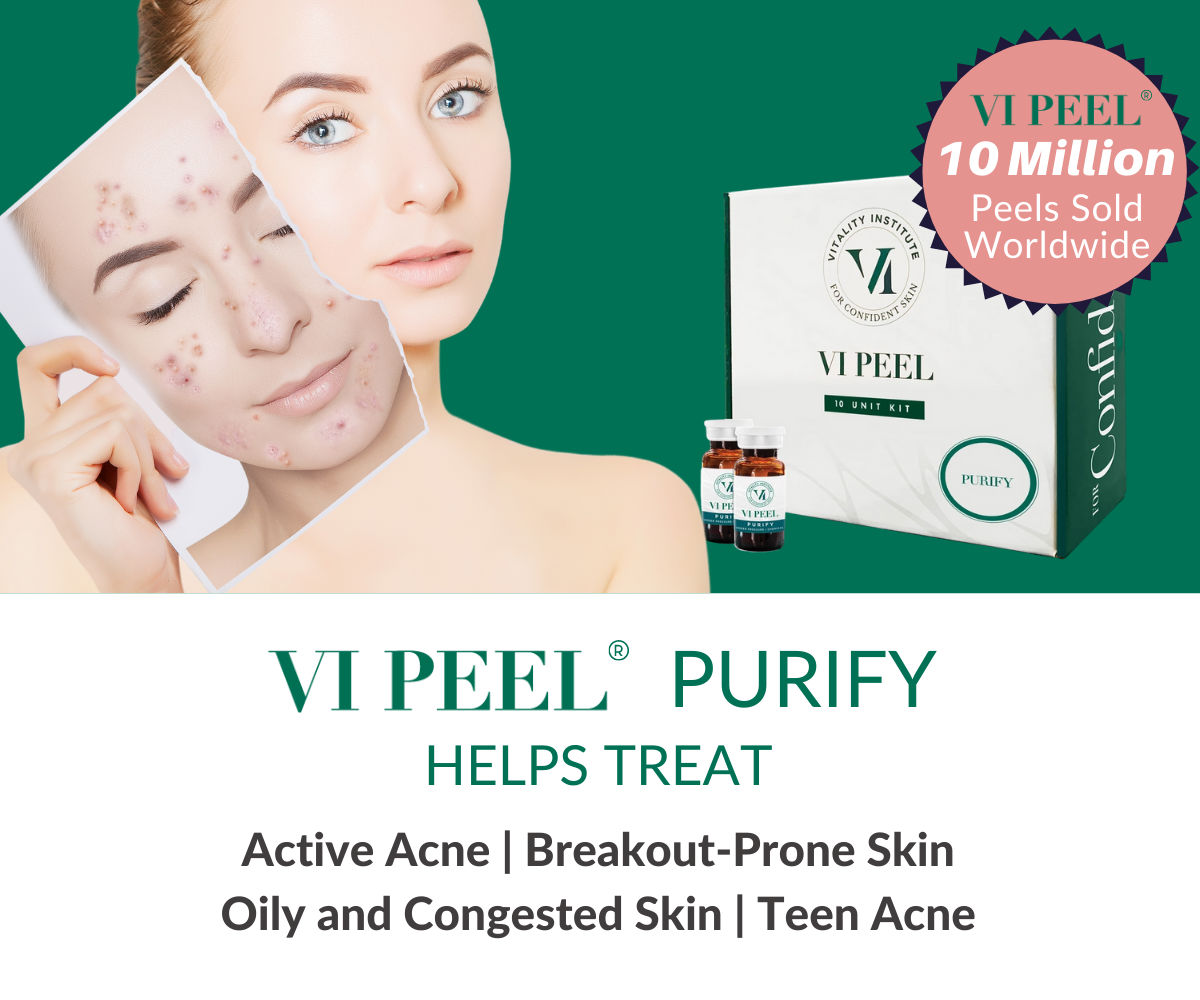 VI Peel Purify helps clear out pores to prevent the build up of oil and bacteria, which is known to trigger breakouts. It contains specific ingredients like benzoyl peroxide and salicylic acid to remove dead skin cells, kill bacteria, and unclog pores. This peel also has kojic acid to brighten skin and vitamin C to remove skin toxins.
Here are the key benefits and features of VI Peel Purify:
Calms redness and inflammation

Kills P. acnes

Increases cellular turnover to open pores

Ideal for active acne, teen acne, and congested skin

A medium-depth peel that is safe for all skin types
VI Peel Precision Plus
If you're concerned about hyperpigmentation, melasma, and sun damage, VI Peel Precision Plus is right for you. It features a powerhouse formula that can effectively suppress melanogenesis, the complex process of producing pigment (melanin) by melanocytes. It also improves skin tone by promoting cell turnover.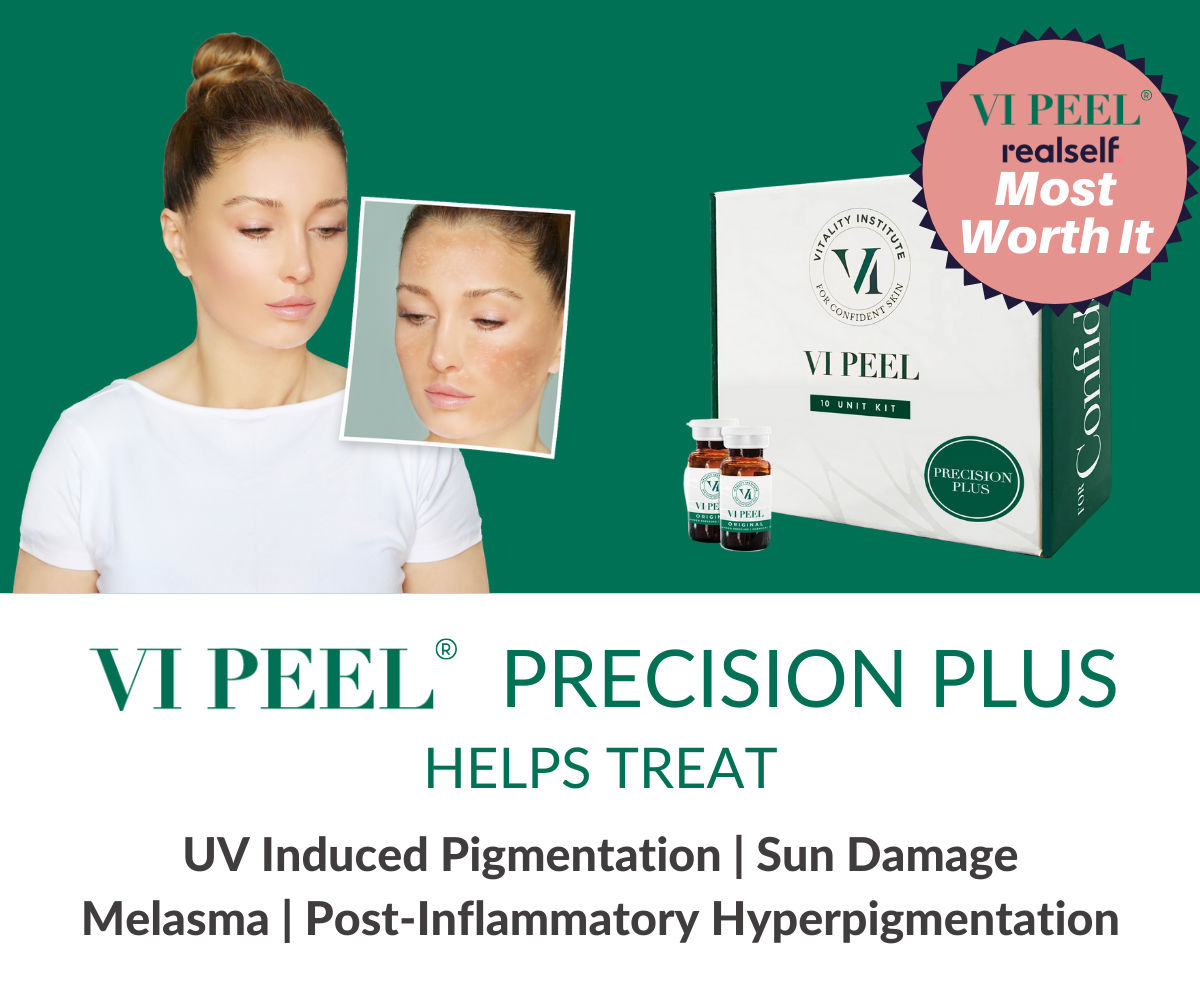 VI Peel Precision Plus fights pigmentation with a dual booster system: Lighter Booster and Fast Acting Brightening Booster. It has the same synergistic blend of ingredients as VI Peel, but in stronger formulation (25% stronger). It is effective for dealing with skin discoloration, including melasma, post-inflammatory hyperpigmentation, and UV induced pigmentation. 
Here are the key benefits and features of VI Peel Precision Plus:  
Effectively penetrates damage skin areas

Encourages rapid cell turnover

Restores skin to its natural health (by exfoliating and helping reduce dark spots and textural damage)

Combats pigmentation to improve skin tone

A medium-depth peel that is safe for all skin types
A word about VI Peel
VI Peel works by creating micro-damage in the outermost layer of your skin. The active ingredients in the peel triggers a reaction that causes your skin to peel off. This then promotes tissue growth to renew your skin and give it a healthy and glowing complexion. 
VI Peel may be a deep peeling treatment, but it has virtually no pain, downtime, and skin preparation. You may also be glad to know that this type of chemical peel is versatile and can be used on different parts of the body. These include the face and neck areas, as well as chest, hands, arms, legs, and back. 
Schedule a consultation today
Worried about acne, blemishes, and pigmentation? Give VI Peel Purify and VI Peel Precision a try. Contact Cutis Medical Laser Clinics in Singapore today and schedule a consultation with our Harvard-trained aesthetic doctor, Dr. Sylvia Ramirez, to achieve healthy and radiant skin with VI Peel.