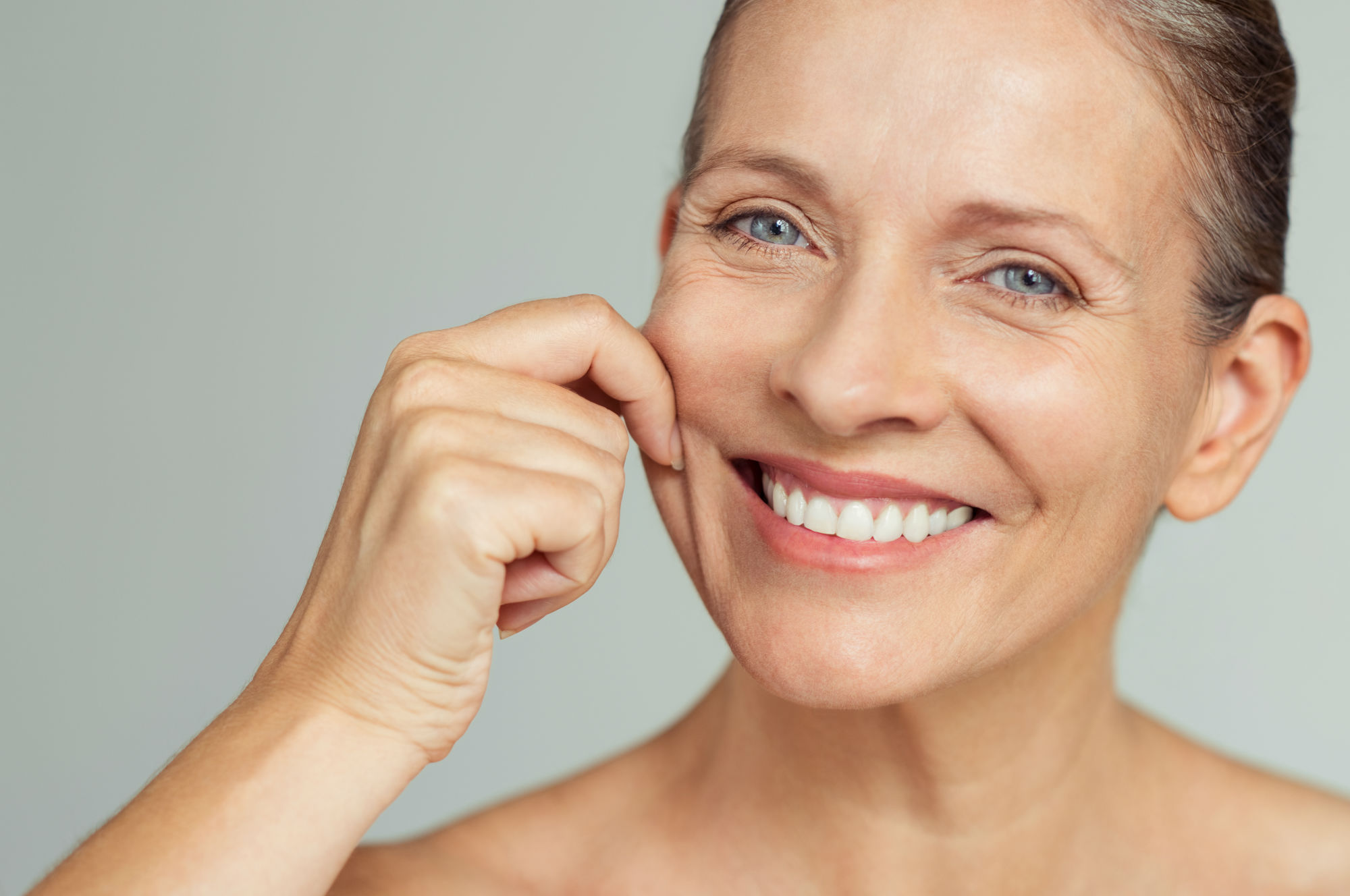 Volume loss may be common as people age, but this does not mean that there is nothing you can do to achieve a younger-looking appearance. While we cannot stop the breakdown of collagen and elastin due to aging, there are several effective ways to slow down this process.
If you have recently noticed visible facial volume loss, giving your skin a "dropping appearance", along with wrinkles, fine lines, and droopy eyelids, then continue reading to find out the things you can to do address and treat facial volume loss.
1. Protect Your Skin from the Sun
Facial volume loss and other signs of skin aging can become a lot more visible and worse with overexposure to UV rays. This only makes it important to stay out of the sun and slather on sunscreen when going out.
Be sure to use a broad-spectrum sunscreen with an SPF of at least 30 and up to protect you from UVA and UVB rays. If you are not a fan of the greasy feeling, find an oil-free and lightweight sunscreen that does not weigh down your skin nor cause breakout.
Clear Defense SPF 45 from Dr. Sylvia Skin Care is a great choice. It is an oil-free and lightweight sunscreen that provides the highest possible level of protection while restoring youthfulness to the skin without the greasy feeling.
There is also the Sheer Defense Tinted SPF 46, a universally tinted sunscreen with high levels of antioxidants and soothing properties that provides sheer coverage.
2. Avoid Food High in Sugar and Maintain a Healthy Diet
According to research, consuming food high in sugar promotes the process of 'glycation' or the attachment of sugar molecules to proteins (such as collagen) creating advanced glycation end products (AGES). Over time, these AGES weakens and accelerates the breakdown of collagen in the skin promoting premature aging.
In other words, avoid consuming food that are high in sugar as much as possible. This is not only limited to desserts and sweets alone but also include bread, rice and noodles or any food that are high in carbohydrates (which converts to sugar once digested).
Try to maintain a nutrient-rich diet that will supply your skin the vitamins, minerals, and antioxidants it needs to look healthy and youthful. Load up on foods rich in Vitamin C like broccoli and bell peppers to help increase the production of collagen.
Those rich in Omega-3 fatty acids like salmon are also beneficial in retaining skin moisture to make it soft and supple. Other food choices that can make you look younger include green tea, dark chocolate (less sweet), flax seeds, tomatoes, and blackberries and raspberries.
3. Limit Alcohol Consumption
Excessive alcohol drinking can deprive your skin the nutrients it needs to maintain a plump and youthful appearance. It can also make your skin look sunken, rough, and a lot older.
Remember that drinking in excess can accelerate the aging process by causing your skin to be dehydrated and premature wrinkles and loss of collagen and elasticity. Be sure to keep your consumption to a minimum or only drink alcohol occasionally.
4. Consider Dermal Fillers
Volume loss is caused by collagen breakdown, so in order to restore volume, you need to "fill it in" or to stimulate new collagen effectively. This means skin care and prevention is not enough to restore the volume in your skin.
Dermal fillers are safe treatments that work to "fill in" and restore volume under the skin. They can be used to enhance the cheekbones, define the chin, plump up the lips, and contour the face. They can also decrease the appearance of fine lines and dark circles to give you a well-rested and rejuvenated look.
In general, dermal fillers are injectable gels that are made of safe substances which are similarly found in the body such as hyaluronic acid and calcium.
At Cutis Laser Clinics in Singapore, we use these two types of fillers to address facial volume loss and other signs of aging. A filler procedure starts with the application of numbing cream and can last for at least 30 to 90 minutes depending on the area that is needed to be treated.
Hyaluronic Acid (HA) Fillers
Hyaluronic acid or HA fillers are made from a substance that is naturally present in the body especially in the skin. HA is responsible for keeping the skin firm and supple. HA-based dermal fillers are ideal for restoring volume and structure that the skin loses due to aging.
Juvederm is one of the well-known brands of hyaluronic fillers. It can be used to reduce fine lines and nasolabial folds as well as to reduce eye bags and dark under eye circles. You can also turn to these dermal fillers to add volume in the cheeks, fill the lips, lift the chin, and increase the height of the nose bridge without going under the knife.
Moreover, hyaluronic acid fillers such as Juvederm Volite can also be used as a 'skin booster' to improve skin quality and nourish skin from inside out for at least 9 to 12 months. Volite provides intense hydration to turn back the hands of time and your give skin a youthful and plumper look. It is suitable and safe for all skin types.
Calcium-based Microspheres Fillers
These types of dermal fillers are similar to the natural minerals found in the body, which eliminates the need for allergy testing. After a period of time, the body absorbs the gel and microspheres, leaving only natural collagen.
Radiesse Volumizing Fillers are one of the most popular options for calcium-based microspheres. These fillers can plump up the skin and replenish volume lost to give you a refreshed look. Radiesse can be used to add volume to the cheeks, improve the lines on the face, and fill in nasolabial folds and even add volume to the lower face.
5. Try Ultherapy
If you are not a fan of injectables, you can also consider Ultherapy to treat sagging skin caused by facial volume loss.
Ultherapy is an FDA-cleared non-invasive procedure that can naturally lift and tighten the skin on the face, on the brow, and under the chin. It can also improve lines on the face, and sculpt and lift the upper and lower face, neck, and décolletage, without the discomfort, complication, or recovery associated with surgery.
Ultherapy in Singapore involves the use of a system called Ulthera, which works by bypassing the skin's surface to deliver ultrasound energy under its foundational layers. This then triggers a natural response and results in stimulating the production of new collagen. The result is a significant tissue lift over a two to three month period.
This procedure also uses ultrasound imaging that enables aesthetic doctors to see the areas being treated. This reassures the patients that the ultrasound energy is delivered exactly to where it will be beneficial and effective.
The treatment can last from 30 to 120 minutes, depending on the areas to be treated. It takes about three months to see visible tightening results, as the Ultherapy stimulates the production of collagen on the skin. The longevity of results can depend on a number of factors such as your age, body, and genetics.
Don't let facial volume loss make you look tired, dull or even older than you really are. Contact Cutis Laser Clinics in Singapore today and schedule a consultation with our Harvard-trained aesthetic doctor, Dr. Sylvia Ramirez to find out which treatment is best suited for your skin concern.
Tags: Laser Clinics in Singapore, Skin Aging, Dermal Fillers, Ultherapy