March 8 is International Women's Day 2021. We at Cutis Medical Laser Clinics commemorate this day by joining in to celebrate all women's beauty and strength, as well as their achievements and contributions to the world. We also honor women's freedom to choose – be it about their career, personal life, or appearance.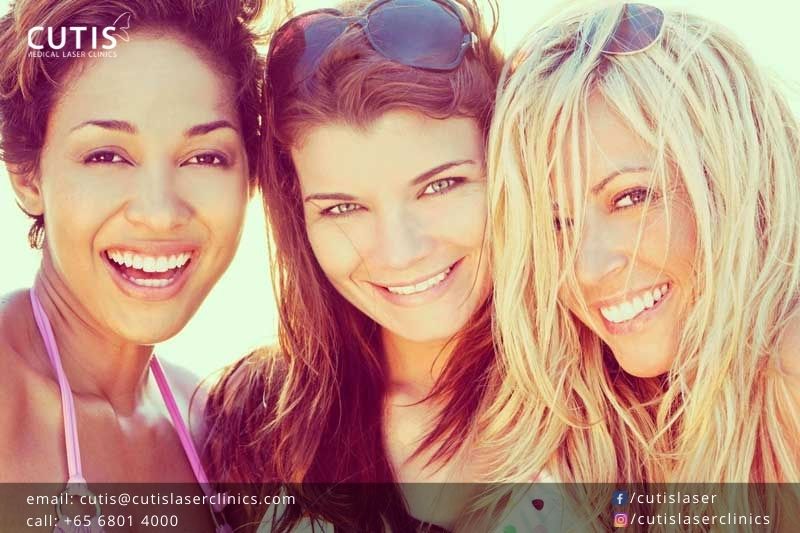 In this special day, we celebrate women in all forms and empower them to be who they want and strive to be. We acknowledge their desire to look and feel their best and understand that this can sometimes involve a little help. This is why we share a list of aesthetic procedures that can help you feel confident in your own skin. 
1. Intimate area rejuvenation with Ultra Femme 360 
Aging, childbirth, and many other life changes can affect the way your intimate area looks and feels. If you're dealing with vaginal laxity and decreased sexual pleasure, Ultra Femme 360 can help. This US FDA-cleared non-invasive procedure heats the vaginal tissues to improve laxity and rejuvenate the area. 
The procedure uses a handheld device that simultaneously delivers safe ultrasound energy and radiofrequency waves. It stimulates new collagen production that can lead to improved elasticity and additional tightening. The procedure can also help with labia remodeling and improving the symptoms of urinary stress incontinence.
Check out the 5 reasons to say yes to vaginal rejuvenation through Ultra Femme 360.  
2. Lighten delicate areas with the Pink Intimate System
If discoloration in your intimate and other delicate areas is making you self-conscious, the Pink Intimate System is worth considering. This painless skin lightening system uses a topical solution with a delicate mixture of safe ingredients. It is designed to lighten and rejuvenate intimate areas with no downtime or side effects.
The Pink Intimate System can be used on different areas of the body such as the underarms, vaginal area, inner thighs, and areola or skin around the nipples. The procedure's recommended protocol is 6 sessions with an interval of 7 to 10 days apart. It is safe, gentle, and painless, and can help regain your confidence. 
3. Facial rejuvenation with injectables
While lines, wrinkles, and folds may be a natural part of aging, they can sometimes betray your age or make you look sad and angry even when you're not. There is no shame in wanting to improve or get rid of them, as well as address other signs of aging. Here are the 3 injectable treatments that can help: 
Botulinum toxin (Botox)

– uses a neurotoxin protein that can soften and relax the wrinkles. It temporarily paralyzes the muscles responsible for lines and wrinkles to reduce their appearance.

Botox

can help treat frown and forehead lines, crow's feet (wrinkles in the corner of the eyes), and smoker's lines It can also be used for jaw slimming and treating excessive sweating. 

Dermal fillers

– are gel-like substances used for restoring volume loss, smoothing lines, and improving facial contours. They can be made from hyaluronic acid (

Juvéderm

) or calcium-based microspheres (

Radiesse

). They improve the skin's supply of the said substance to reduce lines, fill in sunken cheeks, plump the lips, and enhance facial features. 

Profhilo – is a bioremodelling injectable that can improve skin hydration, treat skin laxity, and address other signs of aging. It contains 100% pure hyaluronic acid and bioremodels the skin by stimulating 4 types of collagen, elastin, and adipocytes (fat) stem cells. Profhilo

provides firming, tightening, and lifting effect, and improves the skin's overall integrity. 
Read our previous post to learn about the difference between Botox, fillers, and Profhilo. 
4. Reduce stubborn fat bulges with nonsurgical fat reduction
Some fat bulges around the body are just stubborn and won't budge despite diet and exercise. Whether you're looking to fit into your old clothes again or look much better in your favorite jeans, nonsurgical fat reduction is right for you. We have three non-invasive body slimming procedures that can help achieve your body goals. 
Vanquish

– uses radiofrequency energy to heat and melt fat cells. It is ideal for losing inches off your waistline, abdomen, flanks, thighs, and arms.

CoolSculpting

– uses Cryolipolysis or controlled cooling temperatures to target and destroy fat cells. Common treatment areas include the belly, arms, chest, thighs, and under the chin.

ZLipo

– also uses controlled cooling to cool fat deposits over a longer period of time. It can target fat deposits in the abdomen, waist, hips, arms, chest, and underarms, and reduce them permanently.
5.Create a more youthful look with non-invasive skin lifting and tightening
If loose skin or mild skin laxity bothers you, nonsurgical face lifting procedures can help. At Cutis Medical Laser Clinics, we have 3 non-invasive treatments that can help stimulate collagen growth to help you achieve a refreshed and a more youthful appearance. 
Ultherapy

– heats the deeper layers of the skin using time-tested focused ultrasound energy. It stimulates the production of new collagen that can lift and

tighten skin

, and treat moderate skin laxity. 

Titan Skin Tightening

– uses safe, infrared light to heat the dermis and trigger immediate collagen contraction. New collagen helps

tighten skin

, as well as improve lines, folds, and mild skin laxity. 

Exilis Ultra 360

– delivers radiofrequency and ultrasound energy to promote collagen production. It can help firm mild skin laxity,

tighten skin

, and reduce the appearance of lines and wrinkles. It also features another applicator that can kill fat cells and shrink fat deposits. 
Happy International Women's Day! Celebrate beauty and confidence with us! Contact Cutis Medical Laser Clinics in Singapore today and schedule a consultation with our aesthetic doctor.