Aging causes the skin to naturally lose its elasticity, resulting in loose and saggy skin in different areas of the body. The effects are most prominent on the face, especially on the delicate and thin skin around the eyes. These can cause the eyes to look more tired with the appearance of saggy or droopy eyelids.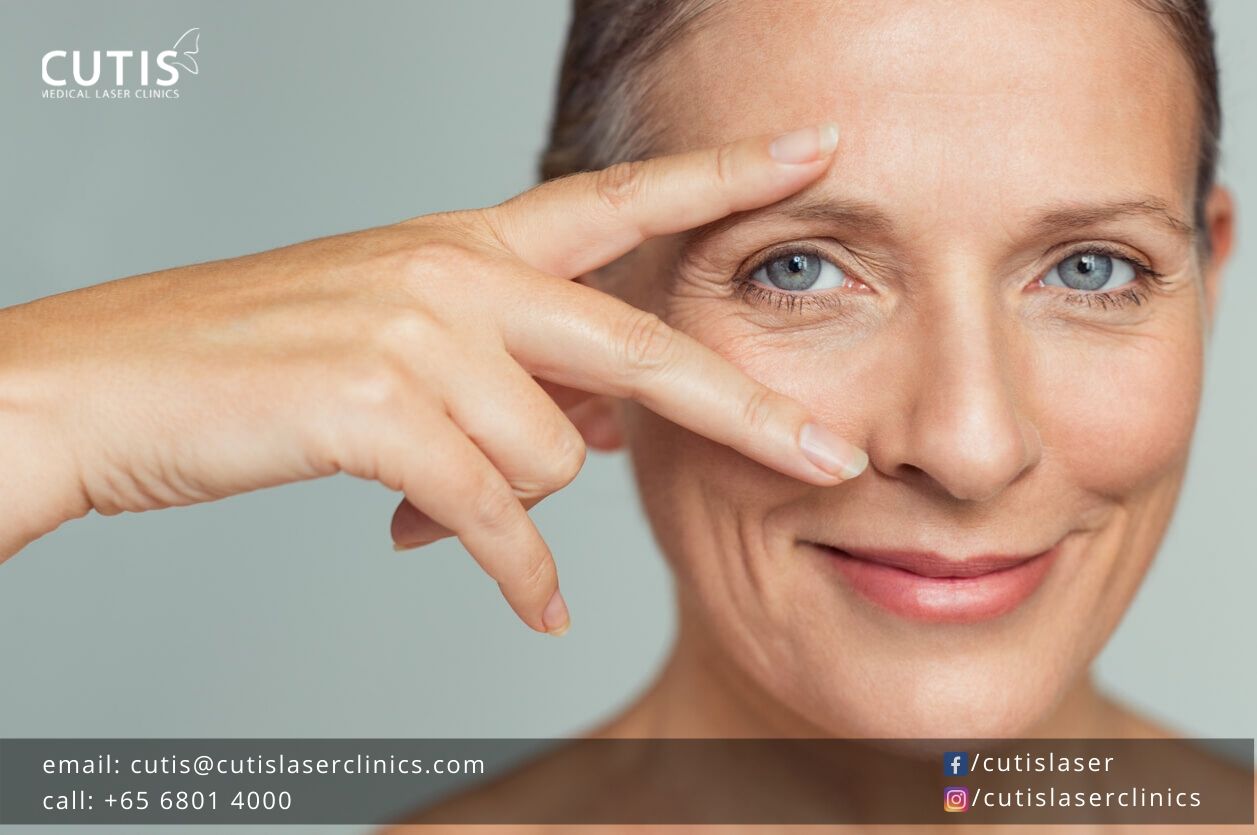 If you too are dealing with saggy eyelids due to aging or starting to notice that yours are becoming droopy, you may be wondering what you can do about them. While surgical brow lift is a common treatment, non- and minimally invasive approaches are available if you're unwilling to go under the knife. 
Ultherapy
This US FDA-cleared procedure offers a nonsurgical approach to face lifting through ultrasound energy. It can tighten and lift the skin on your face, brow, and under the chin. Ultherapy received the European CE mark for non-invasive dermatological sculpting and lifting of the upper and lower face, neck, and décolletage.
How it works: It works by safely delivering ultrasound energy into the skin's deeper layers. This triggers the production of collagen, enabling your skin to achieve a visible yet natural lift over time. It uses your body's regenerative process to gradually lift the skin on the face, including your brows.
Results to expect: You may notice an initial effect after the treatment, but real and significant results show over two to three months. You can see further improvements in the treated area up to six months following the procedure. It is recommended to get touch-up treatments to maintain the youthfulness of the skin.
Take note: While Ultherapy is considered a nonsurgical alternative to facelift, it cannot replicate its effects. It is a good option if you want to lift and tighten your face but are not ready for surgery. Ultherapy can also be used to maintain or extend the effects of a surgical facelift. 
Botulinum Toxin or Botox
This safe anti-wrinkle treatment is commonly used for improving the appearance of lines and wrinkles formed due to muscle contractions. Botox can treat frown lines between the brows, forehead lines, wrinkles around the eyes, as well as smoker's lines or upper lip wrinkles. 
How it works: It works by temporarily blocking the signal from a nerve to a muscle to relax the wrinkles. For lifting the eyebrows, it also relaxes the muscles responsible for the appearance of saggy brows. This offers a natural-looking lift of about one to two millimeters.  
Results to expect: It can take about two weeks to see the full effects of Botox. This can last between three and six months, and longer with repeated or touch-up treatments. You may experience temporary redness, as well as minor bruising at the injection site but this will subside after a couple of days.
Take note: When getting Botox, be sure to consult an experienced injector or aesthetic doctor. At Cutis Laser Clinics, we have qualified injectors like Dr. Sylvia Ramirez, who is an experienced Botox and filler injector for years. Dr. Sylvia is also Harvard-trained and prefers a natural look for patients.
Exilis Ultra
This non-invasive skin tightening procedure uses radiofrequency and ultrasound energies to tighten the skin and promote collagen production. Exilis Ultra can help tone and lift droopy areas around your eyes, as well as treat other areas of the face such as the cheeks, neck, and lower face. 
How it works: It works by safely heating layers of the skin using radiofrequency waves and ultrasound energy. This then promotes collagen production, which is beneficial in skin tightening and improving the appearance of wrinkles. Exilis also features an applicator that can be used for body tightening and contouring.
Results to expect: Some report seeing results after one to two treatments, but significant results appear after four to eight sessions. Keep in mind, however, that this will still depend on your individual profile and severity of concern. A consultation with an aesthetic doctor will let you know how fast you will be able to see results.
Take note: Exilis Ultra has been clinically tested and proven to tighten skin, contour tissue, and target fat deposits. It can improve skin appearance safely with minimal to zero discomfort. You can turn to this procedure for wrinkle and cellulite reduction, skin tightening, and rejuvenation of intimate areas.
Don't let droopy eyelids make you look tired and older than you really are. Contact Cutis Laser Clinics in Singapore today and schedule a consultation with our aesthetic doctors to find out which procedure is suitable for you.