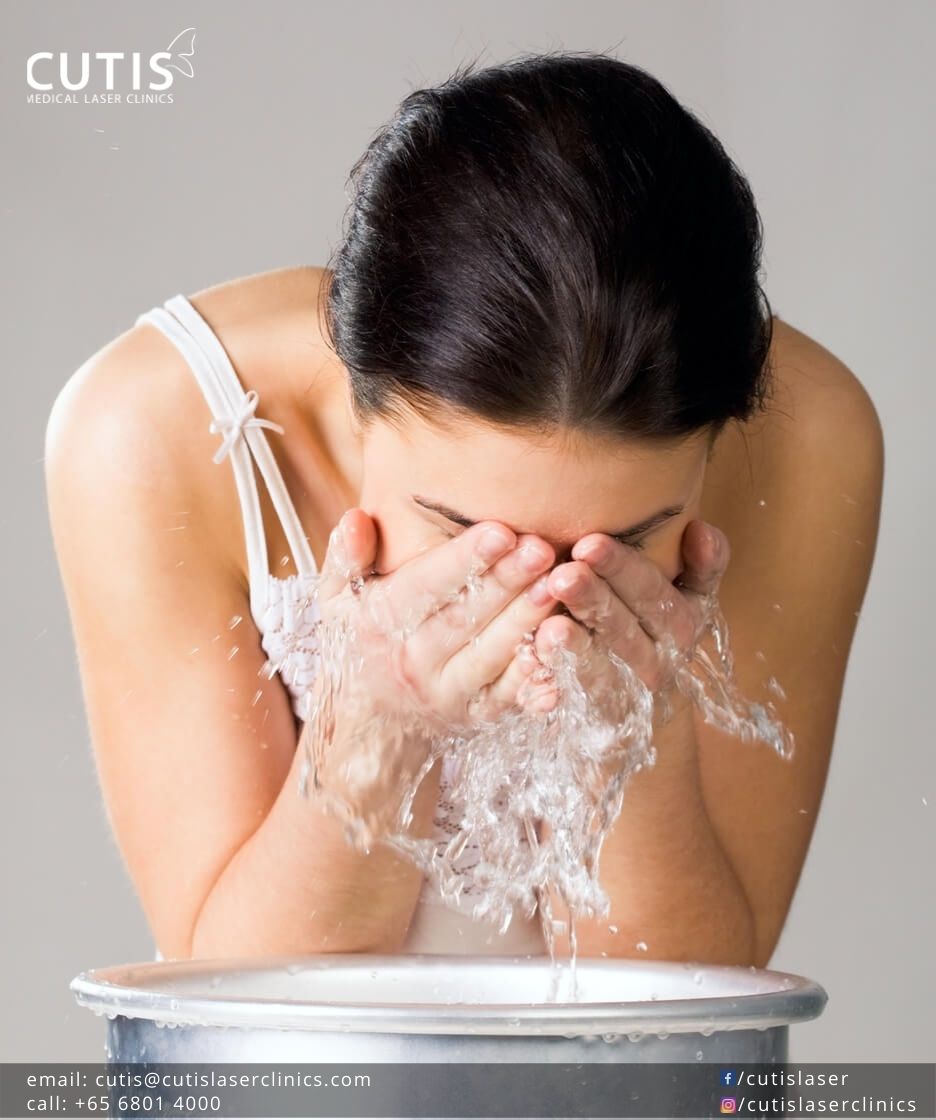 While squeaky clean should be the aim for your car, dishes, and kitchen floor, it should not be the goals for your face. In fact, the last thing you'd want is an over cleansed face or a squeaky skin. Attempting to get that "squeaky-clean feeling" can do more harm than good, resulting in irritation and dry patches.
Extreme cleansing habits in an attempt to feel squeaky clean can: 
Strip away essential oils

– These oils are necessary to keep your skin balanced and healthy.

Disturb the skin's barrier

– Damaged natural barriers can trigger irritation, dryness, and other skin disorders.

Leave the skin feeling dry and tight

– Dryness and tightness can make your skin look dull and accentuate signs of aging like lines and wrinkles. 
Washing or cleansing should never make your face dry, red, flaky or itchy. If your skin feels like this most of the time, you need to look into your cleansing habits or change the products you are using.
Here are the things that can cause a squeaky-clean feeling on your face:
Over washing

–

Washing your face

several times can only irritate your skin and lead to more breakouts. It can damage the protective barrier of your skin and accelerate aging. It is best to wash your face at least twice a day (morning and night) and after a sweat session. Use a gentle

facial cleanser

that is right for your skin type.

Over-exfoliating

– Although exfoliation is beneficial for improving skin tone, overdoing it can lead to skin damage and irritation. It can over dry your skin, which will then prompt the sebaceous gland to produce more oil to overcompensate for the dryness. Once or twice a week is good and be sure to avoid rough/abrasive products when exfoliating.

Abusing harsh products or ingredients

– Skin care products with active ingredients like benzoyl peroxide and salicylic acid are effective in fighting acne. This doesn't mean, however, that using the products frequently or applying more of them on your face can lead to best results. Moderation is still the key. Follow the instructions on the label or as advised by your dermatologist. 
The right approach in cleansing your face
Don't ever use regular soap. It is advisable to use a gentle cleanser that can remove dirt and bacteria without leaving your skin feeling dry and tight. Here are some product recommendations from Dr. Sylvia Skin Care line:
Gentle Milk Cleanser

– Its creamy consistency and milky texture is effective at removing dirt, oil, and impurities. It gently cleanses the skin without stripping off moisture, making it suitable for those with dry, irritated, and sensitive skin. This

Gentle Milk Cleanser

is also fragrance-free and contains replenishing emollients for relieving dryness and irritation. 

Deep Cleanser with AHA

– Ideal for oily and problematic skin, this cleanser has a deep pore penetrating power that can leave your face feeling clean and refreshed. It has 10% Glycolic Acid (AHA) that can reach deep into the skin to remove excess oil and exfoliate dead skin cells.

Deep Cleanser with AHA

is also rich in moisturizing, soothing and antioxidant ingredients.

Perfecting Cleanser with Rose Hip Seed

– This cleanser uses natural oils and extracts to thoroughly cleanse the skin. It is suitable for all skin types, delivering nourishing vitamins in an invigorating wash. Our

Perfecting Cleanser

is also formulated to balance your skin's natural pH level while also leaving a soft and supple appearance. 
After cleansing, use a toner and moisturize afterwards. Choose a product that is right for your skin type and look for those with humectants like hyaluronic acid. Also, avoid formulas with dyes, alcohol, synthetic fragrances, and other harsh chemicals. Read our previous post for ways to get the most out of your moisturizer. 
Looking for more skin care tips and product/treatment recommendations? Browse through our website today or contact Cutis Medical Laser Clinics in Singapore to learn which aesthetic treatments can address your skin concerns.