Skin aging and dehydration are often correlated. Aging causes the skin to become thinner, making it susceptible to dehydration. Dehydrated skin, meanwhile, weakens the defenses of the skin, resulting in irritation and premature aging. It can also make existing lines more prominent and the skin more prone to sensitivity.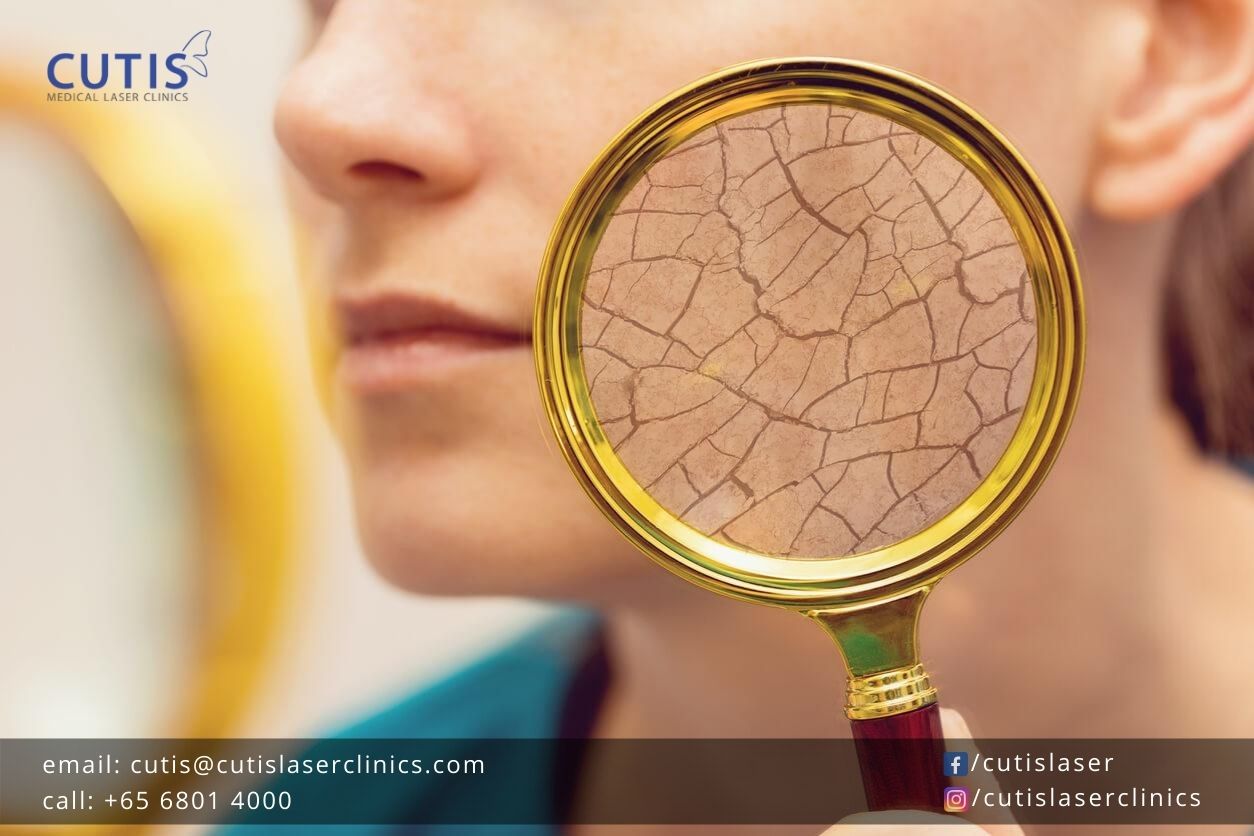 When the skin is dehydrated, it causes your complexion to look tired with a feeling of rough texture. Common symptoms include loss of plumpness, dull and tired-looking skin, and visible fine lines. Do take note, however, that this is different from dry skin, with signs like flakiness, itchiness, and a feeling of tightness. 
If you believe you have dehydrated skin, it is only important to rehydrate it. You can start with proper skin care habits, which include cleansing and moisturizing the skin daily, and exfoliating once or twice a week. A good skin care regimen and the use of quality skin care products can help make your skin healthier.
Here a few other things on dealing with aging or dehydrated skin:
Try our Multi Peptide Essence
This contains a complex of powerful peptides that can help fight the visible signs of aging. Multi Peptide Essence also contains a combination of hyaluronic acid and seaweed extract to help ensure the maximum delivery of peptides. This also offers hydration to plump the appearance of lines and wrinkles. 
Hydrates and nourishes the skin

Improves the appearance of lines and wrinkles

Smooths, firms, and plumps the look of the skin

Improves the appearance of elasticity
Consider Volite skin booster
Volite is an innovative injectable made with hyaluronic acid or HA. When delivered into the skin, the HA in Volite combines with the water in the skin to improve elasticity and help remove fine lines. Studies suggest that its results can last up to nine months and offer significant improvement in skin's quality for up to six months. 
You can turn to Juvederm Volite for:
Hydrating crepey skin

Reducing scaly, rough texture

Evening out skin depressions
Volite also stimulates the body's own natural collagen to improve skin quality. This skin booster can be used on face, neck, hands, and décolletage.
Eat nutrient rich foods
Foods rich in essential vitamins and minerals can benefit your whole body and skin. This is especially true for those high in omega-3 fatty acids like salmon and mackerel. Other nutrient-rich foods include leafy greens, whole grains, nuts, and citrus fruits. You should also limit your consumption of sugary, fatty, and processed foods. 
Use a moisturizer with hyaluronic acid
One good recommendation is Dr. Sylvia's Deep Hydrating Moisturizer. This strengthens and rehydrates the skin without the use of oil-based ingredients. It has seaweed extract with hyaluronic acid, providing the skin superior levels of hydration. Moreover, this moisturizer offers water-locking benefits and enhances skin protection. 
Manage stress
Too much stress can wreak havoc on your skin, causing dullness, dehydration, and more breakouts. This can also cause you to fall into bad habits like unhealthy eating and less sleep, with effects that can show up on your skin. This only makes it important to find ways to manage stress. Some of  the things that can help include: 
Exercising daily

Trying breathing exercises or relaxation techniques

Taking a break from demanding tasks or work

Getting support or expert help
Don't hesitate to consult a skin or aesthetic doctor to properly address aging or dehydrated skin. Contact Cutis Medical Laser Clinics in Singapore today and schedule a consultation with our aesthetic doctor for product and treatment recommendations that can deal with your skin concerns.