With the coronavirus pandemic requiring us to stay home most of the time, it is easy for healthy habits to fall by the wayside. And as many of us seek comfort in food, being closer to the fridge doesn't help much. It only makes it tempting to reach for snacks while working or binge watching.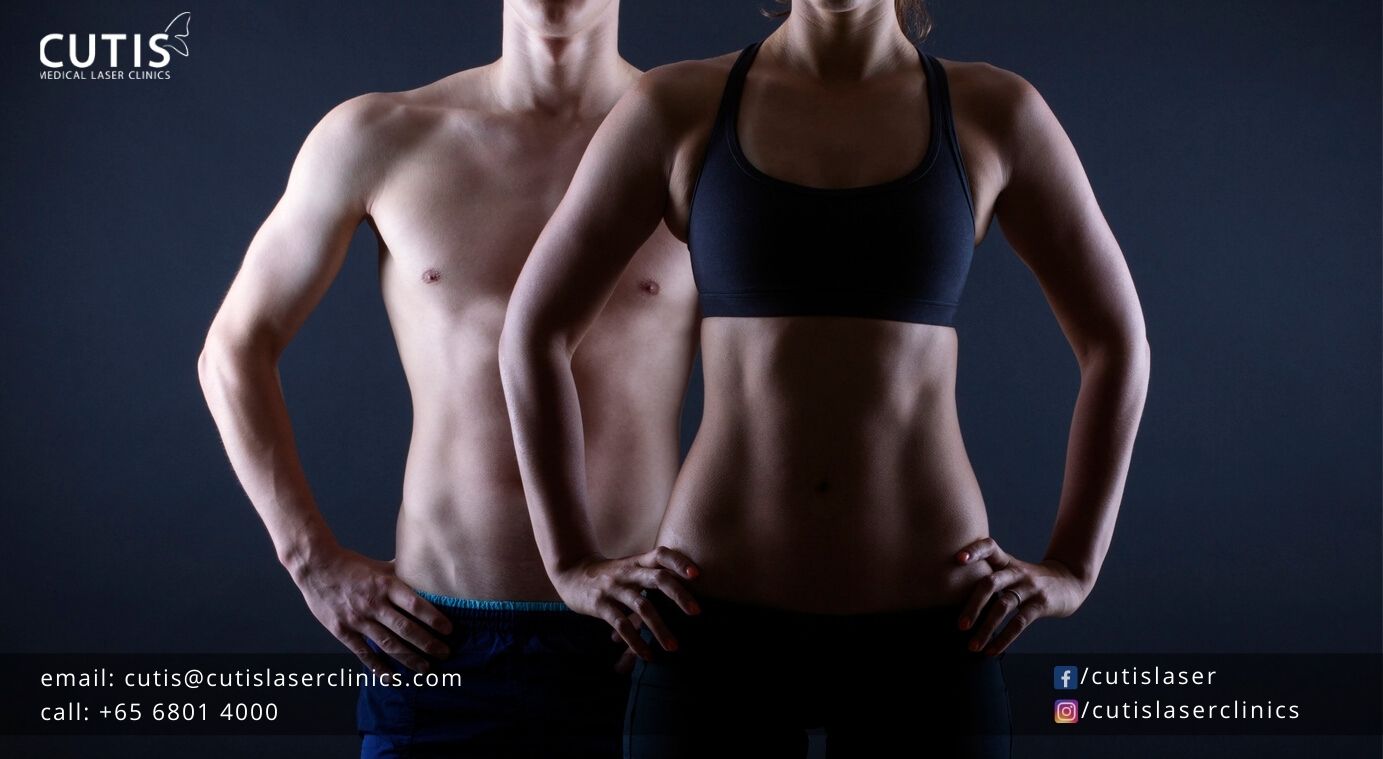 Having access to snacks 24/7 is not the only one to blame for your quarantine weight gain. The mandatory quarantine/circuit breaker, lack of physical activity, and combined feelings of worry and stress all contribute to the problem. Closed gyms and fitness centers may also disrupt our exercise routine or discourage our efforts to stay active.
Regularly working out at home and eating healthy can go a long way in combatting weight gain and getting back in shape. The same is also true for undergoing non-invasive procedures that can shape and contour the body. Here at Cutis Laser Clinics, we have innovative Zimmer Z devices/ treatments to help you lose that extra fat.
Here are your nonsurgical options for body shaping and toning:
Z Lipo
Z Lipo uses Cryolipolysis or fat freezing to target fat bulges and kill fat cells permanently. It works by using a handpiece that suctions in fat deposits in different areas of the body. It has a strong vacuum pressure and pulsed vacuum suctioning that enables the device to draw a good amount of fat. 
The fat freezing device's cooling panels emit the optimal amount of temperature to freeze the fat cells to the point of natural elimination. Treated fat cells will be naturally removed through the lymphatic system over a period of 10 to 12 weeks. You may be able to see results from the first session, but it is advisable to wait about 8 to 12 weeks. 
ZField Dual
ZField Dual is a CE-cleared body shaping device that uses high frequency electromagnetic energy. This stimulates muscle contractions in the treated area, toning and sculpting your body without breaking a sweat. It also strengthens muscle fibers, resulting in muscle conditioning and a more toned body appearance.
The device has two applicators that can be used for simultaneously stimulating two opposing sections of muscles (like the buttocks). The use of one applicator, like in the abdomen for instance, is also possible. A fixing belt is used to attach the applicators to the body.
If you have flabby areas, ZField Dual can tone them. It can sculpt your abdomen and give you a 30-minute ab treatment that is equivalent to thousands of sit-ups. It can also lift and tone your buttocks non-invasively and help you burn fat without intense workouts. 
Z Wave
Z Wave is an acoustic shockwave therapy device designed to break down soft tissues for faster fat reduction. It can also improve the appearance of skin dimpling and stimulate collagen production. Z Wave uses radial shockwaves to achieve not just cellulite reduction, but also skin tightening and fat breakdown. 
After about four sessions of Z Wave shockwave therapy, you may be able to see changes in your skin's appearance. Do take note, however, that you need about eight to 12 sessions to complete the treatment. You can also combine Z Lipo and Z Wave for rapid fat reduction, firmer skin, and less cellulite appearance. 
Combining Z Lipo with Z Wave, according to clinical studies, resulted in a more rapid fat reduction. The acoustic shockwave procedure works well with fat freezing procedure as it helps break down frozen fat cells. This results in faster fat elimination and improvement of the skin texture.  
To learn more about these treatments or to schedule a complimentary body assessment, contact Cutis Laser Clinics in Singapore today and book a consultation with our Harvard-trained aesthetic doctor, Dr. Sylvia Ramirez.