The face is undoubtedly the focus of many a skin care routines. As a result, the neck and chest area often belies a woman's true age. But you don't have to cover up aging skin in these areas anymore with fancy distractions.
And if the wrinkles start to show? With non-invasive treatment options like Ulthera and Titan available to those who wish to show off more skin below the jawline, turtlenecks and scarves are going to be unfashionable things of the past.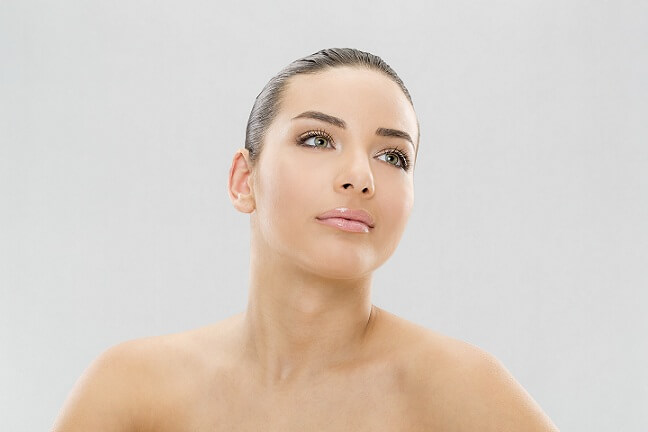 Laser clinics in Singapore and around the world have performed Ulthera hundreds of thousands of times, and have enjoyed a high safety and efficacy profile. Ulthera is an FDA-approved treatment using ultrasound therapy to lift and tone sagging skin on the brows, chin, neck and décolletage.
Titan, on the other hand, uses infrared light to stimulate collagen production to achieve the same skin tightening effects as Ulthera. Titan is FDA-approved for dermal heating so you can treat lax skin not just on your face, neck and chest, but also on your upper arms, abdomen, thighs, and buttocks. And the good news? Both treatments are non-surgical, so you can return to work and other activities right after the treatment.
For immediate lifting of really saggy skin in the neck, a thread lift procedure performed by an aesthetic doctor in Scotts Road, Singapore, may be more suitable. Silhouette Soft is a minimally invasive mini facelift that uses sutures inserted into the skin not just to lift but to restore shape. And because Silhouette Soft is an absorbable thread lift, the sutures remain in place and trigger the body's natural response to injury (which is to produce more collagen), lifting the area even more over time.
So dust off your low neckline or off-shoulder dress! You can even prolong the results of the above-named treatments by observing a few preventive and skin rejuvenation measures to make your neck and chest area look as youthful as long as possible.
Only the face often sees exfoliants, but sloughing away the layer of dead skin cells works well for the neck and chest area, too. Exfoliation allows active ingredients of skin care products to be absorbed faster so they could work wonders on the skin.
If you are a woman, you should have no more than two drinks a week, at least if you want to look youthful from the face down. Alcohol drinkers often have poor eating habits, and the effects extend not just to the liver but also to the skin because nutrients necessary for skin repair and optimum health is often bypassed in favor of fatty, fried and sugary foods.
Dermatitis, or scaling and dryness of the skin, is a major symptom of essential fatty acid deficiency. Essential fatty acids are an important type of polyunsaturated fats. This type fat is crucial to maintain the skin's natural oil barrier, which in turn is critical in keeping the skin well-hydrated, plumper and younger looking.
Unsaturated fats can both be derived from plants and animals. Plant-based sources include walnuts, almonds, cashews, peanuts, sunflower, pumpkin and sesame seeds, flaxseed, soymilk and tofu, while animal-based sources are fatty fish like salmon, tuna, herring, mackerel, sardines and trout.
As it is with hands, the neck and chest area giveaway a woman's true age, and most women hide this fact with fancy scarves or turtlenecks. There's no need to if you apply the same level of skin care diligence to your submentum (below the chin) skin as you do with your face. Unfortunately, the skin below the jawline often gets neglected when it's time to slather sunblock. If nothing else, sunblock is one of the best anti aging weapons you could ever have.
Why? Because over time, the effects of negligence accumulate, and show up as crepey skin, brown or ashen discoloration, and wrinkles. You still can prevent further accumulation of sun damage by applying your neck and chest area with a broad-spectrum, SPF 30 sunscreen daily, whether it's sunny or overcast.
Smoking deprives your skin with oxygen and other nutrients (such as Vitamin C for collagenesis), and the more than 4,000 chemicals found in tobacco are enough to trigger the destruction of collagen and elastin, the building blocks of the skin that are central to its firmness and elasticity. The consequence: deeper wrinkles, and sagging skin. And because vitamin C, essential not just for collagen regeneration but also for photoprotection against UV damage, also gets depleted, the skin is prone to developing age spots and other types of hyperpigmentation that leave the skin looking blotchier and more aged than normal.
The easiest way to develop wrinkles on your face, neck and chest area, and anywhere else in the body, is to eat sugar regularly. With more sugar than the bloodstream can handle, excess sugar attaches to proteins, leaving protein fibers stiff and malformed. Because the skin's building blocks are made of protein, expect that too much sugar will show on your face and other susceptible areas as deep wrinkles, sagginess and loss of radiance.
Adopt a basic skin care routine
There's no reason why your skin care routine for your face won't work as well for your skin below the jawline. After cleansing, toning and exfoliating, moisturizing is an important element of basic skin care because it provides the necessary hydration that the skin requires for it to repair itself. If nothing else, moisturizing your neck and chest area goes a long way in staving off wrinkling and dryness, two of the most visible signs and aging skin.