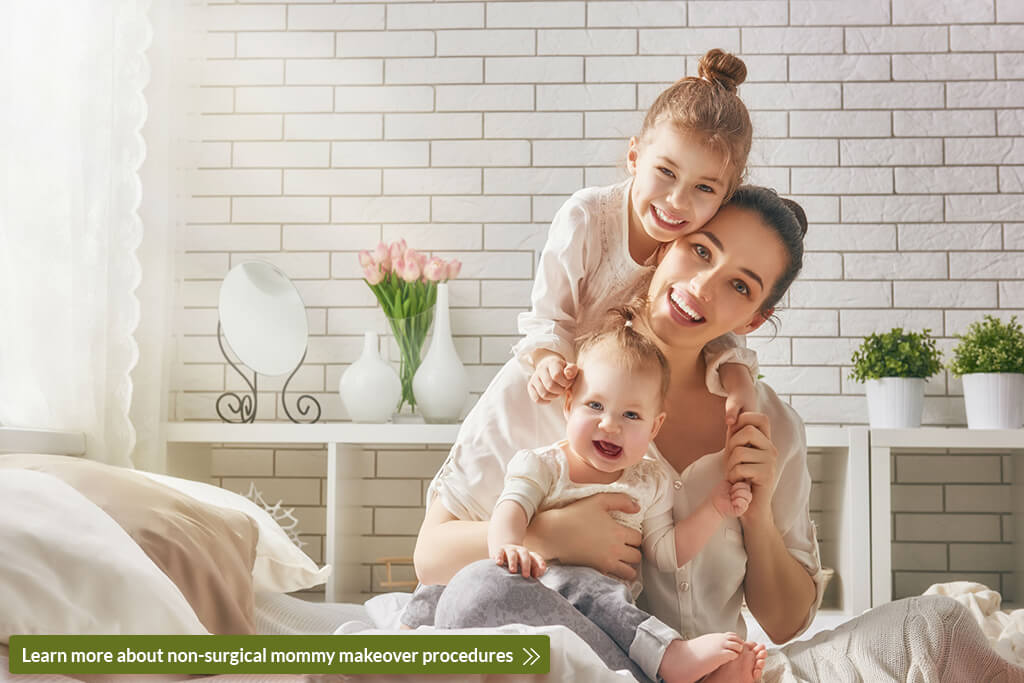 Being a mom is a lot of work. Most busy moms nowadays, don't have the time to care for themselves as they should.
But being able to look and feel great about yourself and your life can actually help you become a great mom. So if there is something about yourself that you want to improve without doing anything drastic, consider a non-surgical mommy makeover.
The term mommy 'makeover' is used to rejuvenate and restore the youthfulness, shape and appearance of a woman before her childbearing years. While it usually involves surgical procedures, there are also non-surgical options available.
If you're ready to give yourself a little TLC, learn more about these non-surgical mommy makeover procedures for a head-to-toe transformation.
1. Injectable Wrinkle Treatment
Both Botulinum Toxin (or more commonly known as Botox) and dermal fillers are safe injectables that can help mommies look more refreshed and youthful without surgery or downtime.
Botox is the brand name of a botulinum neurotoxin that has been approved by the FDA to treat wrinkles. A Botox injection works by temporarily blocking the signal from a nerve to a muscle so that the muscle that causes wrinkle formation can relax and soften. Botox works to treat lines on the forehead, corners of the eyes and in between the brows.
The dosage (units) is different per person as it will depend on the strength of your muscle.  The full results of a Botox treatment will be seen after two weeks.
Dermal fillers, on the other hand, can be used to "fill-in" fine lines and wrinkles using a safe substance that can also be found in our skin such as hyaluronic acid. Dermal fillers such as Juvederm can help moms to reduce facial lines, improve eye bags also known as "tear troughs", restore a naturally curved facial contour with a sharper jawline, and resulting in a more rested, youthful look immediately.
To make the treatment more comfortable for patients, numbing cream can be applied to the areas. Common side effects may include redness and bruising on the treated areas which will then subside after a few days.
Make sure to consult an experienced aesthetic doctor who has a long track record of proving natural results. Injectable treatments such as Botox and fillers require not just an advanced injection technique but also has a good 'eye' to provide a natural improvement to your overall appearance.
2. Exilis Ultra Radiofrequency Skin Tightening
BTL Exilis Ultra is another non-invasive skin procedure that can offer jaw-dropping results for moms who want a less invasive approach.
Exilis skin tightening uses Energy Flow Control (EFC) to combine ultrasound and radio frequency technologies to tighten loose skin on the face and body. As the amount of energy is focused on a specific area, the procedure is deemed safe and highly effective by the US FDA.
What makes Exilis Ultra unique is that it is built-in with two applicators to address concerns for the face and body. During the procedure, Exilis Ultra's smaller handpiece safely emits heat energy to treat saggy skin on the forehead, eyelids, midface and other small areas. The heat energy causes the collagen to contract which results to a tighter and firmer skin.
On the other hand, the bigger handpiece is used to treat the body using safe heat energy that goes in deeper into the skin to target fat. The same handpiece comes with a cooling technology to maintain comfort during the procedure.
The heat from the device causes fat cells to die naturally and these dead fat cells are then flushed from your system over time. Exilis can be used on a wide range of areas, such as the neck, abdomen, arms, legs, thighs, hands, knees, buttock, ankles, jowls, and more.
3. Ultherapy Non-Invasive Facelift
For moms who are looking for a "facelift" but not keen to go under the knife, then Ultherapy would be a very good option.
Ultherapy is known as the non-invasive facelift using FDA cleared ultrasound technology that gently lifts skin under the chin, on the eyebrows, and on the neck. It can also be used to smoothen out fine lines and wrinkles on the décolletage or chest area.
The Ultherapy procedure stimulates collagen production by delivering focused ultrasound energy to the skin's foundational layer typically addressed in cosmetic surgery-without cutting or disrupting the surface of the skin.
Some patients see an initial effect right after their treatment, but the real and significant results appear over two to three months as new collagen works over time to lift and tighten skin. Each treatment takes about 60 to 90 minutes while the chest treatment takes about 30.
4. Vanquish ME Non-Invasive Fat Reduction for the Belly
The BTL Vanquish ME procedure is another great option for moms who want to lose excess inches off their waistline and restore their firm belly.
Vanquish ME is the only contactless radio frequency technology that targets the abdomen area in a single session. The safe fat removal treatment works by emitting US FDA cleared radiofrequency energy to heat fat cells and triggers the natural process of cell death (apoptosis). This results in the shrinkage and elimination of fatty cells over time which is then metabolized by the body.
The procedure lasts for at least an hour and the sensation feels like a warm heating pad on your belly. Most patient report that Vanquish is a very tolerable treatment. At least four to eight sessions done weekly are recommended to see dramatic results.
5. Cryolipolysis Fat Freezing for Pockets of Fat
For mommies out there that needs spot fat reduction in the double chin, flanks and thighs, then Cryolipolysis is a procedure to consider.
Cryolipolysis is a popular fat freeze procedure that uses cooling technology to target fat cells to the point of elimination. The two popular devices in the market are better known as CoolSculpting and Z Lipo.
The goal of Cryolipolysis is to spot-treat the pockets of fat that are resistant to diet and exercise. Exposure to cooling destroys the fat cells and begins a process of natural removal in the patient's body, which gradually reduces the thickness of the fat layer.
The treatment may last several hours depending on the number of areas to be treated. The procedure itself will feel very cold with slight tugging as the procedure uses different types of suctioning handpiece. The common side effects include tingling sensation, bruising and redness of the treatment area.
6. Ultra Femme 360
In just eight short minutes many moms can now achieve a more satisfying intimate life through a non-invasive procedure known as Ultra Femme 360. This women's health procedure offers the fastest radiofrequency treatment on the market.
The Ultra Femme 360° is a US FDA-cleared procedure that safely treats women's intimate health issues such as vaginal laxity, which results from over stretching the vaginal introital (opening) tissue during childbirth or experience vaginal laxity as part of the natural aging process.
As a result of this tissue damage, many mothers can experience a decrease in sexual satisfaction and physical sensation during intercourse, which may adversely impact their sexual health and quality of life.
Using radiofrequency waves and ultrasound energy, the therapy is completely non-invasive and virtually painless. Furthermore, Ultra Femme is also clinically-proven for vaginal tightening, labia remodeling and improvement of urinary incontinence. The majority of patients report little to no discomfort following the procedure.
Saggy skin, fat buges, or wrinkles around your eyes? All of these problems can be treated without surgery by our aesthetic doctor in Singapore, Dr. Sylvia Ramirez.
If you're ready to start your mommy makeover, our skin specialist in Singapore is ready for your call. Contact Cutis Laser Clinics today to know which treatments are suitable for you.
Tags: Wrinkles Treatment, Skin Tightening, Fat Reduction, Vaginal Laxity, Botox, Dermal Fillers, BTL Exilis Ultra, Ultherapy, Vanquish ME, Ultra Femme 360, CoolSculpting