That elusive fountain of youth is well within our reach nowadays, if we are willing to invest in time, money and patience in cutting-edge anti aging skin care treatment that makes looking old at 40 a thing of the past.
Diet, exercise and a clean lifestyle coupled with skin rejuvenation technology make it possible to put the best version of ourselves forward whatever our actual age is.
Here are the top 5 secrets to looking younger: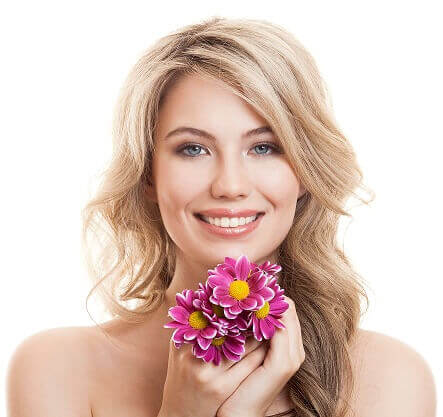 1. Use a light liquid foundation to cover up your wrinkles (or remove them with Botulinum Toxin (or more commonly known as Botox)).
Avoid using thick foundation to cover up your creases. It'll just fall into the cracks and call attention to your wrinkles all the more. One way to cover it up is to use moisturizer at the base, followed by a primer, and topped by a light liquid foundation.
Another way is to completely remove your wrinkles and Botox is an effective option to consider. The result of this forehead wrinkles treatment smoothes wrinkles and gives a relaxed look. The effect is temporary, lasting from 3 to 6 months, but you will have fewer crow's feet to conceal.
Botox is injected into the forehead vertical lines and crow's feet to prevent nerves from making a muscle contract. It's crucial to have a fully trained Botox doctor do the treatment to achieve a subtle look that allows your natural facial expressions to come out.
Getting Botox well before deep wrinkles develop is as preventive as putting on sunblock whether the sun is out or not.
2. Say it with your eyes.
The eyes are not just windows to your soul, they are windows to your health, too. If you just pulled an all-nighter at work, your dark under eyes will show it; if you just had one too many alcohol, your eye bags will reveal it.
In fact, your true age can easily be betrayed by those droopy eyebrows and eyelids that slowly give way to gravity. If you are handy with an eyeliner, you can draw attention away from your eyelid and toward your actual eye.
Start with a thin streak where the lashes begin, and trace it from top to bottom. A soft shade using a light touch when applying eye shadow will create an illusion of thicker lashes and eyes more alive.
If the hollows under your eyes can't be concealed by makeup, consider facial fillers for under eyes treatment. Many filler doctor in Singapore use Juvederm or Restylane to volumize tear troughs and wipe away that tired and exhausted look.
Facial fillers can be reversed if the results are not to your satisfaction. As for the droopy eyebrow, it can be lifted non-surgically by using Ultherapy, an FDA-approved skin tightening in Singapore to lift the eyebrow area using ultrasound technology.
Once the eyebrows are lifted, you will have a more refreshed and younger look and a better framed face.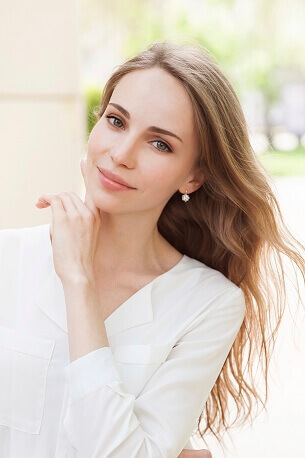 3. Plump up those lips.
One of the unmistakable signs of years catching up on us is thinning lips. Coupled with "smoker lines" (vertical creases around your lips), thinning lips can be a real lowlight to your other prominent features. You can remake pouty lips with cosmetics, or you can have lip fillers to address lost volume or redefine your cupid's bow in a subtle way. With its bigger particles, Perlane is ideal as a lip filler, which provides immediate results.
Or you can also paint in full and luscious lips with foundation as your base, followed by lining the lips on the outside, and filling in the contours with pencil. To achieve a plumper look, use a lipstick brush to evenly spread out the pigment. Choose a saturated but not overly bright color.
4. Firm up your jowls (and other areas of laxity)
A crisp jawline is the hallmark of youth, so you'll have to delay the effect of gravity on your chin if you want to look pulled together. There is no way to exercise the jawline back into their former shape (regardless of how many facial exercises you see on the Internet), so if you have started to develop jowls, you will have to lose weight overall so some of the fat will come off your face.
If you are already lean but you want removal of double chin before they become full-blown "turkey neck," then a skin tightening treatment like Ultherapy and Titan might help address these areas of laxity without going under the knife.
Using FDA-approved infrared technology to push heat deep into the dermis, Ultherapy is a non surgical facelift that stimulates the production of fibroblasts, which are a mesh of extracellular matrix and collagen that provide the structural framework for the tissues.
Like Ultherapy, Titan is also FDA-approved for use on the neck. If you want to address droopy eyelids and jowls as well as sagging cheeks (and even sagging skin in the belly), Titan is best employed to treat these areas while Ultherapy can take care of the decolletage lines and wrinkles.
5. Refill lost volume.
In aesthetic laser clinic in Singapore, Titan is used in combination with dermal fillers to volumize sunken cheeks and fill in nasolabial folds and "marionette lines." Of course, you can eat your way to plump skin by choosing foods high in omega-3 and other essential fatty acids, but that can take time. If you are looking for immediate results with little to no downtime, dermal fillers offer quick yet natural-looking results, while a collagen treatment like Titan provides long-lasting results without requiring lengthy recovery time.
Save
Save
Save
Save