Dermal fillers are a fast and efficient way to reverse the signs of aging by eliminating wrinkles, enhancing the lips, and replacing volume loss in the face. However, there are many misunderstandings surrounding these popular anti-aging treatments.
It's important to fully understand what dermal fillers are and what results you can realistically achieve before making the decision. Before getting facial fillers, here are a few things you should know.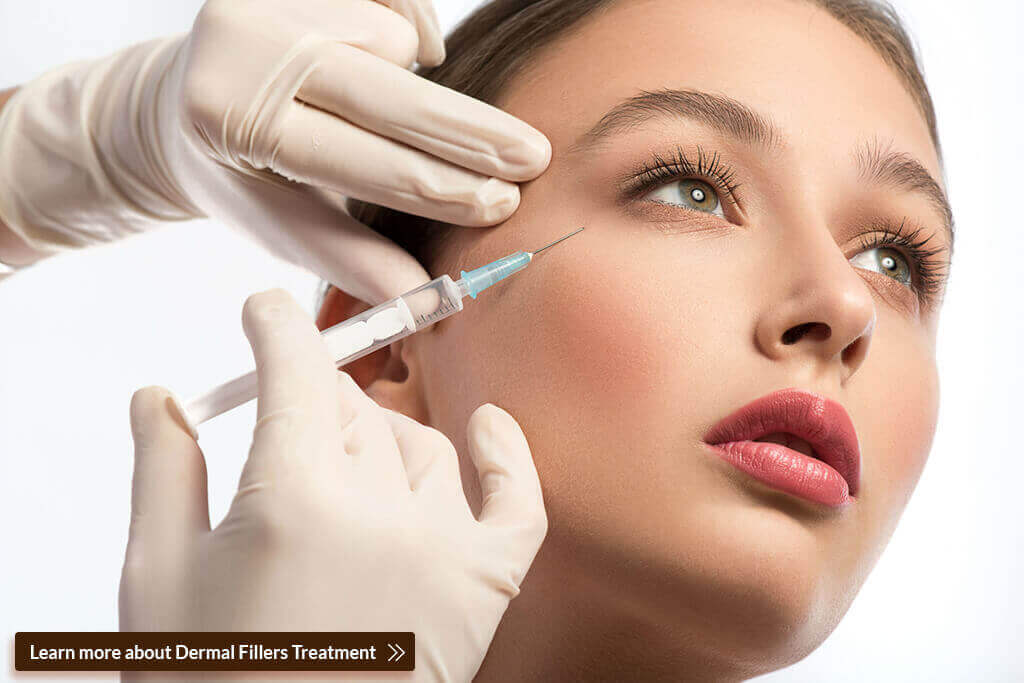 1. Fillers and Botulinum Toxin (or more commonly known as Botox) Are Not the Same
When it comes to aging skin, there are many non-invasive treatments available. Botox and dermal fillers are s ome of the most popular options. While they can provide some of the same results in terms of making you look refreshed, Botox and fillers are very different. In fact, the only real similarity is that both treatments are delivered via syringe.  
Botox is a FDA-cleared wrinkle treatment that works by relaxing the muscles responsible for creating wrinkles through muscle contractions – normally because of constant facial expressions. When the muscle is relaxed, it causes the wrinkles to smooth out. Botox works best for lines in the forehead, in between the brows and in the corners of the eyes.
On the other hand, Dermal fillers work by injecting a gel substance under the skin which essentially fills in fine lines, nasolabial folds and sunken cheeks as well as it can remove eye bags and dark eye circles. The gel substance used are commonly hyaluronic acid or calcium which are similar substances found in our bodies which makes them safe.
The results of these two treatments also vary. Botox can take at least two weeks to kick in while the results of fillers can be seen immediately. Botox may lasts from 3-6 months whereas fillers may last from 9-18 months depending on the type of filler used.
2. There are Different Types of Filler
It's important to understand that not all fillers are the same. Some fillers provide temporary results while some can be permanent.
It's very important to undergo special consideration before moving forward with permanent fillers. Since the filler is permanent, it cannot be reversed if the outcome is not what you expect. The most common types of permanent fillers include Bellafill, silicone, and the transfer of natural fat from other areas of the body.
Temporary dermal fillers are the most popular type with option such as Juvederm. The results of these filler injections can last several months before you need to undergo more applications. If you discontinue having your filler treatment, the area will gradually go back to normal once the filler is completely absorbed by your skin.
3. Dermal Fillers Can Be Reversed
Injecting a dermal filler in not only science but also an art. The aesthetic doctor's own view of beauty and aesthetic makes a difference in the manner in which fillers are injected. These are the kind of treatments where patients must become most selective with the treating aesthetic doctor.
If you fail to consult an experienced aesthetic doctor in Singapore, you may find that you're not completely satisfied with the results. Fortunately, it is possible to 'un do' your filler.
Hyaluronic acid fillers, such as Restylane and Juvederm, may be partially or fully removed using a safe enzyme known as hyaluronidase. When this enzyme is injected into the treated area, it dissolves the hyaluronic acid so it will be absorbed by the skin.
Hyaluronidase can be used to correct a wide range of issues, such as overfilling, prolonged swelling, infection in the treatment area, irregular texture, or any other dissatisfying result.
But if the problem is simply lumps or slight asymmetry, massaging the area with the proper technique can also help remedy the problem.
Contact the Cutis Laser Clinics
When administered by a professional and certified aesthetic doctor, dermal fillers can offer natural-looking results. It is important to be subtle, and to do gradual steps in improving your overall appearance so that you will still look like yourself but only fresher and more youthful.
For more information about dermal fillers or to schedule an appointment, contact Cutis Laser Clinics in Singapore today.
Tags: Aesthetic Doctor, Wrinkles Treatment, Botox, Dermal Fillers