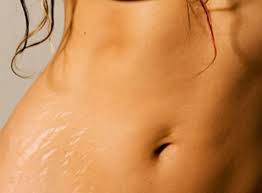 There is no need to stretch your worry for stretch marks! Without doing the surgery, you can easily find impressive solutions to reduce the visibility of stretch marks on buttocks, tummy, arms, thighs, or other areas. Scroll down to know how:
Get an appointment for laser treatment: Make a visit to aesthetic Laser Clinic and consult the doctor for laser treatment for stretch marks removal. With laser treatment like TriLipo™ Technology, one can see effective results in visibility of marks and unwanted fat deposits.
Stretchmark removal cream, gels & lotions: There are stretchmark removal cream, gels & lotions in the market. But before you pick up any product, look out for components like Aloe Vera, Jojoba Oil, Cocoa Butter, and alpha Hydroxy Acid. You may consult the dermatologist before using the creams, to make sure there will not be any side effect of it.
Exfoliate to treat stretch marks: Exfoliation is an effective way to treat stretch marks. It is easy to fade away the marks slowly & gradually by exfoliating the skin. And yes, you do not have to go to spa or saloon for this, as you can do this at home by using oatmeal, baking soda, and tea tree oil.
Proper massage: If you see visible marks on the skin, then massage can also help in reducing the visibility. Adopt a proper massaging technique on the area, where there are stretch marks. This would break the scar tissue, increase the blood circulation, & promote the cell growth, and ultimately prevent the accumulation or formation of marks.
Taking proper health care: It is also important to take proper health care. You must include required nutrients in your diet. The intake of proteins & calcium also affect the appearance of stretch marks. Also, it is important to keep the body hydrated by drinking at least 7-8 glasses per day.
Stretch marks are not harmful to health, but these definitely make one feel embarrassed at certain moments. With the help of above mentioned remedies, you can definitely fade them away.