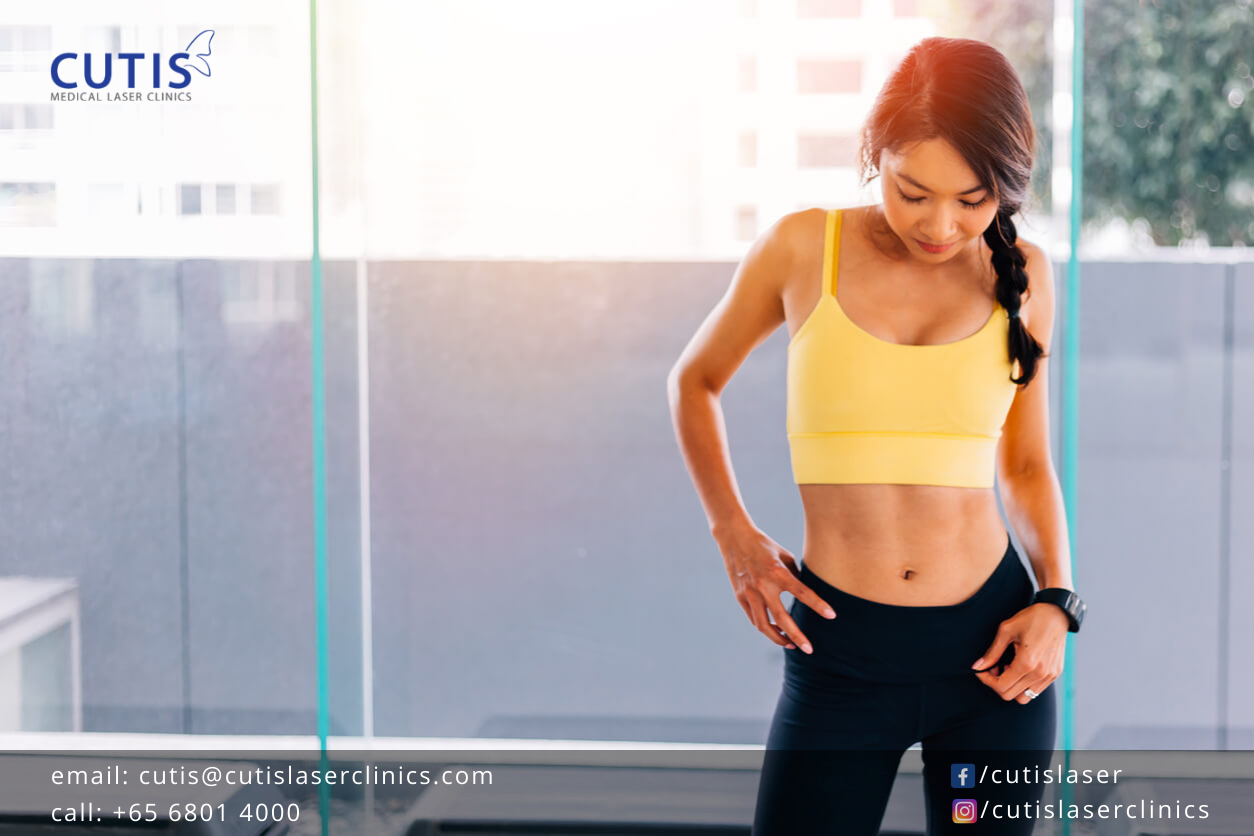 Body reinvention doesn't always have to involve cuts and needles. If you're looking to tone and sculpt your body without going under the knife, ThermoSculpt™ is worth considering. This non-invasive body shaping procedure involves deep heating of tissues and electrical muscle stimulation to burn fat and tone muscles.
What is ThermoSculpt™ and how does it work?
ThermoSculpt™ is a new addition to Cutis's range of body slimming and shaping treatments. This procedure is specifically designed for muscle toning and fat burning, as well as skin laxity improvement for total body reinvention. It uses a unique and patented energy called diathermocontraction created by Brera Medical.
Diathermocontraction is a combination of diathermy and faradic muscle contraction. This helps with the development of internal or endogenous heat and deep muscle contraction waves which benefits the body. 
Diathermy

– involves deep heating of muscular tissues using high-frequency electrical current. This generates heat deep within the tissues to increase blood flow and speed up cellular metabolism. Diathermy can also help with relieving pain and tissue repair or destroying unhealthy tissues.

Faradic muscle contraction

– is also known as electrical muscle contraction (using faradic current). It involves the application of electrical body pulses to stimulate muscle contraction. This can help target both deep and superficial muscle to tone muscle, as well as burn fat.
Why consider ThermoSculpt™ for body reinvention
ThermoSculpt™ is more than just a body reinvention treatment. As this can tone your muscles and sculpt your body, it can help you look and feel good in your own appearance. This can then improve your self-confidence. Here are a few other reasons to say yes to ThermoSculpt™.
1. It has various treatment protocols.
The Imperium Med 400 system from Brera Medical is used to carry out ThermoSculpt™. This involves the use of different handpieces with various treatment protocols. These include:
BQUAD 40

– uses radiofrequency energy to heat fat cells and liquefy fat. It involves the use of spherical-shaped electrodes to define and sculpt the body.

UltraCav 40

– uses ultrasonic waves to destroy and break down fat cells. It targets smaller areas of fat to contour and shape the body.

Thermogym

– uses diathermocontraction to tone the muscles, reduce fat, and improve lymphatic drainage. It involves placing up to 4 pairs of radio adhesive electrodes to stimulate heating and muscle contraction.
2. No cuts or needles required.
ThermoSculpt™ is non-invasive. This means no needles or incisions required. The treatment relies on the emission of radiofrequency energy, deep dermal heating, and muscle stimulation to burn fat and tone your muscles. The treatment also starts with lower levels of energy so that you can slowly adapt and feel more comfortable.
3. It can rejuvenate different areas of the body.
The use of diathermy and faradic muscle contraction triggers body processes that enable rejuvenation in different areas. This is especially true for those that require muscle toning, fat burning, and overall improvement. Common treatment areas for ThermoSculpt™ include the:
Abdomen

Gluteus (muscles in the buttocks)

Inner Arms

Thighs

Knees
4. It provides a number of benefits.
With diathermy, high-frequency electrical current is used to heat the muscular tissues to increase blood flow and speed up recovery. Faradic muscle contraction, meanwhile, uses electrical body pulses to stimulate muscle contraction. The combination of these two can help with a number of body processes and concerns, including:
Skin laxity

Skin dimpling (cellulite)

Liporeduction

Buttock lift

Muscle toning

Lymphatic drainage

Improvement of blood circulation 

Functional recovery of adipose tissue
5. It can treat both men and women.
Men and women looking to sculpt their bodies can turn to this non-invasive treatment. As previously mentioned, it can help you achieve total body reinvention by burning fat, toning muscles, and tightening the skin. 
Just keep in mind that while ThermoSculpt™ can help you reach your body goals, it is not a treatment for weight loss or obesity. It is a non-surgical body rejuvenation treatment that can improve your shape and allow you to look more confident in your own appearance. 
Schedule a consultation and body assessment today
Want to learn more about ThermoSculpt™ and how it can reinvent your body? Contact Cutis Medical Laser Clinics today and schedule a consultation and body assessment with our Harvard-trained aesthetic doctor in Singapore, Dr. Sylvia Ramirez.