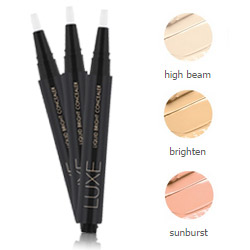 Luxe Liquid Bright Concealer is a lightweight, corrective concealer pen that provides impeccable coverage while bringing light and brightness to the complexion. Instantly reduces signs of fatigue and shadows by cancelling out unwanted color and masking imperfections. Softens the look of fine lines and improves skin's radiance.
Shades:
high beam – Overall concealing / highlighting
brighten – Neutralizes Redness / imperfections
sunburst – Disguises dark spots / under eye circles
Directions:
Apply Luxe Liquid Bright Concealer anywhere you want to brighten and conceal.
Click bottom of pen applicator to distribute product to brush tip, apply to desired areas of the face.
Lightly blend product with brush tip, fingertips or Dual Foundation/Camouflage Brush.
How It Works:
This lightweight, creamy formula leverages diamond powder technology to deliver superior, customizable correction to any skin tone. Offered in three shades to target: overall concealing while brightening (ivory shade, high beam), cancelling out redness while brightening (golden shade, brighten), eliminating sallowness/dark under eye circles while brightening (peach shade, sunburst).
Expert Tips & Techniques
While all three shades brighten, high beam delivers maximum highlighting, overall brightening and works especially well for fair to light skin tones as a general concealer.
To achieve a professional level highlight application, apply high beam to the high points of the face (center of forehead, brow bone, bridge of nose, upper cheekbone, bow of the lip and center of chin).
For canceling redness, brighten is your top choice. Eliminate sallowness, shadows and dark under eye circles with sunburst.
Please contact us for more details.