While traveling benefits your body, mind, and soul, it can sometimes be harsh on your skin. Plane travel, for instance, drains the moisture out of the skin, leaving it looking dull and dehydrated. There is also the issue with dirt, pollution, time zone, and climate changes, which can also wreak havoc on your skin.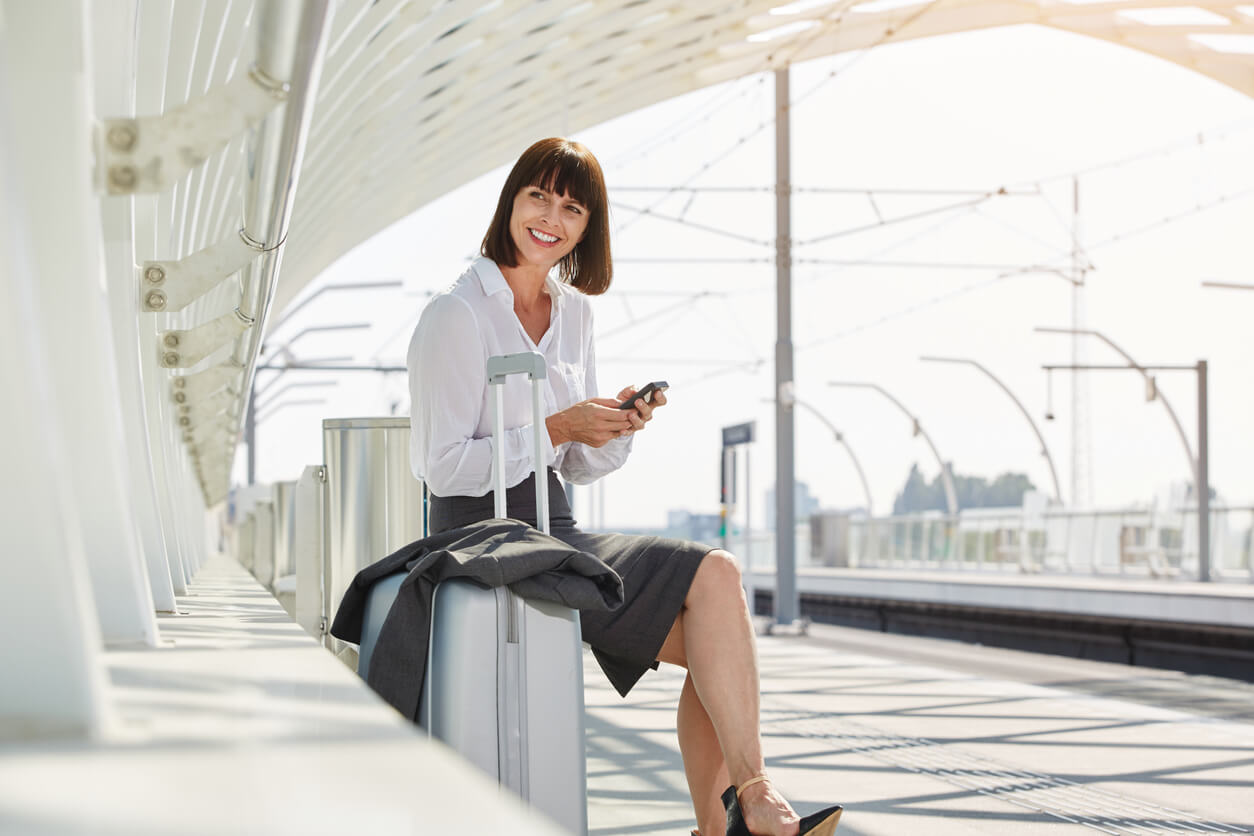 Here's how you can keep your skin healthy during a holiday or business trip.
Apply Less Makeup
Traveling (especially on an airplane) can make your skin dry, so it is best to skip or go light with your makeup. Instead of using heavy foundations or powders, stick with mineral powders, as they are lighter on the skin than most foundations and have a lower risk to clog the pores. You can also carry a small makeup bag with you, so you can retouch before landing.
Going minimal with makeup (or skipping it altogether) is also advisable during the course of your journey. This can let your skin breathe and keep it comfortable and balanced.     
Keep Your Skin Moisturized
Prevent your skin from being dehydrated by applying moisturizer before leaving and throughout your journey. If you have a long flight (that lasts for several hours), it is best to carry a moisturizer with you and apply every few hours. You can also benefit from carrying a facial mist spray to keep your skin refreshed and counteract dryness.
Don't Forget Your Sunscreen
A good sunscreen is essential in taking care of your skin, especially if you're in the beach or any warm or tropical destination. The American Academy of Dermatology suggests looking for a broad-spectrum and water-resistant sunscreen with an SPF of at least 30 or higher.
Good recommendations include Clear Defense SPF 45 and Sheer Defense Tinted SPF 46 from Dr. Sylvia Skin Care. Both products are oil-free, non-greasy, and suitable for all types of skin. They can also protect your skin without causing any breakouts.
Resist Touching Your Face
Mindlessly running your fingers across your face means transferring most of the dirt and bacteria of whatever your hands touched. These can include dirty and germ-filled objects like handrails, restroom buttons, seatbelt buckles, seatback pockets, and others.
Avoid touching your face to minimize breakouts and bring anti-bacterial wipes or handwash to protect your skin.
Treat Yourself with Aesthetic Treatments
The more you plan for your travel, the more you'll have more time do something to improve your skin. During the course of your travel, you can also treat yourself and consider some nonsurgical aesthetic treatments.
Just make sure to contact the aesthetic clinic before your flight to make the necessary arrangements. Here are some of the non-invasive procedures worth considering:
Botox and Fillers
Botox is an anti-wrinkle procedure that can smooth out lines on the skin, while helping you maintain facial mobility for a natural and well-rested appearance. It works by temporarily blocking the signal from a nerve to a muscle to relax the wrinkles formed due to muscle contractions by caused smiling, frowning, and squinting.
Dermal fillers, on the other hand, are injectable treatments used for filling in lost volume to different areas of the face. They can decrease the appearance of fine lines and dark circles around the eyes, enhance the cheekbones, contour the face, and plump up the lips. Fillers can also increase the height of the nose bridge without surgery.
Both procedures have no serious side effects and it is safe to travel after a Botox or filler treatment. Just do take note that you need to book before your flight to accommodate potential bruising. If you don't mind, you can cover this up with makeup.
Anti-Aging and Rejuvenation Facials
At Cutis Laser Clinics, we offer a number of medical-grade facials that can rejuvenate your skin and provide anti-aging benefits. These include:
LED Skin Therapy Facials.

These use an infrared ray of light in therapeutic wavelength of color to treat various depths of the skin layer. At Cutis Laser Clinics, we have two LED facials that can improve skin health without downtime.
Sapphire Facial.

This clarifying medical-grade facial is a combination of Sapphire Blue Light Therapy, Diamondtome Microdermabrasion, Gentle Extractions, and Specialized Mask. It helps clarify congested skin by killing acne-causing bacteria and removing impurities and dead skin cells.
Perfectio+. This facial is a combination of Perfectio+ Dual Light Therapy, DiamondTome Microdermabrasion and a Specialized Mask. It can reduce fine lines, minimize pores, and improve dull, uneven skin texture. It can improve skin health while stimulating collagen production.
Read our previous blog to learn how these LED Skin Therapy Facials can rejuvenate your skin.
V Carbon Peel System.

This innovative facial uses activated vegetable carbon to purify, clarify, and brighten skin from within. It can remove dead skin cells, minimize pores, reduce breakouts, and improve the appearance of fine lines. V Carbon is also a painless facial with minimal to zero downtime.
Ultherapy
Ultherapy is a US FDA-cleared non-invasive procedure that can naturally lift and tighten the skin, on the brow, and under the chin without surgery. It uses time-tested ultrasound energy that penetrates into the deeper layers of the skin. This triggers the production of collagen, enabling the skin to achieve a visible yet gentle lift over time.
As the procedure is non-invasive, there is no downtime or recovery. You can immediately return to your normal routines and there are no special measures to be taken after the treatment.
You may notice an immediate lifting effect after the procedure, but significant results appear over two to three months. You can check out our previous blog to find out what you can expect with Ultherapy before, during, and after the procedure.
Keep Your Skin Healthy and Happy
It is normal for your skin to act up or struggle during a vacation or trip. Make an extra effort to follow the tips mentioned above to take better care of your skin.
If you are thinking of considering aesthetic treatments while on vacation, be sure to contact the clinic before your flight.
Get in touch with Cutis Laser Clinics today and find out how you can keep your skin healthy and happy during your trip.
Tags: Botulinum Toxin, Fillers, Ultherapy, Laser Clinics