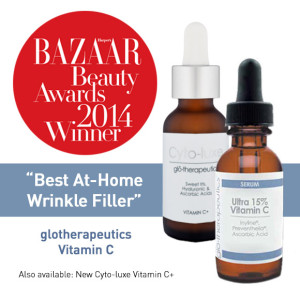 Whether you're looking to prevent premature aging, smooth the appearance of fine lines and wrinkles or soften your skin's overall texture, glotherapeutics Vitamin C serum has you covered.
"This skin saver has been credited with reversing free radical damage caused by the sun and the environment, while subtracting years from your face—starting with the diminishing of your fine lines and wrinkles."
– Harper's Bazaar Beauty Awards 2014
Awarded as "Best At-Home Wrinkle Filler" by Harper's Bazaar Beauty Awards 2014, glotherapeutics Vitamin C is packed with L-Ascorbic Acid with multiple anti-aging benefits such as:
1) protects the skin from UV damage and free radicals
2) brightens and improves skin's elesticity
3) stimulates collagen that decreases fine lines and wrinkles.
4) strengthens and repairs skin
5) increases collagen production
Cyto-luxe Vitamin C+ is the new and improved glotherapeutics Vitamin C. It is a potent infusion of 20% L-ascorbic Acid, utilizing plant stem cells to enhance its many anti-aging benefits. As cells are strengthened and repaired, skin becomes denser and more hydrated creating a plumping action to smooth fine lines and wrinkles. Cyto-luxe Vitamin C is recommended for Ageless skin.
Directions
1. Apply in the morning on dry skin after cleansing and toning.
2. Allow serum to be absorbed by the skin
3. Follow with B5 Hydration or Pure Hydration and if needed, a glotherapeutics moisturizer.
Click the image to read the full article.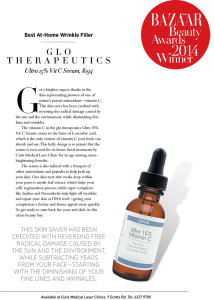 glotherapeutics Vitamin C products are available in Cutis Medical Laser Clinics.
Contact us for more information about the glotherapeutics Vitamin C products.