This lightweight blend of natural, mineral sunscreens glides on skin and absorbs quickly, providing broad spectrum protection (SPF 50)to shield against sun damage and prevent photoaging. Glotherapeutics Solar Shade SPF 50  is designed for delicate, sensitive skin, added antioxidants and conditioners gently soften and smooth to help preserve a youthful glow.
Recommended for all skin types especially sensitive skin.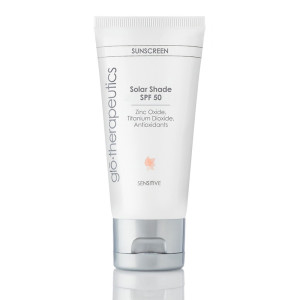 Directions
Apply liberally at least 15 minutes prior to sun exposure. Wear alone or under makeup. Reapply every 2 hours to maintain protection or as needed. Use daily.
Active Interest
8.6% Zinc Oxide A safe and non-irritating physical sun protectant. This broad spectrum UVB and UVA sunscreen is also used for its soothing properties.
6.5% Titanium Dioxide Provides physical protection from UV radiation, prevents skin damage and excessive melanin synthesis.
Tocopherol (Vitamin E) An antioxidant that has anti-inflammatory properties and stimulates the immune system, protecting the skin from adverse effects of oxidative stress including photoaging.
Dimethicone Conditions and protects skin.
Ascorbic Acid (Vitamin C) Effective antioxidant. Assists in the synthesis of collagen. Scavenges and destroys reactive oxidizing agents and other free radicals. Provides protection against damage induced by UV radiation. Helps improve skin elasticity, decrease wrinkles by stimulating collagen synthesis, reduce erythema, promote wound healing and suppress cutaneous pigmentation.
Sodium Hyaluronate Attracts and maintains hydration to hold 1000 times its weight in water. Prevents transepidermal water loss and protects against free radical damage caused by environmental aggressors.
pH 6.8
Notes: This product is free of: dyes, fragrance, parabens, gluten, nuts and soy.