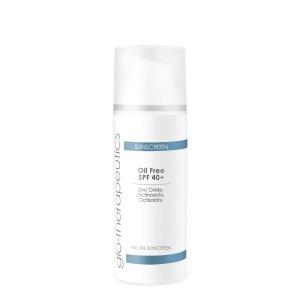 glotherapeutics Oil Free SPF 40+ Sunscreen provides broad-spectrum protection from the sun's damaging rays while nourishing hydrators and antioxidants fortify the skin.
Directions
Apply a liberal amount of sunscreen daily and before sun exposure. Reapply every 2-3 hours to maintain protection or as needed.
Recommended For: All skin types, well suited for oily skin types.
ACTIVE INTEREST
• Panthenol (D-) – Helps increase the skin's hyaluronic acid content and helps stabilize the moisture content of the skin. Application to the skin increases resistance to irritation by noxious chemicals and photoaging and prevents immunosuppression. Improves the skin's ability to take in oxygen and helps to keep the production of sebum at appropriate levels. Also, helps the skin tolerate sun and maintain a smooth, non-dry surface; may also improve facial pigment conditions.
• Hyaluronic Acid – Attracts and maintains hydration to hold 1000 times its weight in water. Prevents transepidermal water loss and protects against free radical damage caused by environmental aggressors.
• 2.5% Octisalate – A safe UVB absorbing sunscreen, generally used in combination with other UV filters.
• Tocopherol (D-alpha-) (Vitamin E) – An antioxidant that has anti-inflammatory properties and stimulates the immune system, protecting the skin from adverse effects of oxidative stress including photoaging. This is the natural, chirally correct form of Vitamin E.
• 7.5% Zinc Oxide – A safe and non-irritating physical sun protectant. It is a broad spectrum UVB and UVA sun screen, also used for its soothing properties.
• 7.5% Octinoxate – A widely used sunscreen which absorbs UVB rays as well as protecting against UV light induced DNA alterations.
For more details, please contact +65 6801 4000 or hello@cutislaserclinics.com