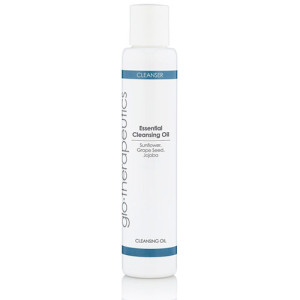 This powerful blend of skin-healthy oils provides deep cleansing action by dissolving excess oil, impurities and makeup from the skin. Rinses cleanly without residue, leaving skin conditioned and renewed.
glotherapeutics Essential Cleansing Oil is a newly developed innovative, water-soluble oil blend that relies on the law of attraction.
When the Essential Cleansing Oil meets oil-carried impurities like makeup, dirt and debris are lifted from follicles. Water, introduced after Essential Cleansing Oil is applied with dry hands to dry skin, dissolves these uniquely formulated cleansing oils, lifting away impurities and revealing your purest, cleanest skin.
This beautiful pre-cleanse is ideal for all skin types, including oily skin because it helps balance skin while keeping congestion and breakouts at bay. For dry skin, Essential Cleansing Oil lifts away impurities while conditioning and softening the skin and for those of you with combination skin (somewhere in between oily and dry) this formula helps remove makeup, oil and debris for a clean, fresh face.
For best results, follow these steps:
Step 1) Add a small amount of Essential Cleansing Oil to dry hands and apply to dry skin using gentle, circular movements.
Step 2) Introduce water to your hands and lightly spread over face. You should see the oil turn from clear to a milky white emulsion.
Step 3) Rinse clean and follow with another glo therapeutics cleanser if desired.
• Safflower Seed Oil – High in linoleic acid, an essential fatty acid which has powerful oil and impurity removing properties. Linoleic Acid effectively breaks down sebum, helping to clear debris from clogged follicles. An important carrier of Vitamins A, D, K and E. Has anti-inflammatory and moisturizing properties.
• Sunflower Seed Oil – Cold pressed from sunflower seeds, this lightweight oil is rich in vitamins and fatty acids. Contains Vitamin E which is healing and helps prevent scarring. Improves inflammatory conditions such as acne and eczema as well as general redness of the skin. Absorbs easily and is non-comedogenic.
• Jojoba Seed Oil – Soothes and moisturizes dry and inflamed skin. Conditions and balances oil production while supporting skin's natural barrier.
• Vitamin E – Contains alpha, beta, delta and gamma tocopherols. Each tocopherol is a unique type of antioxidant which inhibits lipid peroxidation in cells. Growing research supports synergistic use of multiple tocopherols provides maximum benefits.
• Grape Seed Extract – A powerful antioxidant with soothing, antibacterial and reparative properties.
Orange Oil Rich in Vitamin C with antioxidant, anti-inflammatory and protective properties.
Essential Cleansing Oil and other glotherapeutics products are available in Singapore at Cutis Medical Laser Clinics.
For more details, please contact +65 6801 4000 or hello@cutislaserclinics.com