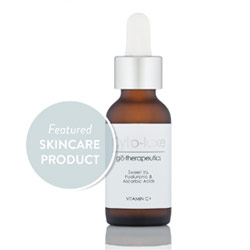 glotherapeutics Cyto-luxe Vitamin C+ is a potent infusion of 20% L-Ascorbic Acid, utilizing plant stem cells to enhance its many anti-aging benefits.
As cells are strengthened and repaired, skin becomes denser and more hydrated creating a plumping action to smooth fine lines and wrinkles.
Recommended for Ageless skin.
Directions:
1. Apply in the morning after cleansing and toning.
2. Use approximately 10 drops for face and neck.
3. Follow with Cyto-luxe Hydration+ and your favorite glō∙therapeutics moisturizer.
Active Interest:
• Ascorbic Acid (L-) (Vitamin C) – A powerful antioxidant. Protects skin from UV damage, brightens, improves elasticity and decreases the appearance of fine lines and wrinkles. This is the only form of Vitamin C the body recognizes and can effectively utilize.
• Sodium Hyaluronate (L-) – A naturally derived component of the extra cellular matrix, which attracts and holds water. The result is the look of plumpness to the skin and the prevention of transepidermal water loss.
• Mimosa Ternuiflora Bark Extract – From the Mexican Tepescohuite or "Skin Tree." The inner bark's cells provide a cocktail of ingredients that support the formation of new cells by promoting circulation and flushing toxins. Protects against transepidermal water loss and inflammation while helping smooth skin.
• Acetyl Tyrosine – Aids collagenase in the process of removing old stiffened collagen fibers so new collagen can be synthesized.
• Zinc Sulfate – An amino acid that assists in the absorption of L-Ascorbic Acid and nurtures fibroblast activity to increase collagen production and lipolytic action (the breaking down of lipids).
• Iris Pallida Leaf Cell Extract – Acts on both the epidermis and dermis. In the epidermis, it regenerates skin by increasing the differentiation of cells to make the skin act younger. In the dermis, it stimulates the synthesis of extra cellular matrix components while limiting the action of the enzymes that destroy them. As a result, the two layers become firmer and denser. An effective moisture regulator that binds moisture to the skin.